The Little-Known Connection Between The Hadid Sisters And Jenner Sisters
Antonello Trio/Getty Images
Los Angeles is a smaller town than it seems. So why wouldn't the most beautiful stars be related to one another? The Kardashian-Jenner clan has tentacles throughout Hollywood, and the head-scratching pairing of Lisa Rinna's model daughter Amelia Gray and Kourtney Kardashian's baby daddy Scott Disick is just the latest union of A-list royalty. 
Well, it turns out another Real Housewives of Beverly Hills alum's daughter is related to the Kardashian-Jenner family — in this case, her two daughters. Yolanda Hadid's high-profile daughters Gigi and Bella Hadid and real-life pals Kendall and Kylie Jenner have a deeper connection than just friendship. The supermodels and makeup mogul have been close for over a decade, with Kendall and Bella originally meeting through Twitter, according to Harper's Bazaar. Kendall, Gigi, and Bella are three of the highest-paid models in the industry, per Forbes, and it's no wonder they have taken the fashion industry by storm. Yet, how are they related? Keep scrolling to find out why they're considered distant siblings! (Does that technically make Kendall an aunt to Gigi's daughter Khai?)
Kendall Jenner and Gigi Hadid are ex step-siblings — kinda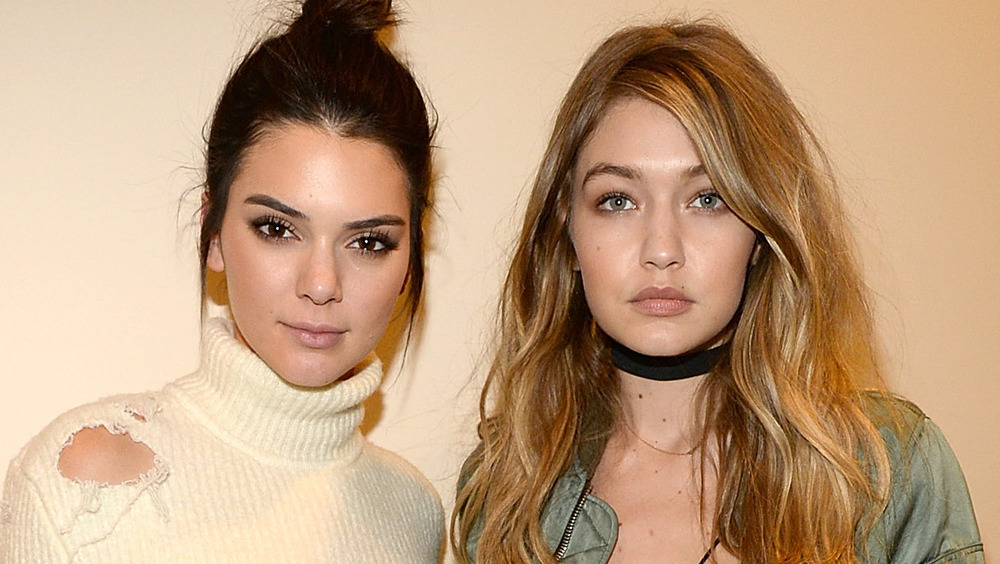 Kevin Mazur/Getty Images
Leave it to the parents to muck up a good thing! Bear with us, because this family tree is about to get complicated. Gigi and Bella Hadid and Kendall and Kylie Jenner are, shockingly, ex step-siblings — kinda.
In the '80s, Kendall and Kylie's parent Caitlyn Jenner was married to Linda Thompson; the couple had two sons: Brody and Brandon Jenner. After they split, Caitlyn went on to wed Kris Jenner and welcome Kendall and Kylie Jenner. Thompson, meanwhile, married music mogul David Foster, who primarily raised Brody and Brandon, while his two daughters from a previous relationship, Sara and Erin Foster, lived with their mom (per People). David later wed Yolanda Hadid, and became stepfather to Gigi, Bella, and Anwar Hadid. To put it simply, Kendall and Kylie's parent's ex-wife was married to Gigi and Bella's stepfather, making them pseudo step-siblings. (Yolanda and David ultimately split, and David tied the knot with singer Katharine McPhee.)
The Jenner-Hadid connection does, of course, come with its own complications. When Kendall made out with Anwar in 2018, as per Harper's Bazaar, she was kissing her ex-stepbrother (as convoluted as that may seem). The rumors are true: everyone in Hollywood is related to some degree, thanks to short-lived marriages!