Joe Biden's Latest Comment About Republican Governors Is Turning Heads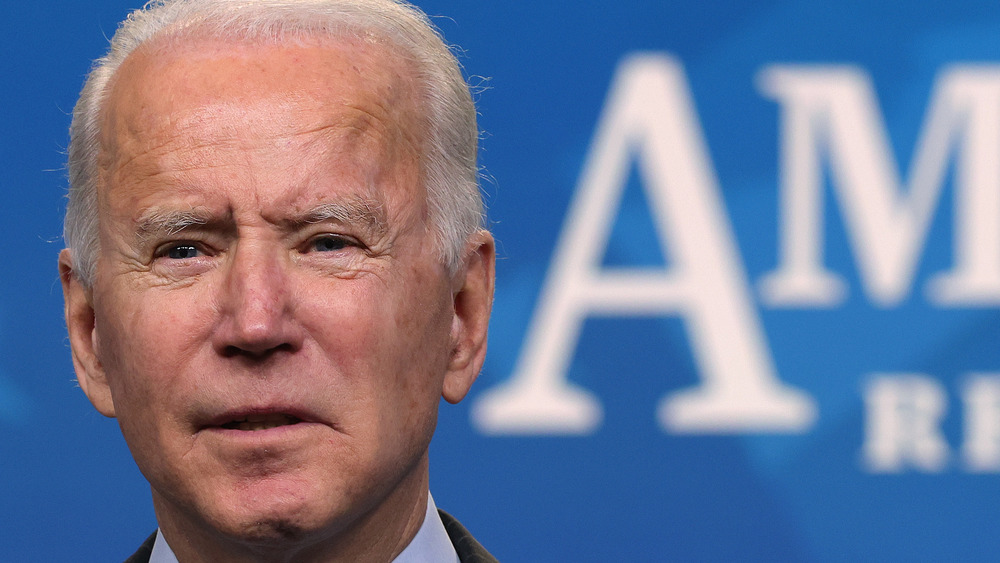 Alex Wong/Getty Images
In the months since President Joe Biden officially assumed office, much has been said about his attempts to unite both the Democratic and Republican parties, for better or for worse. While twice-impeached ex-President Donald Trump did his best during his first (and possibly only) term to institute an ever-widening chasm between the GOP and the Dems, Biden's lack of an automatic fix has been a focal point of criticism levied by Republicans against his administration. Now, the byproducts of this carping have seemingly begun to show in Biden's demeanor. The evidence?  Biden's response to the latest attempt to loosen COVID-related measures by at least two GOP governors.
As USA Today reported, on March 1, Mississippi Governor Tate Reeves and Texas Governor Greg Abbott, both of whom are Republicans, announced their intention to drastically roll back safety and health mandates in order for small businesses to reopen at full capacity. In addition to removing caps on the number of customers allowed within stores, both governors controversially pushed for allowing residents to shop without using or wearing face masks, a prophylactic which the U.S. Centers for Disease Control and the World Health Organization have both strongly recommended. So how has Biden reacted to this? In a phrase: not well.
Joe Biden called these GOP governors 'Neanderthals' over lifting mask mandates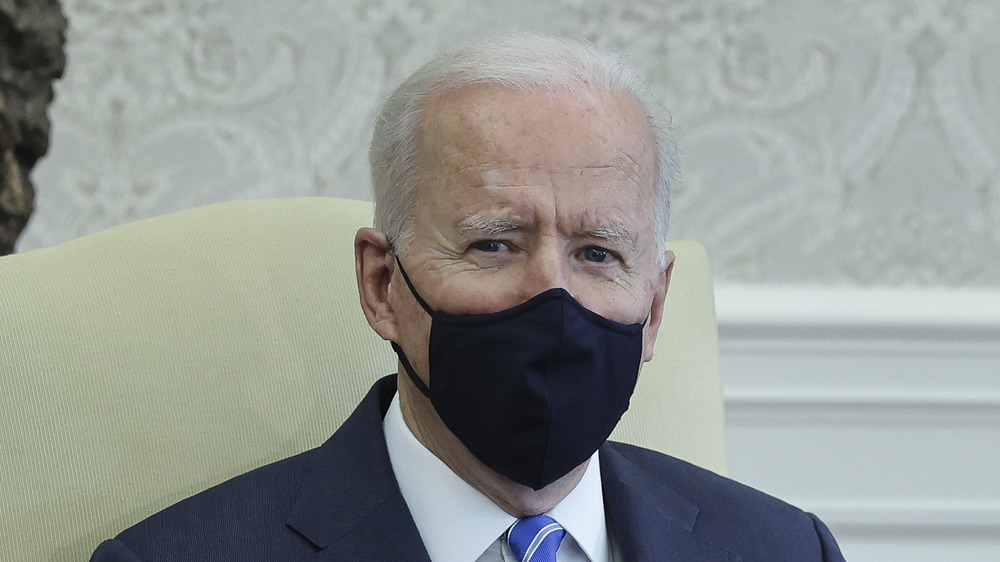 Pool/Getty Images
On March 2, 2021, President Joe Biden publicly reacted to initiatives made by Governors Tate Reeves and Greg Abbott to immediately roll back mandatory mask-wearing in public places — more specifically, in places of business — in order to presumably boost the economies in both Mississippi and Texas respectively, per USA Today. A day after Abbott and Reeves announced their own directives, Biden responded with a reminder that revoking measures in the early days of the national COVID-19 vaccine rollout might lead to exposing Americans to unnecessary danger. "We are on the cusp of being able to fundamentally change the nature of this disease because of the way in which we're able to get vaccines in people's arms," Biden stated before making a faux pas: calling Abbott and Reeves' mandate reversal a result of "Neanderthal thinking." 
Unfortunately for Biden, neither governor took kindly to his adjudication. Specifically, Abbott himself took to the airwaves in a Fox News segment later that evening, in which he brandished familiar Republican rhetoric by accusing Biden, as a Democrat, maligning middle America. "When President Biden said that we were all Neanderthals, it struck me as someone who needs to get outside of Washington, D.C., and actually travel to Middle America," Abbott remarked (via Forbes), seemingly implying that Biden's comment was not just directed at the Republican governors, but the conservative voting base at large. 
Jen Psaki defended President Joe Biden's mask mandate initiatives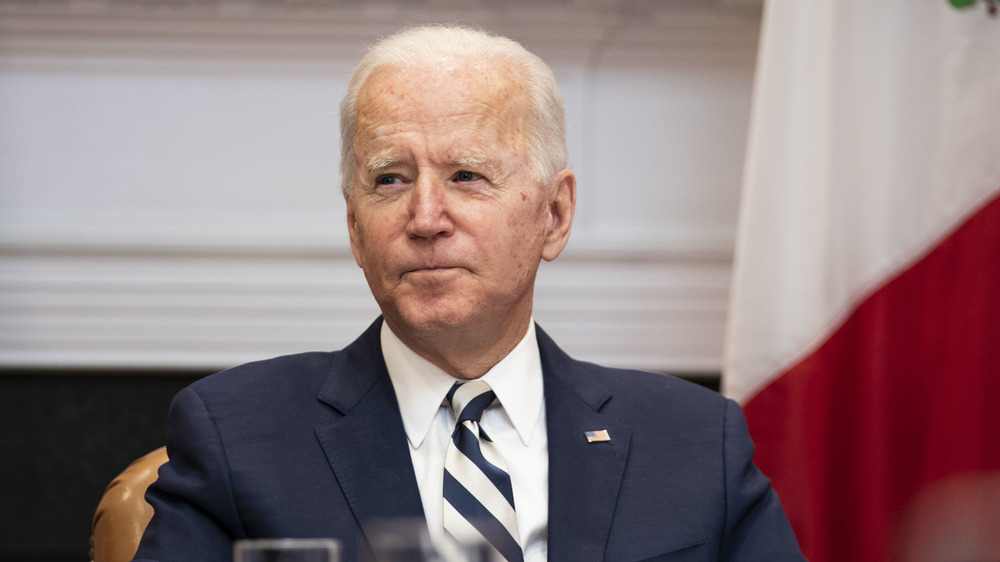 Bloomberg/Getty Images
Attempting to save face after Joe Biden's condemnation of Governors Greg Abbott and Tate Reeves' push to lift mask-wearing protocols in Texas and Mississippi, White House Press Secretary Jen Psaki told reporters during a March 4 press conference that the Biden administration would continue to persevere with enacting any and every possible safety method — including mask-wearing — until the end of the pandemic is in sight. "We are going to continue to use every method of the bully pulpit at our disposal to convey directly to people," Psaki said to members of the press, adding that "that mask-wearing, social distancing, [and] getting access to the vaccine is the path to go back to normal," rather than forgoing them.
Both Abbott and Reeves' move to lift mask-related measures in the states they govern — as well as allow businesses to function at 100% capacity — directly flies in the face of steps Biden took in the first days of his presidency to battle the ongoing COVID-19 pandemic. In addition to that 100-day mask plan Biden unveiled in the early days of his presidency, the most prominent example of this took the form of an executive order Biden signed on the day of his 2021 inauguration, which sanctioned that all federal employees, contractors, and others within the bounds of federal property wear masks indoors.