The Real Meaning Behind DaBaby's 'Rockstar'
Jason Koerner/Getty Images
DaBaby (born Jonathan Kirk) popped and has never slowed down. The rapper has a huge net worth, but he is ambitious as heck, so we know it is only going to grow. While he works hard, he doesn't want to work forever. In fact, DaBaby opened up about his dreams to retire by 2025, roughly.
If his name is mystifying, the rapper has actually opened up about why he chose the name DaBaby. In fact, he changed his moniker from Baby Jesus to this new title because the former one was too political, in his opinion.
While there's so much to talk about when it comes to this incredible rapper, we would not be doing him justice if we did not pause for a hot minute to talk about his hit "Rockstar." The song was released on April 17, 2020 as a collaboration with Roddy Ricch. It appeared on his third studio album, Blame It on Baby, and the song lived at the top of Billboard's Hot 100 chart, according to Billboard. So what does this popular song really mean?
DaBaby used 'Rockstar' to heighten his political voice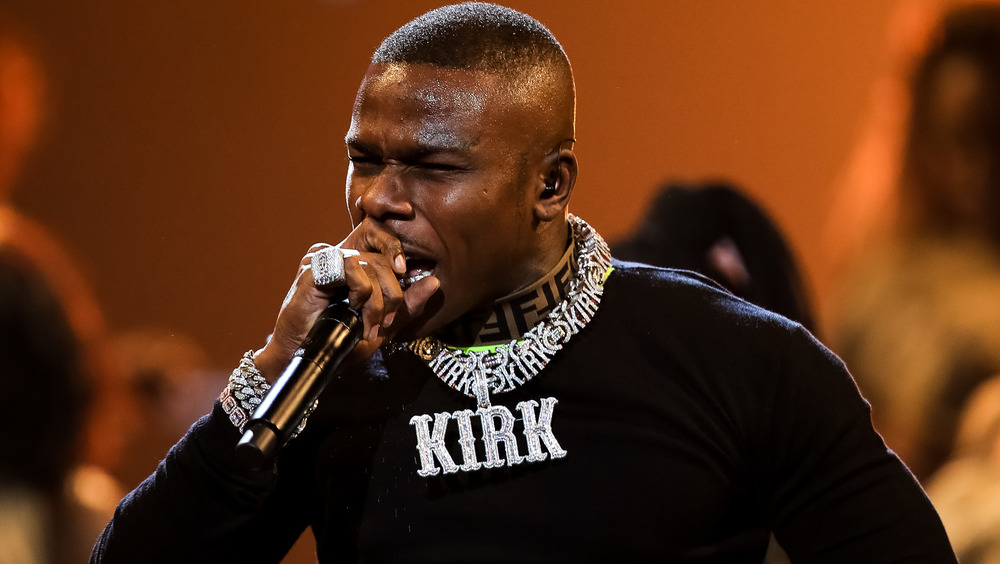 Carmen Mandato/Getty Images
DaBaby's "Rockstar" has a soft, guitar-driven beginning, which is balanced by his lyrics, as they center around socially driven themes. "Brand new Lamborghini, f**k a cop car/ With the pistol on my hip like I'm a cop," DaBaby raps, according to Genius. "This ain't no guitar, bitch, this a Glock/ My Glock told me to promise you gon' squeeze me."
The music video, directed by Reel Goats, features DaBaby and Roddy Ricch in combat against a zombie apocalypse and the opening themes make reference to a global pandemic, which is apropos since the song was released during the coronavirus pandemic. DaBaby addressed this in an interview with XXL from December 2020. "During the pandemic, I've been the longest lasting artist on Billboard," he said. DaBaby added that "Rockstar" was one of the last songs he recorded before he put it out and, since social distancing guidelines prohibit gatherings, DaBaby added: "I haven't performed 'Rockstar' not one time." 
DaBaby let "Rockstar" adapt to the events of 2020 and he created a Black Lives Matter remix of the song, according to Rolling Stone, where he paid tribute to George Floyd. For the 2020 BET Awards, DaBaby opened his performance of the song with a white police officer kneeling on his neck, recreating the brutal way in which Floyd died. DaBaby also brought up his own experiences with police brutality in the remix. So the references to cops in the lyrics were no mistake.