Survey Reveals How People Feel About Harry After The Interview
Max Mumby/indigo/Getty Images
The world has been shocked ever since Prince Harry and Meghan Markle sat down with Oprah Winfrey for their bombshell tell-all interview. Throughout the two-hour long segment, both the Duke and Duchess of Sussex spoke out against the royal family and revealed their struggles with those within the institution. 
Accusations of racism regarding their son Archie's skin color and unwillingness to provide Markle with proper care regarding her mental health were just some of the jaw-dropping statements made about those closest to the throne. And, while royal fanatics may have found Markle's portion of the interview to echo the late Princess Diana's explosive 1995 tell-all, this is the first time such harsh and devastating recounts have been backed up by someone directly in the royal bloodline. In the second half of the interview, Prince Harry, the grandson of Queen Elizabeth II, joined his wife to further agree with their reasoning for their "Megexit."
The interview not only caused (and is still causing) a media frenzy, but it also is shedding light on how the UK feels about the Sussexes. According to a 2021 survey by Daily Mail regarding the tell-all, there were definitely winners and losers as far as the British public is concerned. Keep reading to find out what we mean.
Harry and Meghan's interview was not popular in Britain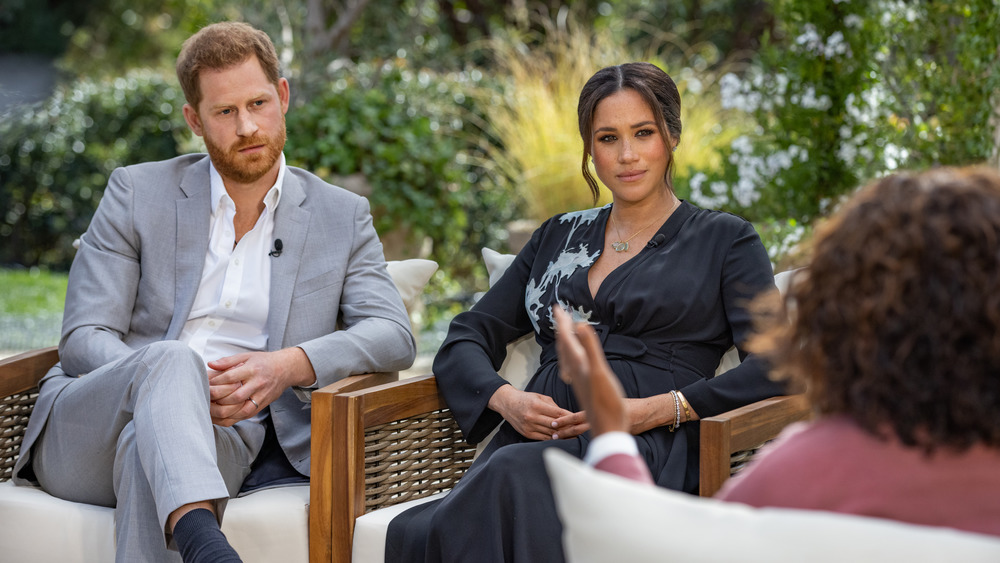 Handout/Getty Images
Following Prince Harry and Meghan Markle's tell-all interview with Oprah Winfrey, a survey was conducted by Daily Mail to find out how the public felt about the shocking statements — especially those that live in the UK. The poll found that "most Britons think the Duke and Duchess of Sussex were wrong to have given their explosive interview." Additionally, "A majority of the public believes they have let down the Queen – and should be stripped of their royal titles." The survey also reveals that more people disbelieved than believed Meghan's claims of racism within the royal family and that she is now "the least popular royal after Prince Andrew." 
However, it appears that age has a lot to do when it comes to agreeing with Harry and Meghan. Daily Mail writes, "While overall only one in three thought the interview was the right thing to do, this rose to half among 18 to 44-year-olds. And asked if they generally believed Harry and Meghan, or the Queen and Royal Family, 52 per cent of younger people chose the Sussexes."
Lastly, Daily Mail reports that "All ages agreed that both sides should now bury the hatchet and stop fighting." So, it appears that while everyone loves keeping up with the royals and their drama, many are ready for this feud to be over with it.