Why Tiffany Haddish Cried After Her Grammy Win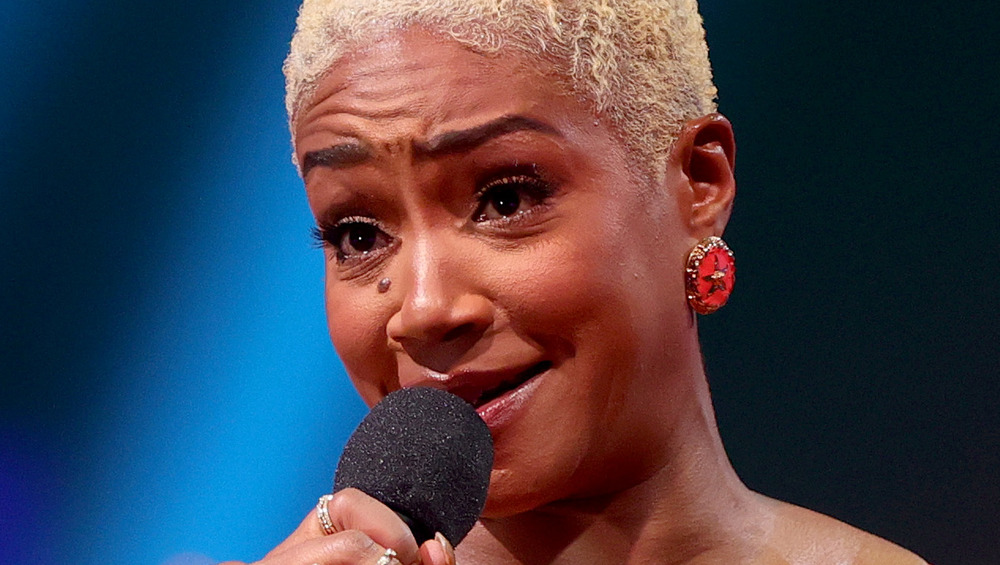 Rich Fury/kca2021/Getty Images
Tiffany Haddish made Grammy history, joining the likes of Beyoncé, Megan Thee Stallion, and Taylor Swift, who also broke records at the 2021 Grammy Awards.
At the 63rd Annual Grammy Awards, Beyoncé broke two records, winning the most Grammys of any female artist in the award show history, making her the winningest performer — male or female — in Grammy history (via Rolling Stone). The Lemonade star also broke a record with rapper Megan Thee Stallion. The duo won Best Rap Performance for their single "Savage," marking the first time an all-female collaboration won the award (via PopSugar). 
Haddish kept the historical night for Black women going with her win in the Best Comedy Album category for her comedy special Black Mitzvah. The comedian had previously been nominated in 2019 for Best Spoken Word Album for her book, The Last Black Unicorn (via Grammys), but lost to former President Jimmy Carter's Faith – A Journey For All.
Unfortunately for Haddish, the comedian could not be in attendance to receive her award on stage, but instead learned of the win while on set for her ABC show Kids Say the Darnedst Things, with the sweet moment bringing Haddish to tears.
Tiffany Haddish is the first Black woman to win Best Comedy Album since 1986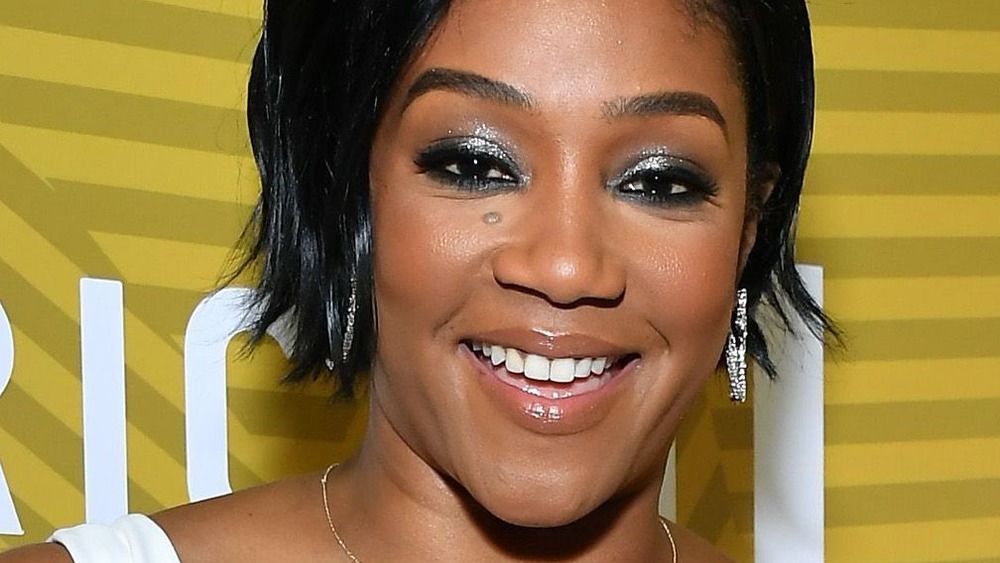 Amy Sussman/Getty Images
While hosting her ABC show Kids Say the Darnedest Things, Tiffany Haddish learned she won her first Grammy award via her producer in the most unexpected way.
In a heart-warming video the comedian posted to her Twitter feed, Haddish can be seen speaking to two young girls about simply being nominated for a Grammy before her producer chimes in to tell the comedian that she, in fact, won. "I just won a Grammy? Are you serious?" said the Girls Trip actor in genuine shock. "Y'all serious? I really won?" Haddish immediately began crying, realizing she had just made history as the first Black woman to win the Best Comedy Album award since Whoopi Goldberg won in 1986 (via Vulture).
"Can I tell you why I'm crying?" Haddish said to the young girls in the clip. "It's a lot of bumpy roads that you cross. It's a lot of times you feel like,' Well, am I doing the right thing? Is this good enough? Am I good enough? Am I strong enough to do this job?' And you just have to believe in yourself as much as you can, and against all odds you say, 'You know what, I'ma just put my best foot forward and I'm gonna give the world the best that I got.' Anything is possible."
The joyful moment brought fans to tears, too, as they celebrated the big win with Haddish on social media.