The Dramatic Transformation Of Demi Lovato From 6 To 28 Years Old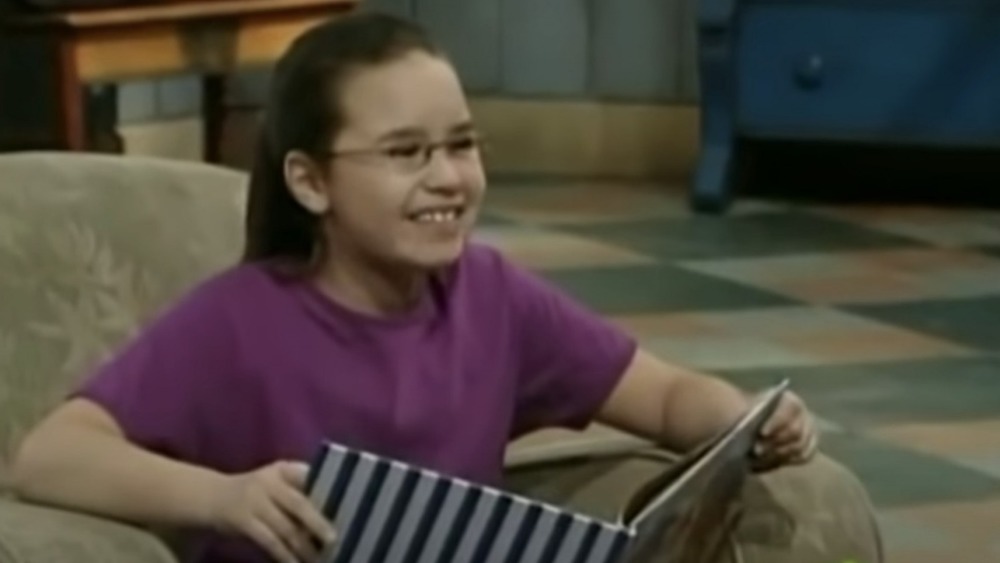 YouTube
The following article includes conversations on substance abuse and allegations of sexual assault.
Demi Lovato is no stranger to fame. Having grown up in the spotlight, it's no wonder people have been able to document her dramatic transformation from child actress to pop sensation. She has tested out a variety of looks as she grew up in front of fans' eyes, turning from a sweet girl with glasses on the set of Barney & Friends to the fierce, iconic woman she is today, with a few stops along the way.
Born Demetria Devonne Lovato on August 20, 1992 (per her official website) in Dallas, Texas, the pop star has been acting since she was 6 years old, getting her start alongside fellow Disney starlet and now-pop sensation Selena Gomez. A dancer and a singer as well, Lovato has been open with most aspects of her life, including her not-so-glamorous parts, the most recent of which will be discussed in her upcoming documentary, Dancing With the Devil, premiering March 23 on YouTube for Premium members.
But just how did Demi Lovato go from a cute little girl to a woman who wears her scars proudly?
Demi Lovato made her television debut on Barney & Friends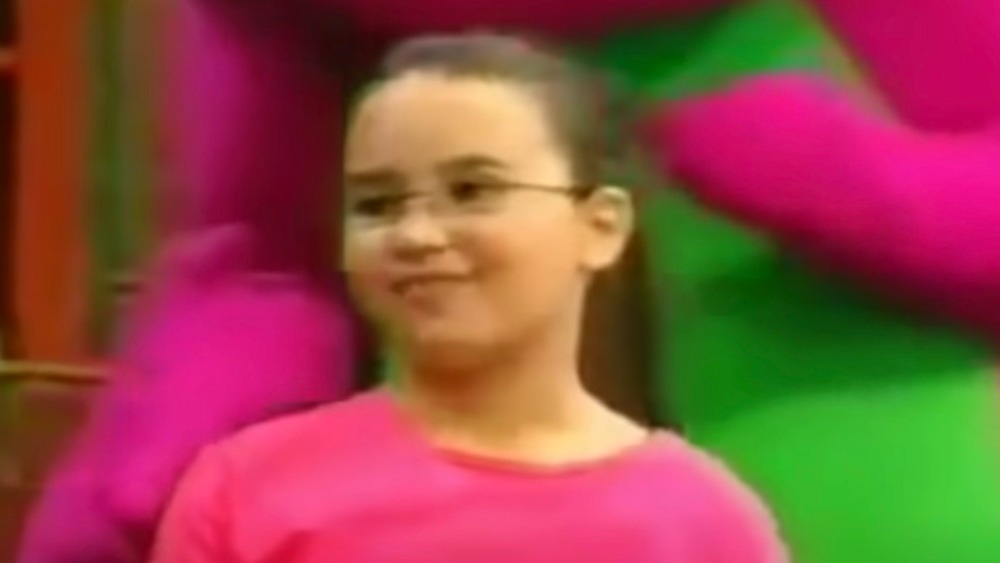 YouTube
Demi Lovato first graced television screens on the seventh season of Barney & Friends in 2002. According to the International Business Times, Lovato was 7 years old when she debuted on the first episode of that season, called "All Aboard!" She played Angela, a character she continued to embody for a total of nine shows from 2002 – 2004. International Business Times caught up with some of the production crew of the show, who all had nothing but great things to say about the child actor.
"Demi was just so kind, and she was always so grateful to whatever she was given to wear. It was so sweet. She never turned her nose up or battled what we wanted to put her in, she just took it in stride and was happy about it and was just happy to be there," costume supervisor Ken Weber told the publication. 
Barney & Friends is also where Lovato learned to become a professional. Producer Linda Houston said that by the time Demi Lovato exited Barney, she knew how to hit a mark, open up to the camera, memorize lines, and act on set. Her time on Barney allowed her to transition to her next stage in life almost seamlessly.
Demi Lovato soon became part of the Disney brand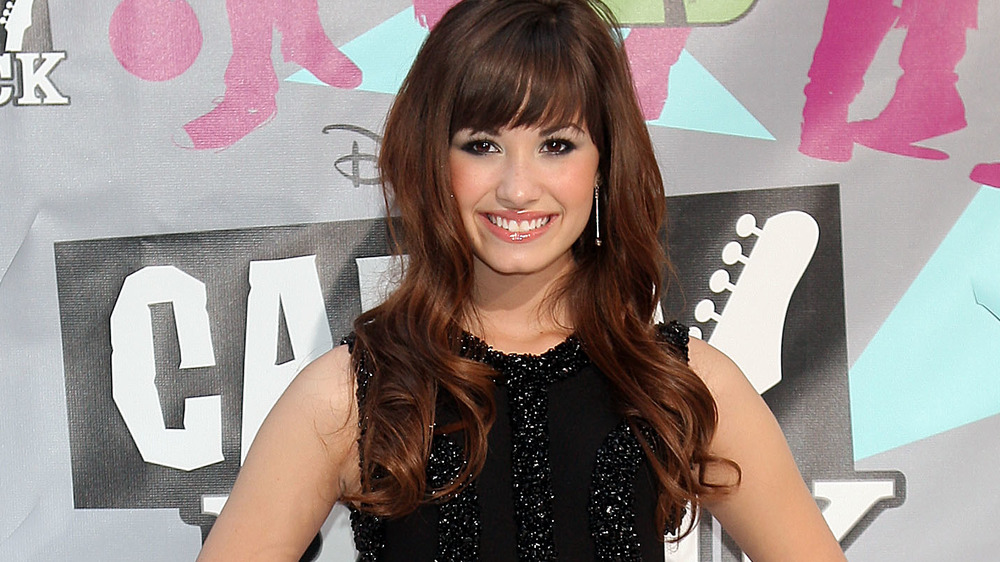 Scott Gries/Getty Images
Following her time with Barney & Friends, Demi Lovato took a step back from the spotlight, but not for long. According to her biography on her website, she guest-starred on a few TV shows, including Just Jordan, Prison Break, and Split Ends. She then got the call almost every child actor wants to get — she landed a gig with Disney.
Lovato got her start in the House of Mouse in 2007, when she was cast in a Disney Channel original short, As the Bell Rings. That role led her to landing a gig alongside the Jonas Brothers, a great start for the up-and-coming actor and musician. She starred alongside the JoBros as part of Camp Rock, which launched her into Disney superstardom, much like the Jonas Brothers, Selena Gomez, and Miley Cyrus. 
From there, Disney capitalized on her, casting her in the Disney Channel original movies Camp Rock 2: The Final Jam and Princess Protection Program alongside her bestie, Gomez. And just like her friends and fellow Disney stars, Lovato was also given a recording contract, which allowed her to professionally produce music for the first time in her career.
Demi Lovato's music career begins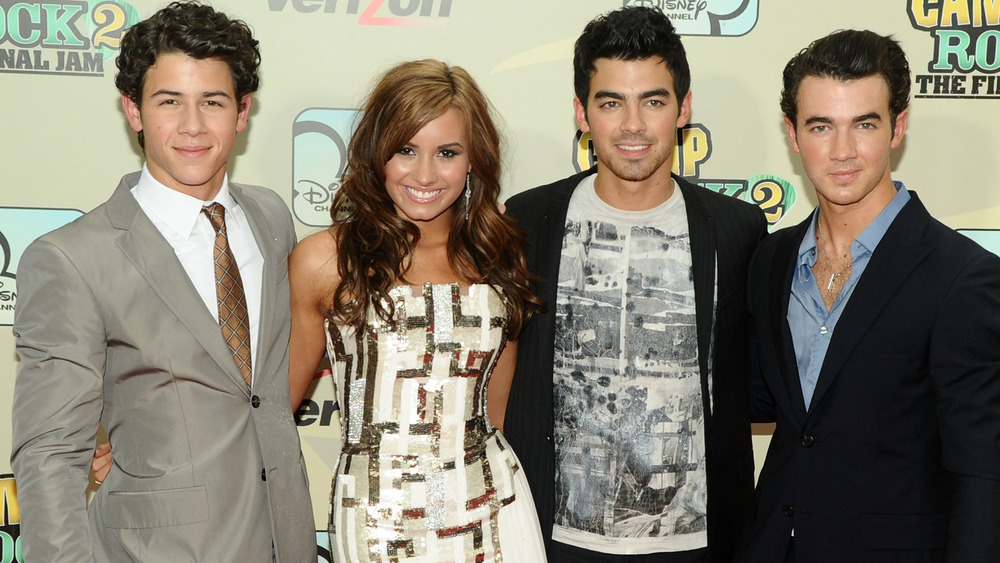 Andrew H. Walker/Getty Images
In 2008, Demi Lovato embarked on her first tour, opening up for the Jonas Brothers in their "Burnin' Up" tour that summer (per her official website). That tour gave way to the release of her debut album, Don't Forget, in September 2008, reported New Music Weekly. Here We Go Again came in summer 2009, with the album's title track as the theme song for the new Disney Channel show she helmed (more on that later). She then released Unbroken in 2011 and Demi in 2013, her last under Disney's music label, according to the Disney Music website.
Unbroken came after Lovato's first stint in rehab, which she entered at 18 years old for physical and emotional trauma (via The New York Times). That treatment became necessary after she had to drop out of the Jonas Brothers' 2010 tour because she assaulted one of the dancers while on a plane. She pointed to the pressures her rapid success and fame caused as part of the reason why she needed rehab.

If you or someone you know is struggling with substance abuse and mental health, please contact SAMHSA's 24-hour National Helpline at 1-800-662-HELP (4357).
Demi Lovato left Sonny With a Chance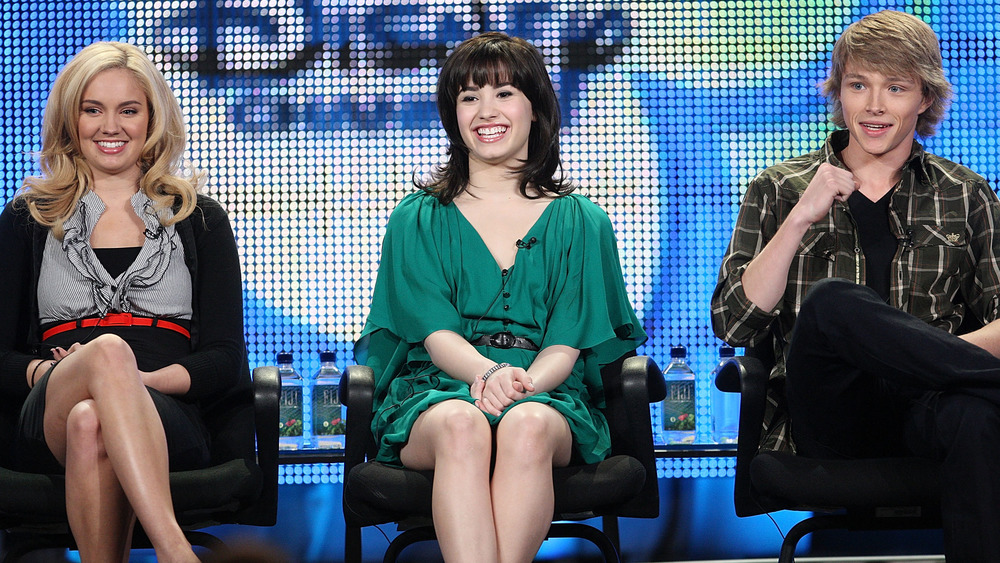 Frederick M. Brown/Getty Images
When Demi Lovato left rehab after quitting the Jonas Brothers' tour, she also decided to take a step back from being in front of the camera. In 2009, Disney gave Lovato her own TV show, Sonny With a Chance, about a group of teen actors on a sketch comedy show. However, when she finished rehab, Lovato made the decision to leave the show, according to People. "I don't think going back to Sonny would be healthy for my recovery," Lovato said at the time. And she had the full support of Disney, who pivoted the show into So Random! so that the rest of the cast and crew could still work.
In 2020, Lovato and the cast participated in a virtual reunion, where the pop star shared she was "underweight and freezing" all the time, per The Independent. Demi Lovato shared that she was overly concerned with how she looked and what she was wearing, which ultimately was a symptom of her eating disorder.
If you or someone you know is struggling with an eating disorder, please contact the National Eating Disorder Association's Helpline at 1-800-931-2237 or chat with one of their helpline volunteers on NEDA's website.
Demi Lovato went through a self-proclaimed dark period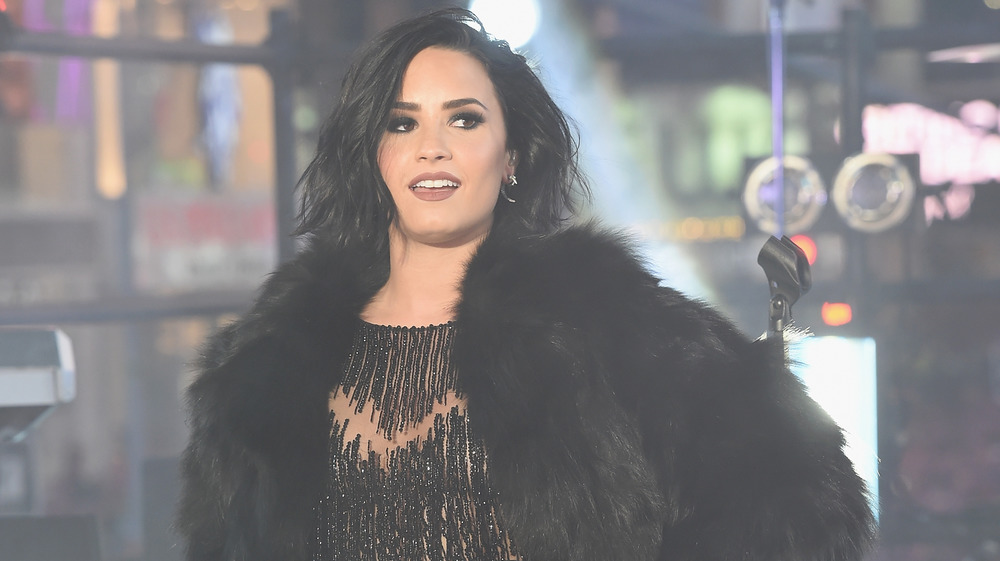 Dimitrios Kambouris/dcnyre2016/Getty Images
Although Demi Lovato put out an album in 2015, Confident, she told The New York Times that she barely revisits that album or her 2013 disc, Demi.
"I don't know if it's because it reminds me of the people that were in my life during those times or if it just doesn't feel that authentic to myself," she told the publication. She shared the only part of that dark period in her life she looks back on with fond memories was her single "Cool For the Summer," which was her first foray into queer life. She told The Times she came out as queer to her stepdad in 2015 but couldn't manage to come out to her mom until two years later, when she went on her first date with a woman.
"I put a lot of negative expectations on that conversation that I wish I hadn't," Lovato said, via The New York Times. "Growing up in the South, growing up as Christian, I was scared to know how she'd react."
Fortunately, her mother reacted positively, telling her daughter she just wanted her to be happy, and Lovato embraced some of the more queer aspects of her life as time went on. Unfortunately, however, her struggles were far from over.
She is an open book in discussing tough times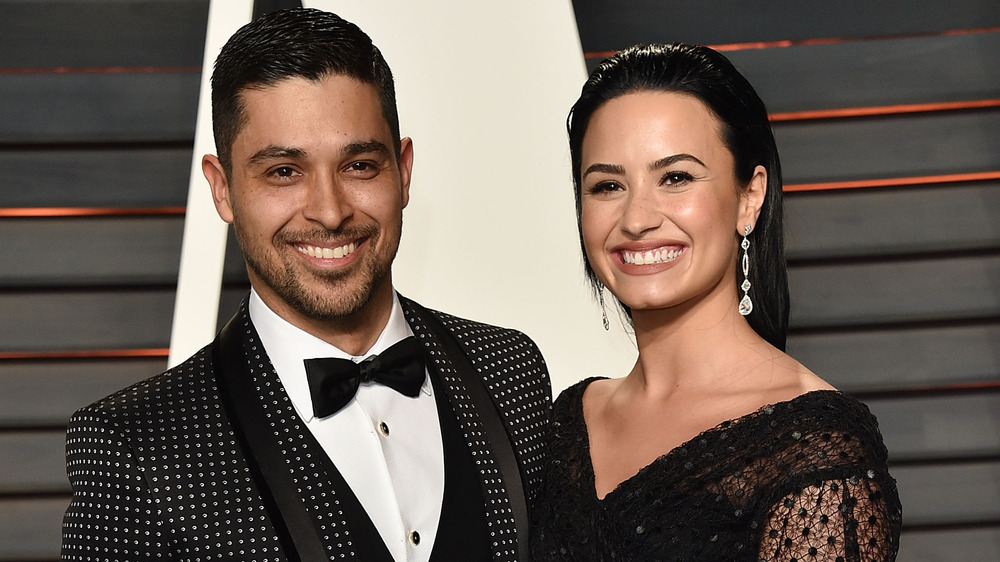 John Shearer/Getty Images
In 2013, Demi Lovato entered rehab for a second time in L.A., though the sobriety didn't stick. During this time, she dated Wilmer Valderrama, but she was still struggling with using drugs and alcohol. Her management team intervened, and she managed to stay sober for around six years, as reported by Glamour.
Her struggles with addiction were revealed in her documentary for YouTube called Simply Complicated, which followed Lovato as she recorded her newest (at the time) album, Tell Me You Love Me (via Billboard). The documentary had some bombshell revelations, including just how much she loved Valderrama. "I think my heart's always with Wilmer," she said in the documentary. "I'm pretty sure that I'm not gonna meet anybody that compares to him, but I'm trying to keep an open heart and an open mind when it comes to that."
Simply Complicated also revealed just how far she had fallen into drugs and alcohol. She revealed she had gotten drunk and partied with two "random people" the night before she was to perform on American Idol (per Glamour). She also said in the documentary that her management team was going to drop her if something didn't change. She surrendered her phone, and that's when everything changed for the better.
Until 2018.
Demi Lovato's overdose and Dancing With the Devil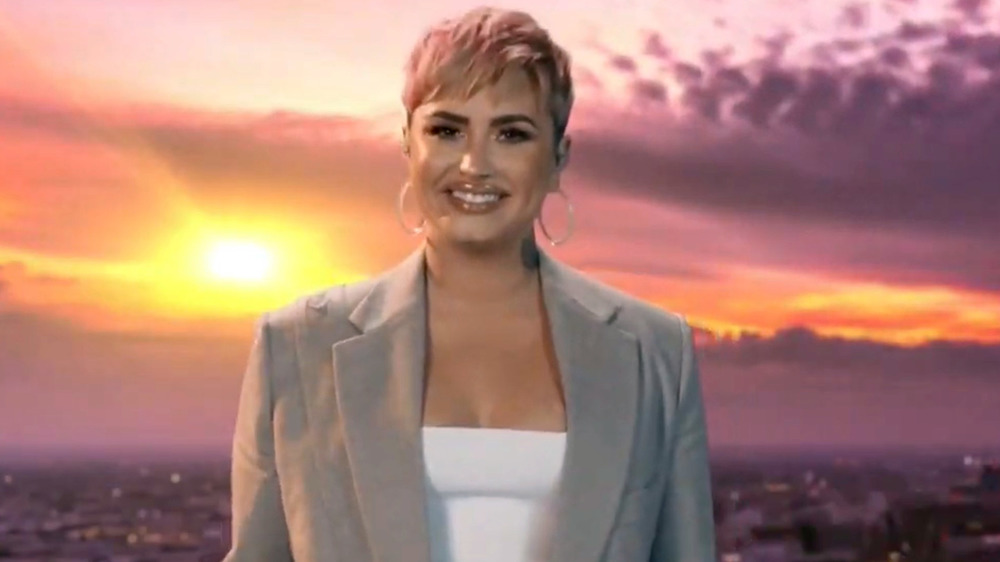 Handout/Getty Images
Demi Lovato fell back into her old habits, which culminated with a near-deadly overdose in July 2018, according to The New York Times. She reveals in her newest documentary, Dancing With the Devil, that she experienced three strokes and a heart attack as a result of the overdose and woke up legally blind. She still can't see well and can no longer drive.
However, she is alive.
Following that overdose, she entered into a whirlwind romance with Max Ehrich, which ended because she admitted she questioned his intentions, reported Insider. She also said via The New York Times that she realized more about herself, that she wasn't ready to enter into a heteronormative relationship. Dancing With the Devil also goes into more detail about her hard drug use, like cocaine and heroin, and how she was sexually assaulted a few different times. However, Lovato has also come out of this experience stronger than ever. She had amazing performances at the Grammys and the Super Bowl in 2020, and has chopped off all of her hair, looking to find her true identity.
While Demi Lovato may still be struggling to find who she really is, her fans will be there by her side, supporting her every step of the way.

If you or someone you know has been the victim of sexual assault, you can call the National Sexual Assault Hotline at 1-800-656-HOPE (4673) or visit RAINN.org for additional resources.