The Sweet Reason Miley Cyrus Sent A Present To Joe Jonas And Sophie Turner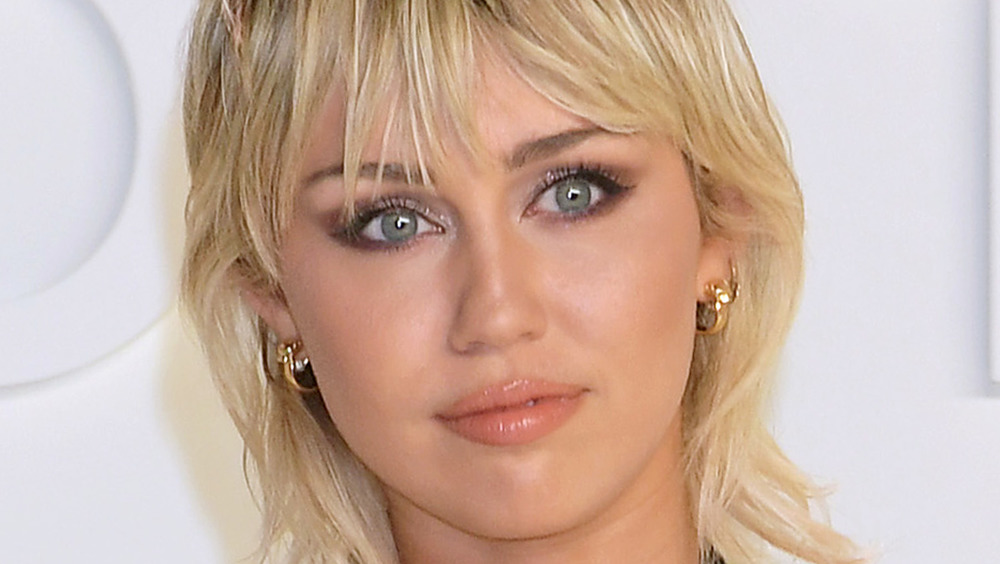 David M. Benett/Getty Images
Miley Cyrus has gone back to her roots — bleached blonde, to be exact — by celebrating Hannah Montana's 15th anniversary. Cyrus commemorated her Disney alter-ego firstly by penning a sweet letter to Hannah, which began, "Hey Hannah it's been a while. 15 years to be exact."
The letter, posted to Cyrus' Instagram and Twitter, also touchingly referred to the show's enduring popularity. When Hannah Montana debuted on Disney Channel in March 2006, it drew in 54 million viewers that month (per TIME), while its final episode in 2011 attracted 6.2 million Hannah fans (per Billboard). "I didn't know then... that is where you would live forever. Not just in [my heart], but [in the hearts of] millions of people around the world," Cyrus wrote.
Aside from teeny-boppers, people who grew up with Hannah or those who simply appreciate her fabulous array of purple outfits are also among her legions of fans. That includes Joe Jonas and Sophie Turner. Cyrus sent the couple a huge Hannah Montana floral arrangement in the shape of a star, comprised of the show's logo colors.
Jonas and Turner both uploaded a video of the generous gift to their Instagram Stories, calling it "epic." Jonas wrote, "HOLY HANNAH MONTANA!!! THANK YOU @mileycyrus WE LOVE IT! THIS IS EPIC!!" as the show's legendary theme song "Best of Both Worlds" played. Turner also reposted the video and wrote, "THANK U HANNAH WE [heart] U." But it seems like Hannah herself had reason to thank the pair.
Why Miley Cyrus jokingly thanked Joe Jonas and Sophie Turner
While we all wished we had a catchy moniker like Hannah Montana... apparently it's the name of Joe Jonas and Sophie Turner's daughter. Miley Cyrus' handwritten note to the couple, which eagle-eyed fans can spot during Jonas' panned video, saw the singer thank the couple for naming their baby after her. "To Joe & Sophie! It was so sweet of you to name your daughter after me! Sending all my love to little miss Hannah Montana! Love, Hannah Montana."
Despite Cyrus' comment, disappointingly Jonas and Turner's daughter is actually called Willa. Therefore, "little miss Hannah Montana" must be an inside joke between the trio — one which certainly owes itself more explanation! But Jonas did give Turner a Hannah Montana t-shirt in December 2020, which the Game of Thrones star uploaded to her Instagram Story and wrote, "Thanks to the hubbs of the year for my early Xmas gift" — which got Cyrus's tick of approval as she replied back, "Yassss," per Seventeen.
True Hannah Montana fans will also remember that Jonas and his brothers appeared as themselves — The Jonas Brothers — in a few episodes of the Disney show during their early music days. Nick Jonas, now married to Priyanka Chopra, also famously dated Cyrus within the show's first year.
So while Jonas and Turner didn't name their daughter Hannah Montana, can we at least get a Jonas Brothers and Hannah reunion again please? It's "The Best of Both Worlds" we need.