Debbie Reynolds And Carrie Fisher's Causes Of Death Revealed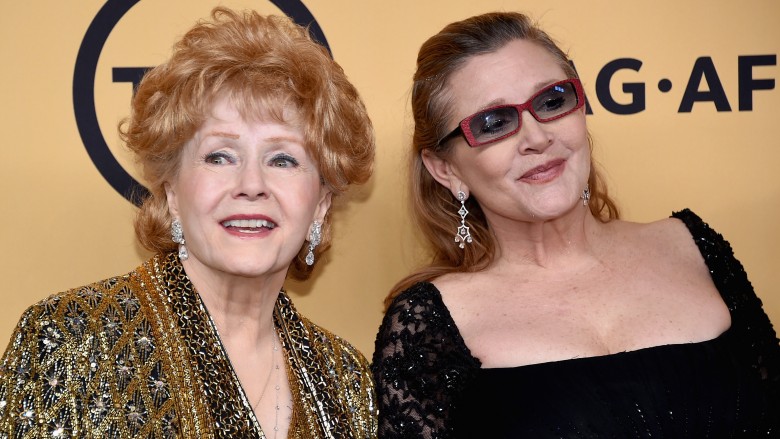 Getty Images
Debbie Reynolds and Carrie Fisher's death certificates have been released.
TMZ reports that Reynolds' death certificate confirms that she died at 83 years old of a fatal stroke on Dec. 28, 2016, which emergency workers suspected when they responded to a 911 call about the Singin' In The Rain star. Her official cause of death was an intracerebral hemorrhage, with hypertension (high blood pressure) listed as an underlying cause of the stroke.
Fisher's death certificate, however, wasn't quite as clear. As Nicki Swift previously reported, the Star Wars legend passed away at 60 in a Los Angeles hospital on Dec. 27, 2016, four days after she suffered cardiac arrest on a flight. She was without a pulse for about 10 minutes, and sources claimed that she never recovered—and suffered from cardiac arrest again in the hospital while her family debated taking her off of life support. TMZ reports that Fisher's death certificate lists the cause of death as "cardiac arrest/deferred," which means more tests are required to determine the underlying cause of Fisher's cardiac arrest.
One of the tests performed is a toxicology exam to examine if drugs were in Fisher's system at the time of her death. Fisher was open about her struggles with bi-polar disorder and drug addiction throughout her life, and she was rumored to have relapsed shortly before her untimely death.
Reynolds and Fisher were laid to rest on Jan. 7, 2016, with Fisher's ashes buried in a Prozac pill-shaped urn, reportedly at her request, next to Reynolds. A private memorial was held for the Hollywood icons on Jan. 6, 2016, where guests including Meryl Streep and Fisher's daughter Billie Lourd gave speeches to celebrate the lives of the epic mother-daughter duo.