Chrissy Teigen Makes A Shocking Admission About Her Love Life With John Legend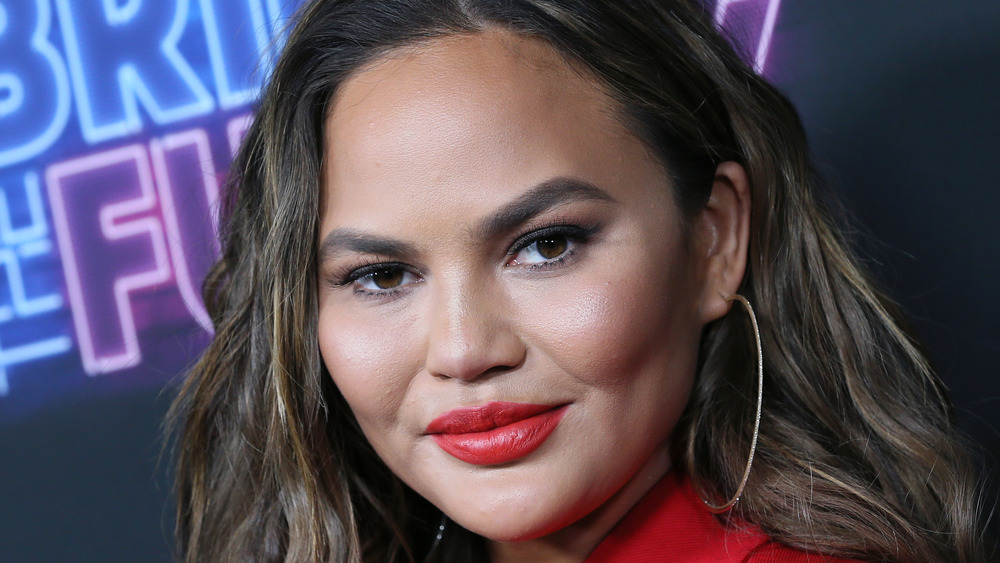 David Livingston/Getty Images
When it comes to nearly all aspects of her personal life, seemingly nothing is off-limits for Chrissy Teigen. She first got her start in modeling, landing on the swimsuit issue of Sports Illustrated, and ever since then, she's been in the spotlight. She married singer John Legend in September 2013, per Insider, and over the years, her fame has continued to grow. 
Teigen has authored several cookbooks and has a cookware line with Target. She's perhaps most famously known for her playful personality and for not having a filter. Not only is Teigen an open book on Twitter, trolling her husband, sharing painful aspects of her life and being incredibly candid, and sparring with former President Donald Trump, but she's also brutally honest in interviews.
Teigen shocked fans when she deleted her Twitter account in March 2021, sharing that she could no longer handle some of the harassment she was receiving. "My life goal is to make people happy. The pain I feel when I don't is too much for me," she wrote in a since-deleted string of tweets. "I've always been portrayed as the strong clap back girl but I'm just not." 
While that might be true, it certainly hasn't stopped her from being candid on late night shows (like the time she told Jimmy Fallon that she mistook actor Michael Keaton for a waiter at a Golden Globes after-party ... oops!) In March 2021, she spilled even more tea with James Corde and this time, it was some pipping hot tea on her sex life. 
Chrissy Teigen and John Legend have had sex in public on more than one occasion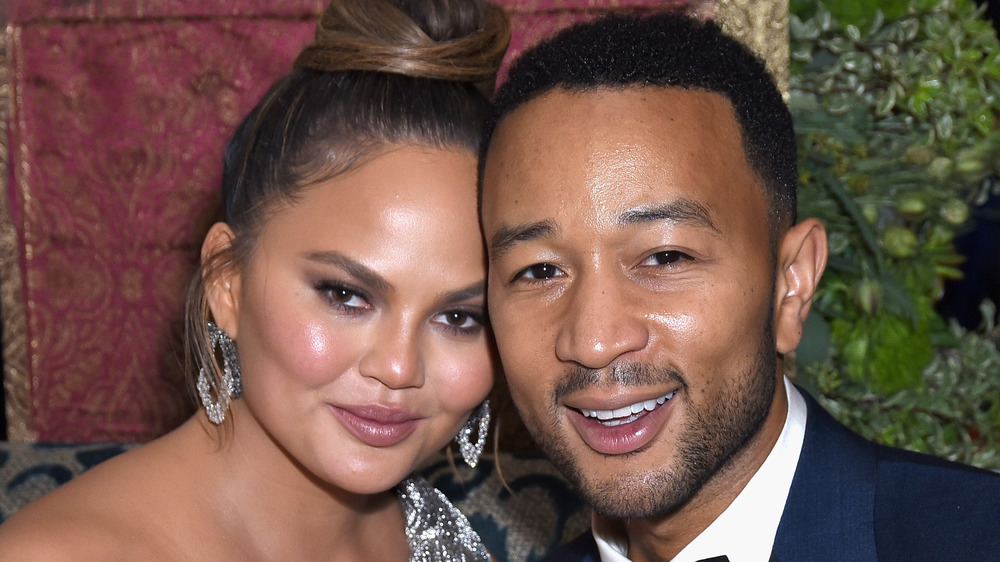 Presley Ann/Getty Images
As previously mentioned, Chrissy Teigen isn't shy when it comes to sharing all aspects of her personal life ... and when we say all aspects, we mean all aspects. During a game of Spill Your Guts on The Late Late Show with James Corden in March 2021, Teigen drank a fish-flavored milkshake (hours after eating sushi, btw) and she also answered an intimate question about her love life. Corden asked Teigen to reveal the strangest place that she'd ever had sex with John Legend and her answer was just about as honest as you would imagine.
"I need to clear it up. Because one time, at the Grammys, I had said that we had sex at 'that Obama thing,' and that came out wrong. Because what I actually meant was, it was 'that Obama thing,' but it wasn't with them or near them. I believe it was the DNC," she shared before revealing that it took place in a bathroom. And she didn't stop there. Teigen also revealed that she had sex with Legend in front of the juice bar at Fred Segal, and she also joined the mile-high club. "On a plane — not even private, James. Public!" she exclaimed. 
Since Teigen broke hearts by deleting her Twitter account, this has helped soften the blow a little, and we've got to applaud the model for being a literal legend.