Tori Spelling's Alleged Prank Backfired. Here's Why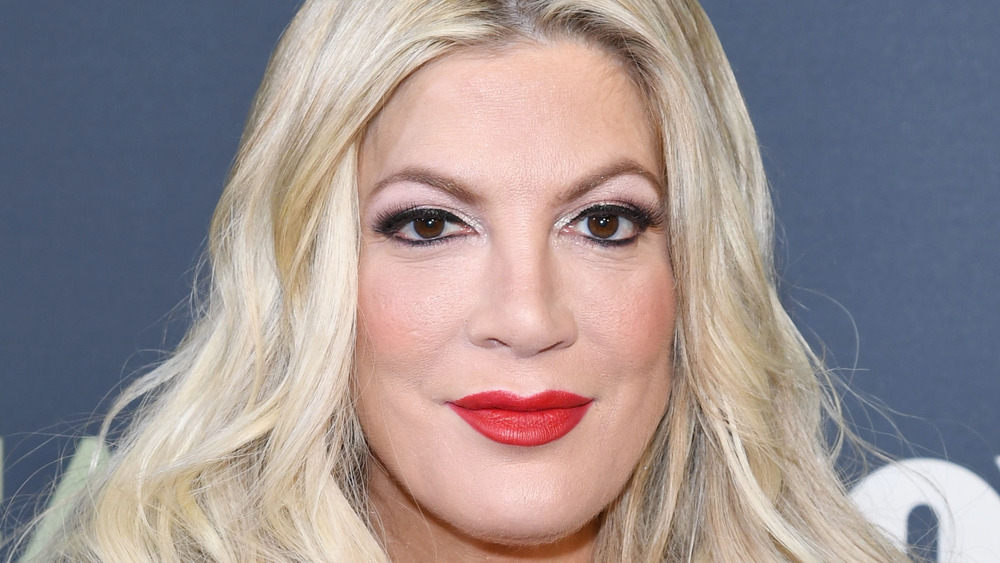 Amy Sussman/Getty Images
Tori Spelling has been in the press for the wrong reasons several times in her career, and her April 2021 "scandal" is no exception. As fans know, Spelling and her mother, Candy Spelling, have a tumultuous relationship that has played out in the press. In 2009, Candy revealed in her memoir, Stories From Candyland, that she and Tori were no longer on speaking terms (via People). "I don't see Tori and Dean anymore." Candy dished, "I used to see Liam, but no longer. And I've never met Stella." Candy also revealed that she wasn't sure why she and Tori were feuding in the first place.
Tori's small inheritance from her TV legend father, Aaron Spelling, has also been the subject of plenty of attention. Out of his $600 million mega-fortune, he only left Tori $800,000. Ouch! To make matters worse, Tori reportedly spent the entire wad of cash and has struggled with debt. Tori's relationship with Dean McDermott has also made plenty of headlines, and in 2018, McDermott called the cops on his wife. The couple famously met on the set of Lifetime's Mind Over Murder, and at the time, they were both married. Then, there was the time when Tori sold her former 90210 co-star Jason Priestley's wedding invitation for $5, causing a media frenzy. 
In April 2021, Tori made headlines once again for an April Fools' Day prank gone wrong. Keep scrolling to find out why the actor's alleged joke didn't sit well with fans.
Many fans didn't appreciate Tori Spelling's alleged joke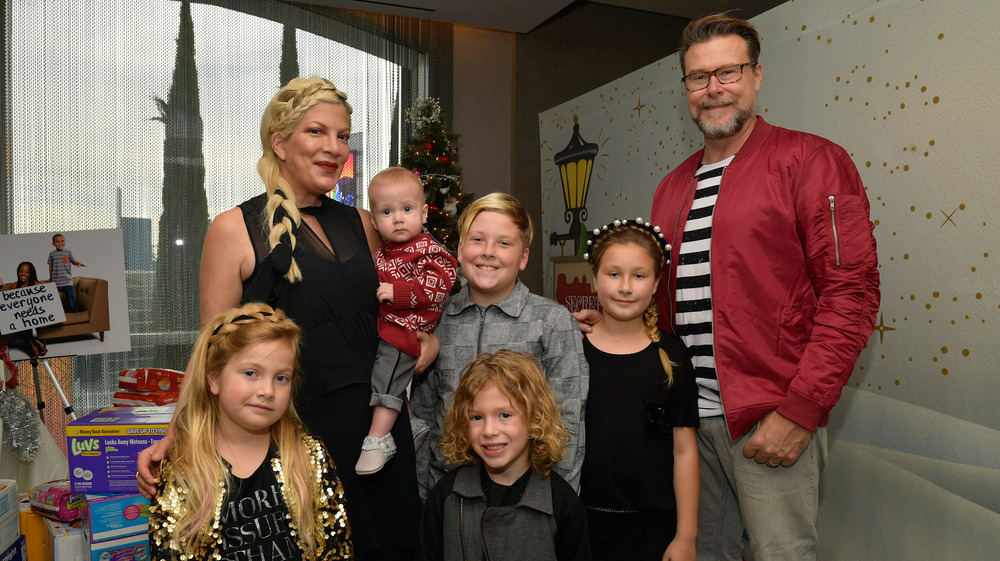 Matt Winkelmeyer/Getty Images
Being the proud mama of five, Tori Spelling does not lack in the kid department. On April 1, 2021 (a.k.a April Fools' Day), Tori shared a photo of herself cradling a baby bump. She captioned the Instagram photo "No. 6" and tagged her location as Los Angeles, Calif. Tori appeared to be posing in a bedroom and sported a sports bra, colorful kimono, and no pants. 
While many fans took to the photo to congratulate the actor on her newest (alleged) bundle of joy, several others slammed her for what they felt was a prank. "I really hope you aren't using a pregnancy as an April fools joke considering there are so many women out there who wish they could have just one child," one follower wrote. "You have been blessed with 5, please have compassion and empathy. This is nothing to joke about!"
"I super hope this is true, in that case congratulations!" another Instagram user chimed in. "If this is an April fools joke, EXTREMELY poor taste." Some other fans, including some of Tori's famous pals like Poppy Montgomery, didn't think she was joking. "Omg!!!!! AMAZING!!!!!!! Yay! Congratulations!!!!!" Montgomery commented. As of this writing, Spelling has not revealed whether or not her post was a prank.
Tori is not the only celeb who has come under fire for an April Fools' Day pregnancy prank. In 2019, Justin Bieber tricked fans into thinking wife Hailey Baldwin was expecting.