Shailene Woodley Has Something To Say About Aaron Rodgers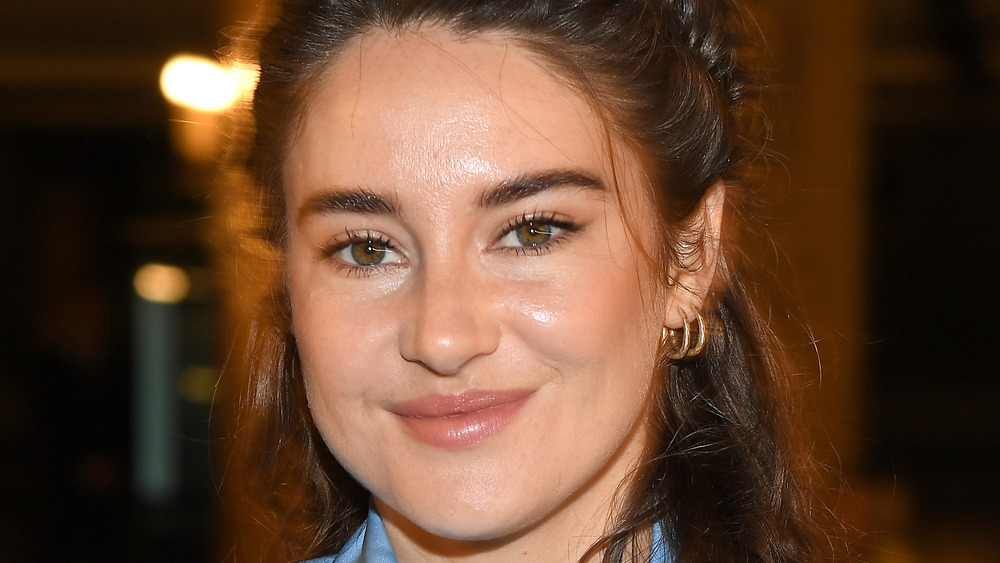 Pascal Le Segretain/Getty Images
Shailene Woodley and Aaron Rodger's engagement came as a surprise to many since some people did not know that they were even dating prior to their engagement. As fans know, the Green Bay Packers quarterback slyly thanked his fiancee while accepting the 2020-2021 season NFL MVP trophy in February 2021 over a virtual video. "2020 was definitely a crazy year filled with lots of change and growth, some amazing, memorable moments," he said (via Entertainment Tonight). "180 straight days of having my nose hair scraped, playing for very little fans or no stands the entire season. I got engaged." Rodgers then thanked his support team and fiancee, but did not specifically name who she was at the time.
After that, rumors swirled over the engagement until Shailene Woodley finally broke her silence on The Tonight Show Starring Jimmy Fallon. "Yes, we are engaged," she told the late-night host in February 2021 before revealing that the news was not so fresh to them. "For us, it's not new news, you know, so it's kind of funny. Everyone right now is freaking out over it, and we're like, 'Yeah, we've been engaged for a while.'" Woodley also shared that they met during the coronavirus pandemic, and that she has not yet been to a football game to cheer on her man.
The sweet new pair have not been shy about singing one another's praises, and it's so freaking adorable. Keep scrolling to find out what Woodley said about Rodgers.
Shailene Woodley plugs Aaron Rodger's 'Jeopardy!' hosting gig in the cutest way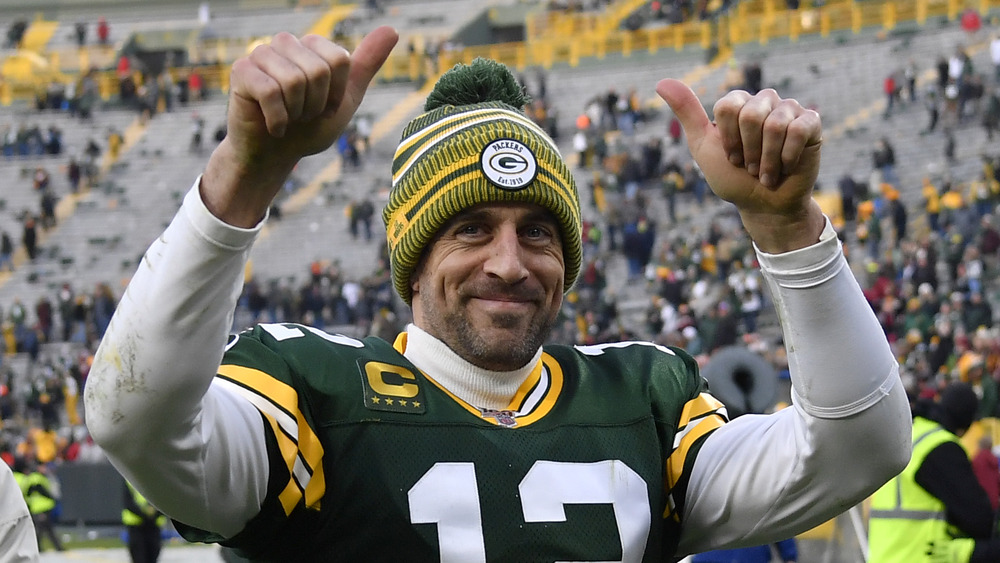 Quinn Harris/Getty Images
In case you did not know, Aaron Rodgers and Shailene Woodley are Instagram official as of April 5, 2021, so things are, like, really real now. Woodley took to her Instagram Stories to share a video of the couple riding together in a car (via the Daily Mail). The clip starts off with Woodley sitting in the passenger seat and giving Rodgers directions. She appears to be wearing Rodgers' green baseball cap, which reads "DOG DAD" in white stitching. "Guys, I have a very important announcement to make. This guy right here is super sexy, super attractive ... just shaved his neck this morning," she shares before pointing out his man bun. 
Woodley encouraged fans to catch Rodgers hosting Jeopardy! before the quarterback chimed in with a list of channels it could be on. "There's some laughs, maybe some tears, excitement, mystery," Rodgers revealed with a laugh. "You never know. It's like The Princess Bride. Fencing, fighting, torture, revenge, miracles, true love. You never know, check it out." The Big Little Lies star also shared a few screenshots of Rodgers hosting, and it's clear that she's one smitten kitten. In turn, Rodgers shared a video of himself and Woodley on Instagram Live as they recapped his first day of hosting. Fans can only hope that Woodley and Rodgers will continue to give glimpses into their super adorbs relationship because we are totally digging it.