Here's How Much Golf Pro Justin Thomas Is Really Worth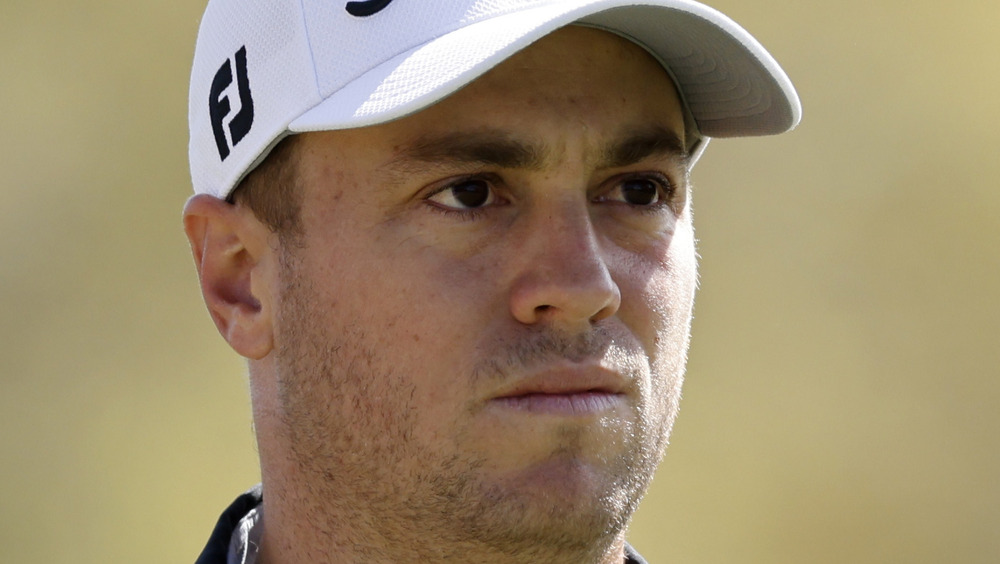 Michael Reaves/Getty Images
Golf might not be one of the most physically taxing sports out there, but it is certainly as lucrative as playing in the NFL or NBA. With the 2021 PGA Masters tournament kicking off at the Augusta National Golf Club on April 8, 2021, money is on everyone's mind — even those of some of the game's top earners like Justin Thomas. 
Thomas has been on the PGA Tour since the 2015 season, but according to Sportscasting, he is already one of highest paid golfers ever, ranking #25 on the career earnings list among golf superstars like Tiger Woods, Nick Price, Fred Couples, and Jerry Kelly. If he continues to play like he has been, Thomas could potentially outrank Woods, who sits at the number one spot with $120 million in career earnings. Per ESPN, as of this writing, Thomas is already the highest earner of the 2021 PGA Tour, with just over $5 million in his pocket. But prize money is only part of the equation when it comes to a golfer's overall net worth. The actual golf course is just the beginning when it comes to making money playing golf.
So, how much is this hotshot worth anyway?
Justin Thomas is a breakout earner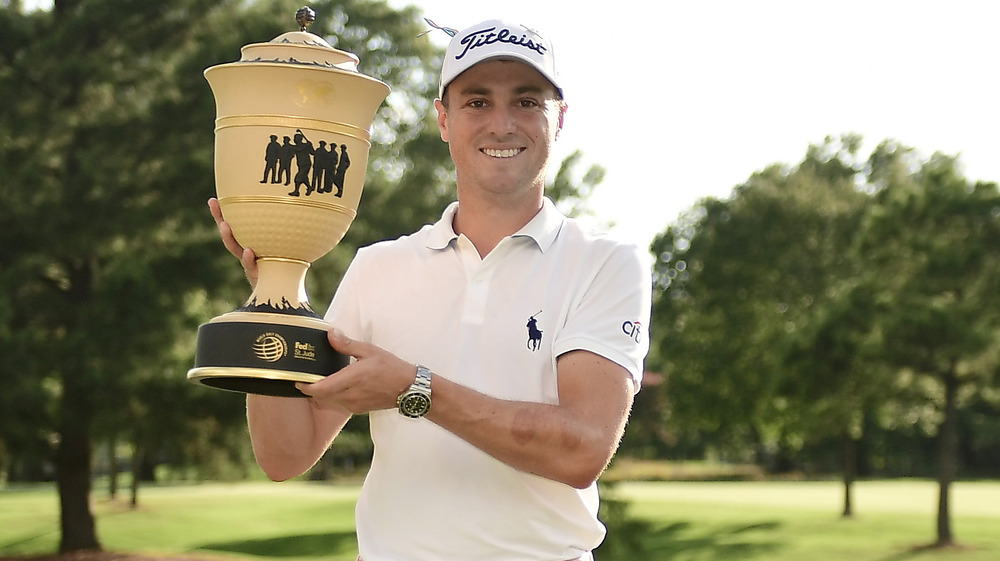 Stacy Revere/Getty Images
Per Celebrity Net Worth, Justin Thomas is worth about $30 million, which isn't too shabby since one of his first big money wins was in 2017 at the FedEx Cup. Per USA Today, he walked away with almost $11 million the day of his win. While he seems to earn quite a bit of money each year in prize money, a lot of his dough also comes from endorsements. Per Sportico, Thomas earned $23 million in endorsements in 2019 with brands such as Ralph Lauren, Titleis, FootJoy, among other brand.
However, he might earn a little less in 2021 with those endorsements. In January 2021, Thomas used a homophobic slur while playing in the Sentry Tournament of Champions. Ralph Lauren issued a statement just days afterwards, saying, "While we acknowledge that he has apologized and recognizes the severity of his words, he is a paid ambassador of our brand and his actions conflict with the inclusive culture that we strive to uphold. In reflecting on the responsibility we have to all of our stakeholders, we have decided to discontinue our sponsorship of Mr. Thomas at this time." They left a window of opportunity for the Kentucky native to grown and learn and possibly partner again, but it has to sting. Per Golf 365, Thomas apologized to his other partners, who have kept him on. 
Here's to Thomas learning the error of his ways going forward — and that words can not only hurt people, but also his bank account.