Kesha Has Something To Say About Caitlyn Jenner On The Masked Singer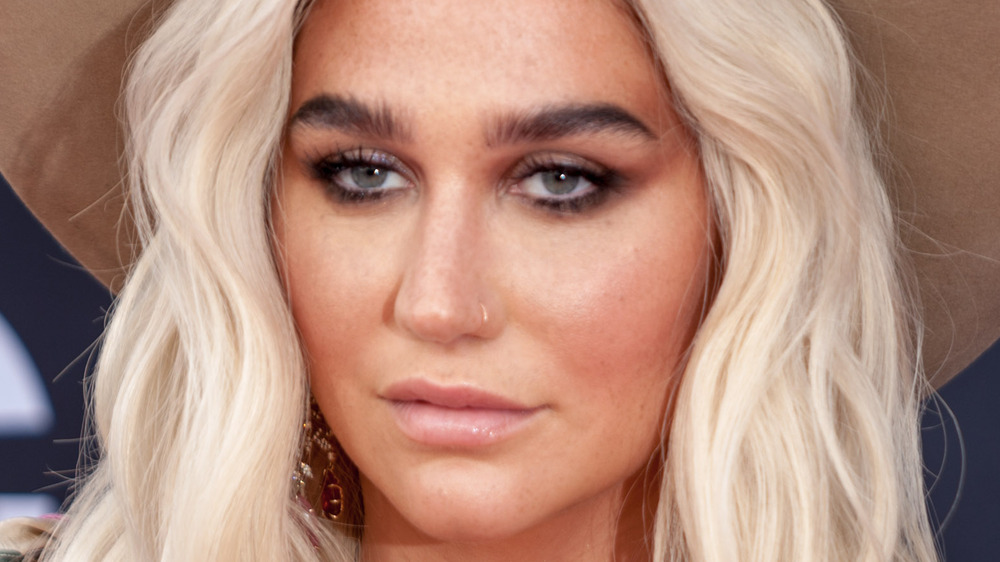 Shutterstock
The Masked Singer has seen some pretty wild unmaskings in 2021. Season 5 of the Fox reality show has seen huge names pop up from under their elaborate costumes, with Nick Cannon, Logan Paul, and Kermit the Frog — yes, Kermit the Frog — being among those unmasked. Another unexpected unveiling came when Phoenix took of its mask to reveal Keeping Up with the Kardashians star and Olympic gold medalist Caitlyn Jenner underneath.
Jenner was eliminated from the competition in week two, but not before she kept America entertained with a rousing rendition of Kesha's 2009 hit "TiK ToK." However, it turns out Jenner actually wasn't too shocked about being booted off the series, as she jokingly admitted to Entertainment Weekly in March 2021 that she thought she "sucked." 
When asked what surprised her most about the show, Jenner replied, "How much I sucked at doing 'TiK ToK.' I thought I would get it down better than that. I had practiced it so much. I literally had that song going through my head for the next week after that show was on." She added that she found the song to be "tough ... timing wise" and "difficult to do," and admitted it "wasn't the right pitch."
Well, it seems like Kesha may just agree. Read on for her reaction to Jenner's performance.
Kesha hid watching Caitlyn Jenner's cover
It certainly doesn't seem like Kesha will be asking Caitlyn Jenner to duet with her anytime soon. The star took to the social media app TikTok on April 6, 2021, where she shared a video of herself watching the former athlete's March 2021 performance. Kesha could be seen on the left of the screen and covered the bottom half of her face with her silver sequin and white feather sleeve. As Caitlyn got further into her song, Kesha slowly moved the garment higher up to cover her entire face, hiding as Caitlyn sang. "Live for a cover and live for this outfit ... but I mean I have to go," she wrote in the text posted on the clip. In the caption, she added, "Feeling like P Diddy ... I think?"
Caitlyn previously opened up about how her famous family reacted to her doing the show, admitting that her daughters Kendall Jenner and Kylie Jenner were left a little confused. Caitlyn told Us Weekly that the sisters "gave [her] this strange look and said 'Dad, why are you doing this?'" She added that she told them that she wanted "a challenge," and admitted they jokingly told her she was "crazy."
All that being said, it seems like those hoping for a duet version of "TiK ToK" from Kesha and Caitlyn probably shouldn't hold their breath.