Mitch McConnell Reportedly Wants 'Nothing To Do' With Trump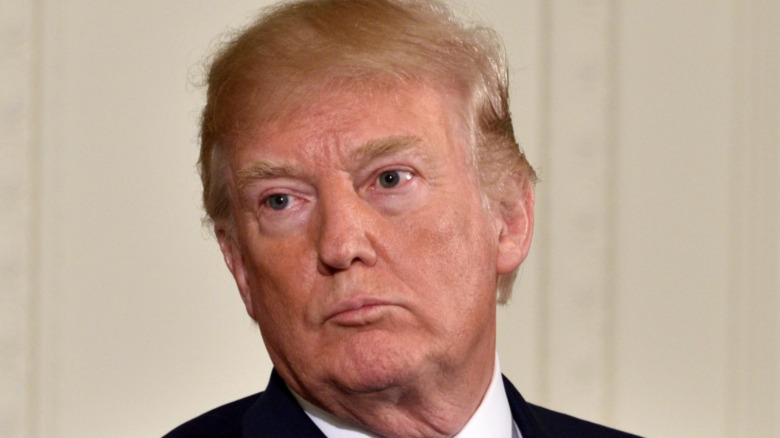 Shutterstock
Only a few months after ex-President Donald Trump made his January 2021 exit from the White House, the Republican party which he represents has found themselves floundering. And according to an April 16, 2021 report by the Associated Press, the reason the GOP is unmoored now more than ever is because of a specific reason. Simply put, the ever-widening chasm within the rock of the Republican party has a name, and that name is Trump. 
Despite holding no political office in any official capacity, Trump, per AP, has become the de facto leader of the party that backed his respective bids for the presidency. Considering the hints that Trump himself has dropped with regards to running in the 2024 general election, the ex-commander-in-chief's hold over the GOP might be one with lasting power. But some Republican figureheads who once swore allegiance to Trump — like Sen. Mitch McConnell — have since reversed their stance on whether or not Trump should be allowed anywhere in the vicinity of the White House he called home for four years. Read on for McConnell's latest statement about Trump.
Mitch McConnell's new statement speaks volumes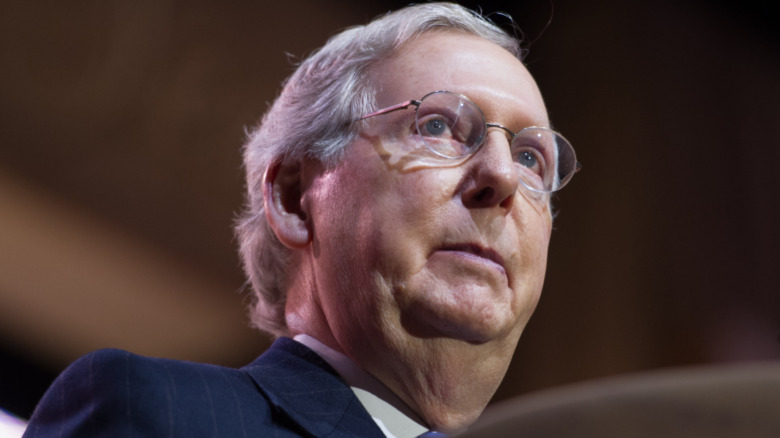 Shutterstock
In a series of April 2021 interviews with the Associated Press, a number of high-profile politicians within the Republican party were candid about the extreme nature of party infighting following January 2021 — the same month that saw the Jan. 6 right wing-led insurrection at Capitol Hill, the beginning of Donald Trump's second impeachment trial, and Donald Trump's last day in office. The confluence of all these events created a maelstrom for the GOP, with some lawmakers choosing to distance themselves from Trump and his claims of voter fraud in November 2020, and with others doubling down.  
One of the most significant members of the GOP's inner Trumpian circle to part ways has been none other than Sen. Mitch McConnell. But following Jan. 6, a moment in U.S. history in which McConnell, per AP, held Trump "morally responsible for," the senator opted for a wide berth between himself and the one-time real estate mogul.
When McConnell was asked about his standing and views on Trump by reporters (via AP) in April 2021, the Kentucky lawmaker was candid in his disinterest to engage. "What I'm concentrating on is the future," said McConnell, repeating the mantra again, per The Washington Times, when one reporter asked him about his feelings concerning the ex-president following a speech he gave at Mar-a-Lago days before, in which he bashed the senator. "That's what I'm concentrating on." Looks like both GOP figureheads won't be sitting down to dinner anytime soon.