How Kourtney Kardashian's Kids Really Feel About Her PDA With Travis Barker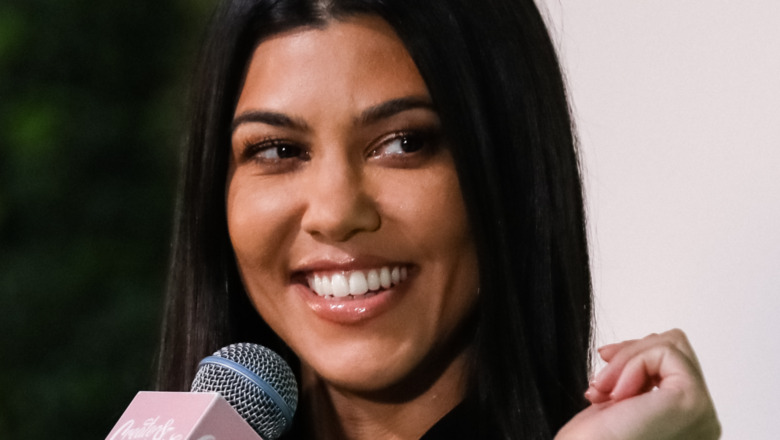 Kelly Sullivan/Getty Images
Kourtney Kardashian and Travis Barker can't seem to keep their hands off each other and they don't care who knows it, even their kids. Although the two were pals and neighbors for years, their relationship appeared to take a turn when they were spotted on vacation together in January 2021, per Life & Style. It wasn't long until the two started being photographed on romantic dates when they finally gave in to their fans' demands and started flaunting their romance on social media.
Despite initially playing coy about their relationship, Instagram quickly became their mountain top to shout about their growing love for one another. The rock star even showed off his new "Kourtney" tattoo, also featured on the reality star's grid, in addition to a couple of other NSFW snaps.
It also looks like Barker's kids have been getting in good with the Poosh founder. In recent months they've frequently posted photos from fun times together and even showed off some of the lavish gifts the mother of three has given them.
However, it doesn't look like Kourtney's kids have warmed up to their mother's new, and sometimes raunchy, relationship. Keep scrolling to see how her kids really feel about her romance with the Blink-182 drummer.
Kourtney's kids are 'grossed out' by her new romance PDA
Although Kourtney Kardashian and Travis Barker appear to have seamlessly slipped into each other lives — considering the rocker was spotted joining the Kardashians at several family events and Kourtney's effortless transition into the cutest rock star girlfriend, if we say so ourselves — her kids aren't quite used their mom's PDA with her new man.
"It's a tough adjustment seeing their mom all over someone else," an insider told Life & Style on April 21 about Kourt's kids three kids — Mason, Penelope, and Reign — whom she shares with ex-boyfriend Scott Disick.
Seeing their typically private, and known for being monotone, mom all over someone else has definitely been a transition for them, especially Mason who, the insider describes as "daddy's boy." Although Kourtney and Scott haven't been romantically involved for years and have both seen other people since their split, their kids are still "grossed out watching their mom making out with this guy who's not their dad 24/7."
Luckily, the musician "been a real gentleman with them" as he becomes a fixture in their lives. As for how the meme-able lady is dealing with her kids' adjustment to her new relationship, "Kourt's attitude is that this will soon become their new normal," the source shared. It sounds like these two are in it for the long haul and the Disick kids are going to have to get used to all that PDA, just like us!