What Body Language Experts Noticed During Chloe Zhao Oscar Speech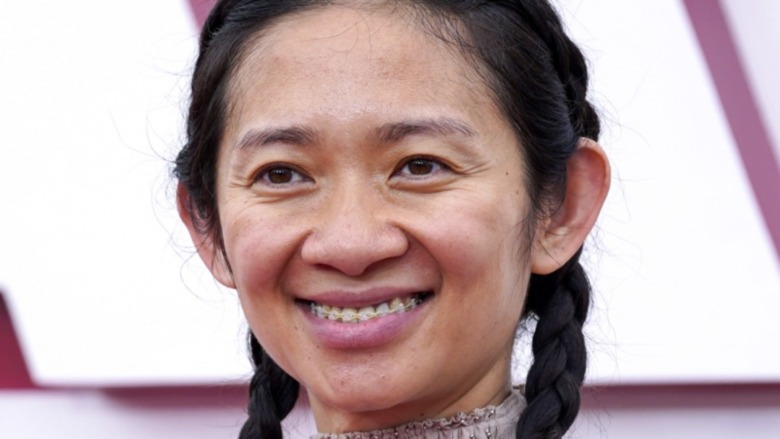 Pool/Getty Images
Chloe Zhao made history with her 2021 Oscar win for Best Director for "Nomadland." Zhao is the second woman — and the first woman of color — to win the Academy's award for directing. Zhao gave a moving acceptance speech, recalling her childhood in China. In her remarks, the newly minted winner talked about memorizing Chinese poems with her father.
Zhao's acceptance speech encouraged people to "hold out for the goodness" in other people (per Entertainment Tonight). Zhao recalled a line from a poem that helps guide her life: "People at birth are inherently good." Zhao continued, "I have always found goodness in the people I met everywhere I went in the world. So this is for anyone who has the faith and the courage to hold onto the goodness and themselves, and ... in each other" (per USA Today).
Her speech was especially moving because her film "Nomadland" features the story of a woman who has to leave her hometown after her husband dies and she becomes "houseless" traveling around the United States. Two body language experts talked to Nicki Swift exclusively about Zhao's body language during her acceptance speech. Keep reading to learn more.
Body language experts on Chloe Zhao's Oscar speech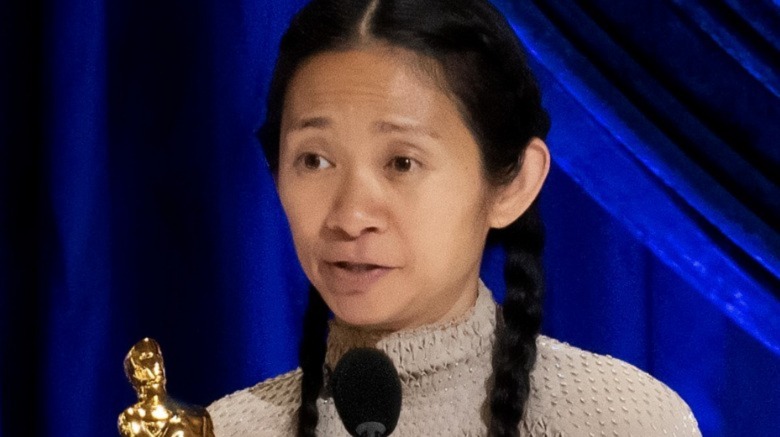 Handout/Getty Images
Two body language experts spoke exclusively to Nicki Swift about Chloe Zhao's Oscar acceptance speech. Mark Bowden, human behavior and body language expert and a panelist on The Behavior Panel, weighed in on the Oscar winner's speech. Bowden said that Zhao noticeably "self-soothes by rubbing her right thumb and hand on her left arm near the elbow joint." Bowden said that the director was "protecting herself and comforting herself in this moment."
Bowen added that it was telling that Zhao put her "hands to heart before she recites the poetic phrase 'People at birth are entirely good.'" Finally, Bowen noted that Zhao showed her Oscar and moved it to the rhythm of her speech, which "punctuates, illustrates, and underlines" how inspired she was.
Nicole Moore, a body language expert, life coach, and relationship expert, also noted that Zhao visibly did not expect to win. Moore said, "Chloe Zhao gave telling body language as she walked up to the podium to accept her win — she shook her head to the left and right as if she was silently saying no."
Moore added that Zhao's "body language of shaking her head in the 'no' motion indicated that she did not expect to win and she was shocked at that moment." After she arrived on stage to give her speech, Moore said the director "delivered truly heartfelt words as evidenced by her body language."