Janet Jackson's Super Bowl Wardrobe Malfunction Drama Is Getting A Documentary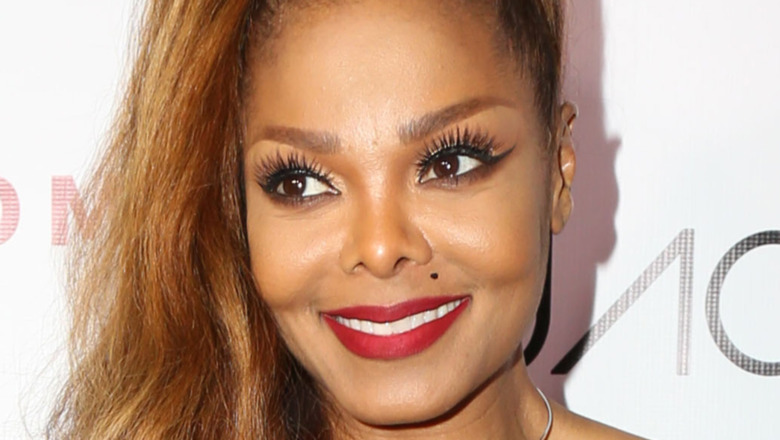 Shutterstock
Janet Jackson's Super Bowl wardrobe malfunction happened in February of 2004 and remains a hot topic nearly 20 years later.
As most will already know, the music icon invited former *NSYNC member Justin Timberlake to perform on stage with her during the halftime show. At the end of their performance, Timberlake ripped a piece of Jackson's clothing off and accidentally exposed her breast. Jackson looked shocked by the malfunction and received a lot of heat from the incident. Some have accused the reveal as a publicity stunt while others believe it wasn't planned.
Timberlake's career didn't take a hit. However, Jackson's certainly did. As previously reported by Billboard, her videos and singles were blacklisted from all the TV channels and radio stations Clear Channel Communications owned, which included MTV. In a 2006 interview on "The Oprah Winfrey Show," Winfrey revealed the Federal Communications Commission received more than half a million complaints. Not only that, CBS was fined $550K dollars and the NFL were asked to refund the $10 million dollars they were given to the halftime sponsor.
Jackson explained that Timberlake ripped off more material than what was planned and admitted it was an embarrassing moment for her. The "What Have You Done for Me Lately" hitmaker issued an apology 24 hours later, something she said she regrets doing as it was an "accident." Now, there are plans for a documentary to be made about the infamous halftime show. Keep reading to find out more.
The doc is being produced by those who made 'Framing Britney Spears'
Donald Miralle/Getty Images
According to Page Six, there are plans for a documentary to be made on the controversial 2004 Super Bowl halftime show. The production company behind it, Left/Right TV, recently worked on the "Framing Britney Spears" doc.
"It's going to be all about the fallout and the suits who f**ked over Janet [at] Viacom," an inside source told Page Six. Viacom owns both MTV (the network who produced the halftime show) and CBS (the network the game aired on). "They're reaching out to everyone who was involved: dancers, stylists, directors. Everyone."
The outlet stated that it's unclear whether Janet Jackson or Justin Timberlake will participate. However, Jackson has already announced she is currently working on her own two-part documentary, scheduled to premiere on Lifetime and A&E in 2022. As previously reported by Billboard, the Grammy Award winner will discuss the wardrobe malfunction, along with becoming a mom and the death of her brother, Michael Jackson, and father, Joe Jackson.
After the release of the "Framing Britney Spears" doc, Timberlake apologized to both Spears and Jackson in an Instagram post in February 2021. "I am deeply sorry for the times in my life where my actions contributed to the problem, where I spoke out of turn, or did not speak up for what was right," he wrote, adding, "I specifically want to apologize to Britney Spears and Janet Jackson both individually, because I care for and respect these women and I know I failed."