Julia Roberts' Love Triangle With Kiefer Sutherland And Jason Patric Explained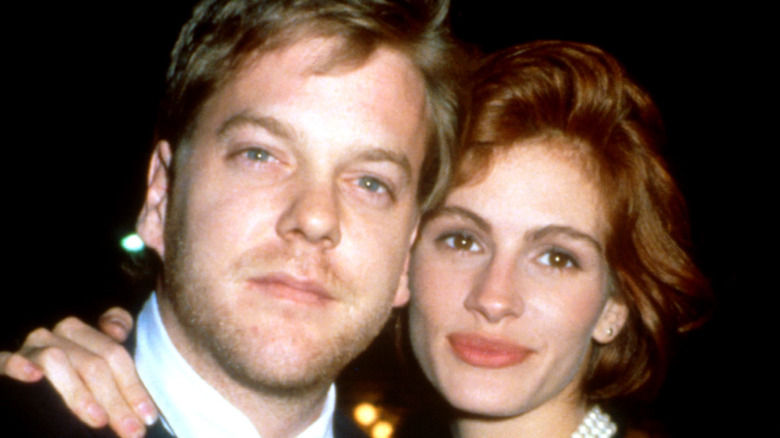 Barry King/Getty Images
Back in the early 90s, the biggest scandal of them all (up until then, at least) happened when, on the day Julia Roberts was supposed to marry Kiefer Sutherland, she was instead spotted on a date with Jason Patric while Sutherland was moving out of the home he shared with Roberts in the Hollywood Hills (per E!). This was back in 1991 and Roberts, 23, and Sutherland, 24, had gotten involved with each other after starring in 1990's "Flatliners" together.
Roberts and Sutherland were planning to marry in front of 150 guests. As it turned out, however, they had broken up and canceled it, per E! This was the days before the internet and social media, though, so no one knew about it — and that's what made Roberts' lunch date (and later trip to Ireland) with Patric such a scandal. She was America's Sweetheart and "Pretty Woman." She was not yet a "Runaway Bride" (pun intended).
Sutherland and Patric, now both 54, appeared on a recent episode of the "Inside of You" podcast hosted by "Smallville" alum Michael Rosenbaum. They jointly commented on the love triangle with Roberts (via YouTube).
Rosenbaum said to Patric, "Supposedly you had a thing with Julia Roberts. You took off to somewhere. Where'd you go?" Patric said, "Well, I mean, that was all, that was all the press, I mean, the fact was —" Sutherland cut him off and whispered, "Ireland." Patric continued, "Yeah, I went to Ireland." Keep scrolling to learn more about what Roberts' former flames had to say.
It was the biggest celebrity scandal of the early 1990s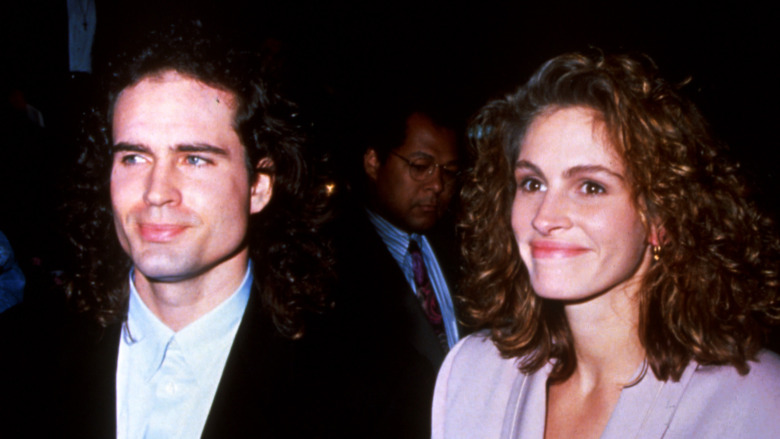 Barry King/Getty Images
It was a bit awkward, even though it all happened 30 years ago. In 2006, Kiefer Sutherland was asked during a Rolling Stone interview if he had forgiven Jason Patric. He said, "It's not a matter of that. We were friends, and I'm surprised that I never got a call from him saying I've fallen in love with da-da-da. Instead, I found out from a stranger."
Julia Roberts has weighed in on the scandal, too. Back in 1994, she told Rolling Stone that the wedding was not canceled at the last second, Sutherland was not left jilted at the altar, and he didn't find out from a stranger or on TV. She was asked about comments Patric reportedly made about bringing attention to herself, and Roberts said, "... it really hurt my feelings."
On "Inside of You," Sutherland said his breakup with Roberts was a "difficult time" for him. However, in a 2016 People interview, he admitted that it took courage for Roberts to cancel the wedding. "We were both young, and we were both very much in love, we had decided that we wanted to get married." 
"She was arguably the most famous woman in the world ... in the middle of that, I think she had courage," he added. "It wasn't what she wanted to do, in the end. And I think it took a lot of courage, in amongst all of that other stuff, to be able to say, 'I can't do this.'"