How Sarah Huckabee Sanders Really Makes Her Money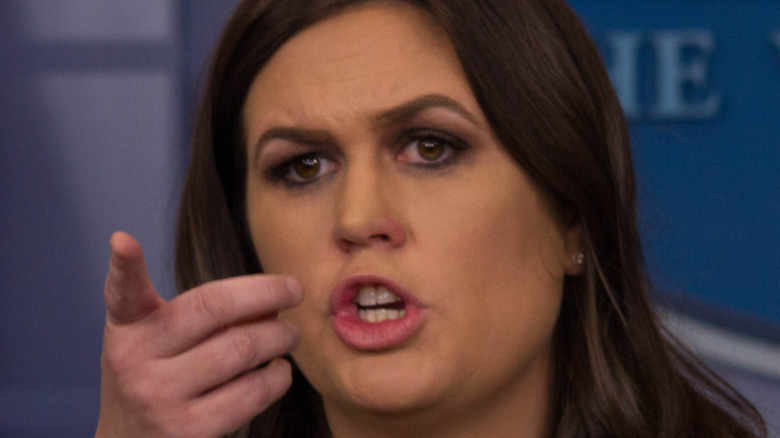 Shutterstock
Former White House Press Secretary Sarah Huckabee Sanders made the news earlier this month with regards to the astronomical amount she fundraised ever since announcing her plan to run for governor of Arkansas in 2022. Considering that detail, it's no surprise that many have started to speculate about her general net worth.
As a number of media outlets reported in April 2021, the former aide for ex-President Donald Trump's administration had, as of April 15, raised $4.8 million through donor contributions for her future gubernatorial bid. (Notably, the staggering total Sanders collected in only one fiscal quarter outdid current Arkansas Governor Asa Hutchinson's fundraising efforts for the entirety of his campaign run in 2018.)
While much of these contributions could be attributed to Sanders' endorsements from fellow members of the Republican party — more specifically, a certified backing from Trump, her former boss — there's a chance she might utilize her own personal coffers for her future campaign. So what, exactly, does Sarah Huckabee Sanders have? And where does (or did) her money come from? Keep on reading after the jump to find out.
Sarah Huckabee Sanders made six figures during her White House tenure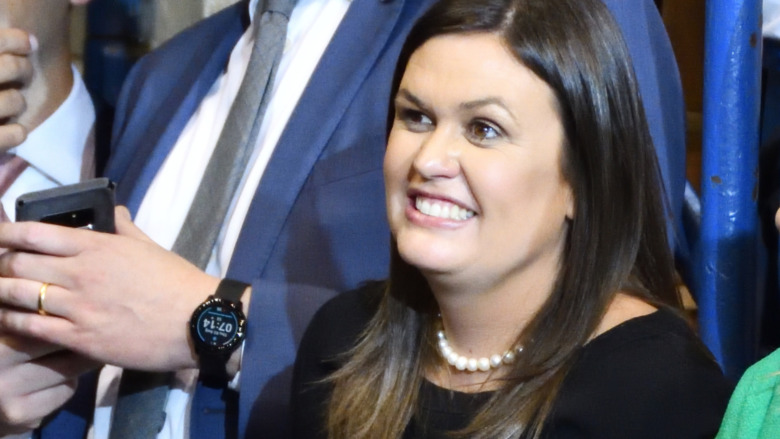 Shutterstock
As recently as January 2021, Sarah Huckabee Sanders' general net worth is reportedly roughly $1.5 million, according to Celebrity Net Worth. Per the outlet, her home is listed at a median price of $190,000, which she shares with her husband and their three children; other avenues of income could feasibly be attributed to book sales the former press secretary made from her memoir "Speaking for Myself: Faith, Freedom, and the Fight of Our Lives Inside the Trump White House," which was published in September 2020. (Though it is unclear how much Sanders has made in royalties and book sales, the autobiography placed on the bestseller lists for The New York Times, Publishers Weekly, The Wall Street Journal, and others, per Amazon.)
Other facets contributing to Sanders' net worth could also possibly be her annual income during her time in the White House as an aide, which lasted from 2017 until 2019. As NJ.com reported in 2018, Sanders made roughly $179,000 per year as press secretary, which included a $14,700 salary bump compared to her original predecessor, Sean Spicer.
But could there be more to her wealth than meets the eye? And could it have something to do with the Huckabee family name, which Sanders used exclusively before her marriage to her husband, Bryan Sanders, in 2010?
Sarah Huckabee Sanders comes from a wealthy political family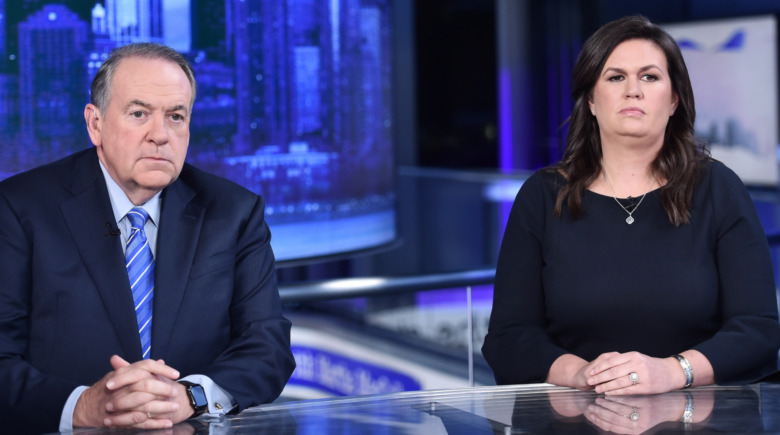 Steven Ferdman/Getty Images
Even though Sarah Huckabee Sanders has certainly made money in her own right — as a Donald Trump White House staffer, an author, and through a non-profit she and husband Bryan Sanders founded shortly after her exit from her office as press secretary in 2019 — the 2022 Arkansas gubernatorial hopeful is no stranger to wealth. Her father Mike Huckabee, a career politician and former governor of Arkansas himself, has a net worth of $18 million. 
While the possibility that part of Sanders' wealth might come from her parents is nearly impossible to substantiate, it's notable that Huckabee attempted to discourage donations to Sanders (specifically, donations made by unofficial Republican political action committees) in September 2019, over a year before Sanders launched her campaign for governor, per ArkansasOnline.com. As the state-based news outlet reported, Huckabee instead urged possible donors to give their money to what was then Donald Trump's campaign for reelection in 2020, citing how at the time, Sanders had given no word as to whether she would run for any sort of office. (Despite his past dissuasions, Huckabee eventually endorsed his daughter's upcoming 2022 run in January.)
Either way, if Sanders were to be elected in 2022, her pay grade would slightly lower in comparison to the salary she earned while as White House press secretary: Reportedly, governors in the state of Arkansas earn $151,000 annually.