What Pam Dawber Actually Thought About Joining Her Husband Mark Harmon On NCIS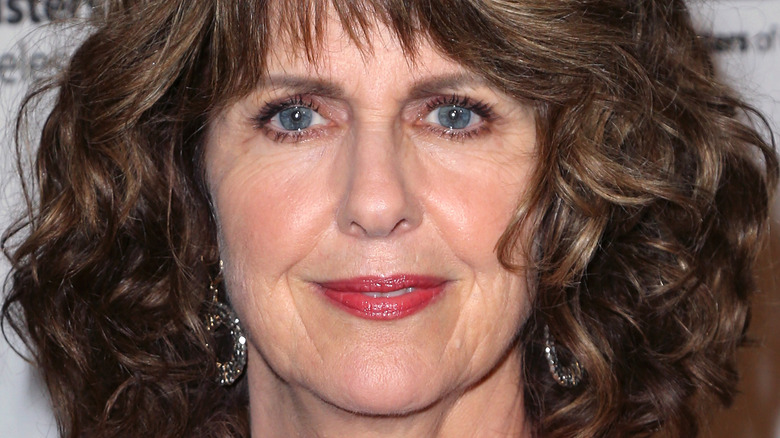 David Livingston/Getty Images
If you are of a certain age and you do not watch the long-running CBS procedural "NCIS," you may be wondering what happened to Pam Dawber? Best known for playing opposite Robin Williams in the beloved late 70s-early 80s sitcom, "Mork and Mindy," she has been working steadily as an actor ever since, though more under the radar than she was back then. She appeared on short-lived shows like 2015's "The Odd Couple" and the Williams-fronted sitcom "The Crazy Ones," as well as a string of TV movies in the 90s. She is also the real-life spouse of "NCIS" lead Mark Harmon, who has played Special Agent Leroy Jethro Gibbs on the series since it premiered in 2003.
One of Hollywood's unsung romantic success stories, Harmon and Dawber have been happily married since 1987. Pretty astounding for this industry of short-lived relationships. They only played opposite each other a few times: on stage in the play "Love Letters" and in the 1999 film "I'll Remember April." Now, in 2021, with "NCIS" in its 18th season, Dawber has finally joined her husband on the show for a four-episode arc as clever investigative journalist Marcie Warren. Dawber based the character on Los Angeles Times reporter Robin Abcarian, telling Entertainment Weekly that she even "stole one of her lines that we inserted into the script." Dawber debuted in the show's 11th episode, which aired April 6.
But was Dawber that interested in doing the show? See what she really thought after the jump.
Pam Dawber turned down the role at first
When "NCIS" first approached Pam Dawber for the role of Marcie Warren, she turned them down. It was not the first time; after sharing her husband Mark Harmon with the series for 18 years, it's not unusual for them to want her to make an appearance. But Dawber preferred to spend time with her family and was not "interested in, you know, chasing the business," as she told Entertainment Weekly. "At this age, that's what you do," the 69-year-old actor said. "I just don't want to put myself out anymore." But Harmon told Dawber's agent about the role and her agent convinced her to give it a read. "The character is so good," she said of Marcie. "I just fell in love with what they wrote."
The chemistry between Dawber and Harmon is so strong that it's clearly seen — they are married after all — because people instantly shipped Warren and Gibbs as soon as she appeared on the show. But Dawber assured EW that "this is not going to be romantic." In fact, she told the show's creative team, "If this is a romantic interest, I'm not interested."
That's not to say the pair have no flirtations on screen. Dawber explains that "it's fun" working opposite her husband because, even though he "grunts out a lot of lines," Marcie and Gibbs have "this oddball relationship where they're checking each other out." And who knows, sounds like there's potential for the arc to last longer than four episodes.