What Bill Gates Would Be Doing If Microsoft Wasn't A Huge Success
Shutterstock
In the days following the news of Microsoft founder Bill Gates' impending official split from his wife, philanthropist Melinda Gates, it's only natural to think that both members of the former tech empire power couple might have mulled over the roads they ended up never taking, or what might have been if they had. It also means that members of the public who have been following the story of their uncoupling might be wondering the same sorts of things as well, in a true "Sliding Doors" fashion. Mining that vein, here's a thought exercise: what would have happened if Bill Gates hadn't ended up founding Microsoft — a company which has earned the software mogul billions upon billions of dollars — in the first place? 
While it might be surprising to say, it's something Gates has ruminated upon himself. So what would Bill Gates have done with his life if he hadn't founded Microsoft? And how different is it than the career path he set out on all those years ago? Keep on reading to find out the answer.
Bill Gates would have stayed in the computer science game, but in a vastly different field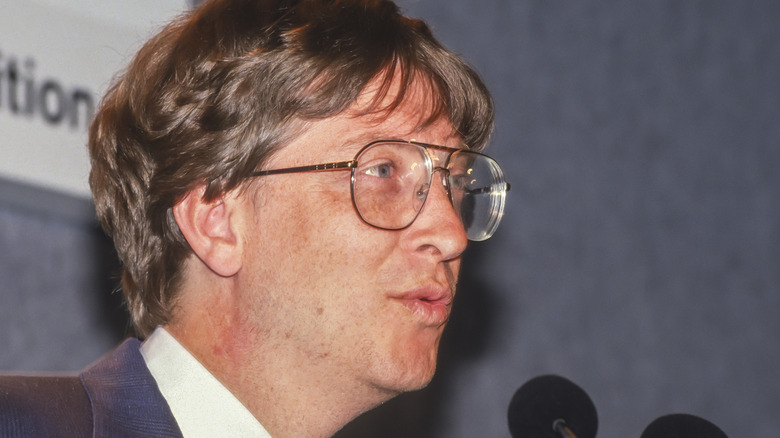 Shutterstock
In 2015, Bill Gates revealed what he would've done in lieu of founding Microsoft alongside his then-business partner Paul Allen in 1975 during a Reddit "As Me Anything" session, in which the tech magnate answered questions from users of the popular Internet forum. During the AMA, one participant asked Gates what he would've pursued if he had eschewed the option of creating the company. His answer? Embark on a career as a researcher within the field of artificial intelligence.
"I would probably be a researcher on AI," Gates said at the time, adding, "when I started Microsoft I was worried I would miss the chance to do basic work in that field." Per Business Insider, the realm of AI was still in its early stages at the time Gates was mulling over the best of his possible roads. So what ultimately forced his hand? According to the media outlet, it was the U.S. government, which decided in the mid-1970s to nix funding for AI research unless it was directly tied to federal enterprises. In the end, the move spurred Gates into starting Microsoft.
Though Gates ended up in the software game, it hasn't curbed his interest in artificial intelligence. The former CEO has frequently spoken about the importance and possible perils of AI publicly over the years, going as far as to compare the technology's potency to nuclear warfare.