Billie Eilish Reveals Why She Went Blond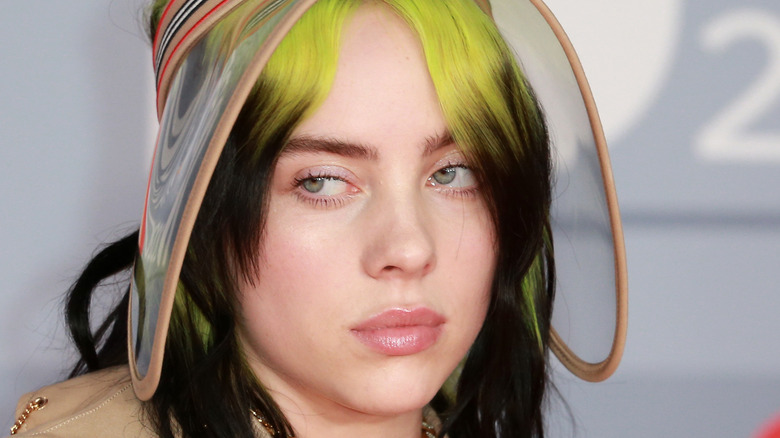 Shutterstock
New hair, who dis? Billie Eilish is known for her killer vocals and incredible song lyrics, but her hair has recently been the topic of plenty of discussions. The singer is known for switching up her hairstyle every now and again, rocking almost every color of the rainbow, including blue and green. But Eilish recently went blond, and her fans have been loving the change. Many have taken to social media to weigh in on her new look, and the overwhelming majority have had nothing but good things to say about Eilish's newly-dyed locks. 
"Billie Eilish dyed her hair blond because she is sunshine — inside and out to all," one Twitter user wrote of the new 'do, adding a series of emojis to the end of their words. "I'm still not used to Billie Eilish having blond hair it trips me out every time but she still looks bomb tho lol," another Twitter user wrote on the social media sharing platform.
During a May 11 appearance on "The Ellen DeGeneres Show," Eilish revealed what led to her new hairstyle — and it may be surprising to note that a fan had something to do with it. Keep scrolling for more details!
The deets behind Billie Eilish's new hair color
Billie Eilish spilled the deets of her new 'do to Ellen DeGeneres during the May 11 episode of the daytime hit. According to the singer, a fan's edit sparked the idea in her brain, and things progressed from there. "I've been wanting blond for a while. I don't know what came over me," she confessed to DeGeneres. "I saw a fan edit when I had green hair, and it was like, me just with whatever hair color I had, and they just edited blond hair on me, and I was like, 'Ahhh! It's so sick, I want it!'"
Eilish also shared that she initially thought going blond was "a dream," and she was stunned when it became a reality. "I didn't think it was going to happen 'cause my hair's been through so much. I thought I'd burn it all off if I tried, but I did it!" the singer raved. The process to get to blond took the singer a long time: approximately six weeks. She shared that January 16 was the first day they began the dyeing process. "Then it was two weeks of nothing — healing, letting my hair take it in and digest and recover," she told DeGeneres. "And then again, and then two more weeks. ... Oh my god, it took a long time." We love Eilish with any hair color, but we have to admit that this blond is really speaking to us!