How Much Is Kim Lee Actually Worth?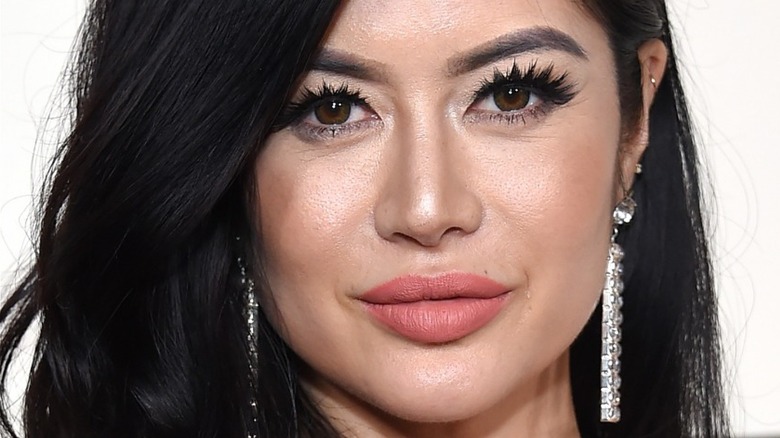 Shutterstock
Kim Lee is one of the uber-rich Asian Americans in Netflix's "Bling Empire." We are obsessed with the Netflix series, which follows the group of friends who are like "Crazy Rich Asians" come to life. Lee has gained fans and recognition because of "Bling Empire," but she had a successful career long before the Netflix series. 
On "Bling Empire," her friends mention Lee's DJ work, but she's well known for her work as an actor and model, in addition to her DJ career. The reality of "Bling Empire" is that Lee is the most famous out of the whole group. Lee has made the cover of both Esquire and GQ, and she did New York and Paris runway shows for designers Emanuel Ungaro and Martin Grant and the Marc Jacobs brand (via Distractify). The "Bling Empire" star's modeling efforts took off after she was named Sexiest Woman in the World by FHM in 2011 (via Elite Daily). 
According to Distractify, Lee was also featured in minor roles in high-profile movies and TV shows, including: "Jack and Jill," "The Hangover Part II," "CSI: Crime Scene Investigation," and "Entourage." Bustle reported Lee hosted MTV Asia's "Yo! MTV Raps," and starred on "Vietnam's version of 'The Amazing Race.'" After making appearances in music videos for Kanye West and Nicki Minaj, Lee broke into the DJ world. Elite Daily reported that when one of Lee's "mixes featuring West went viral," her street cred as a DJ was a lock.
Keep reading to learn more about Lee and her net worth!
Kim Lee had help generating her fortune
According to Marie Claire Australia, Kim Lee is worth a whopping $10 million. The 32-year-old multi-hyphenate talent built her fortune via her multiple revenue streams. There's no doubt that the "Bling Empire" star has worked hard to achieve global recognition as a model, actress, and DJ. But some fans question the claim that Lee is a "self-made" millionaire.
"Bling Empire" fans took to Reddit to discuss how Lee accumulated her millions. ScreenRant reported that Redditors debated because Lee came from a well-off family with many connections to fame. Lee's mother's husband — Lee's stepfather — is very rich himself, with connections to the entertainment industry, likely making Lee's path to earning millions much easier than the average person's.
Redditor theblackeyedflower pointed out, "It's easy to score a home run when you're born on third base." Another comment in the "self-made millionaire" debate came from CauliflowrQueen, who wrote, "'Self-made' is a very generous thing to say when someone is so well connected and in a position to access resources and networking opportunities."
According to Lee's professional website, she has "become one of the most sought after DJ/Producer[s] in the business." ScreenRant reported that Lee is rumored to charge as much as $50,000 for each DJ gig. The ability to charge huge sums for her DJ work helped Lee amass money quickly. It appears that Lee's huge social media following helps her promote her DJ shows and generate more work, too. The "Bling Empire" star has 935,000 followers on Instagram alone. We can't wait to see Lee in Season 2 of the Netflix hit!