This Is What Porsha Williams Has To Say About Those Pregnancy Rumors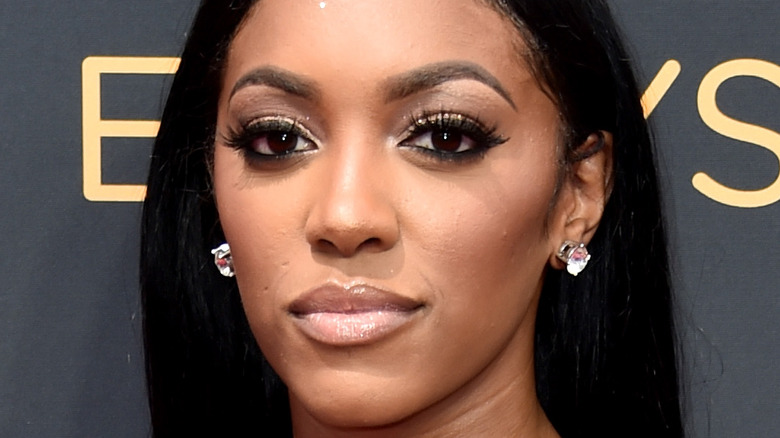 Alberto E. Rodriguez/Getty Images
Over the past few weeks, Porsha Williams has been sending the internet into a frenzy... and not because of "The Real Housewives of Atlanta." The "RHOA" star recently announced her engagement to Simon Guobadia, who was introduced to the show's last season as Falynn's now ex-husband.
Rumors of Porsha and Simon's engagement started circulating on May 9, when Porsha posted an Instagram picture of herself standing in between Simon and her ex-fiancé and father of her baby, Dennis McKinley. After followers noticed her left resting on Simon's chest (along with a new engagement ring), they soon started speculating if they were dating (and engaged). "What in the brotherhusbands is going on here?!" one fan said in the comments. "It's the ring and the hand on the other men chest for me... what's tea sis," someone else asked.
Meanwhile, others wondered if Porsha is expecting a baby, partly due to the flowy dress she wore in the picture. "You preggo again?" someone asked in the comments. "I think it's a baby in that belly! I can feel it!" one fan wrote. When Porsha later confirmed her engagement to Simon, she didn't confirm nor deny the pregnancy rumors. "It's truly a beautiful moment in my life & we cannot wait to spend the rest of our lives together," she wrote on Instagram on May 10.
On the latest episode of "Dish Nation," however, Porsha addressed those pregnancy rumors once and for all.
Porsha said this is not a 'shotgun wedding'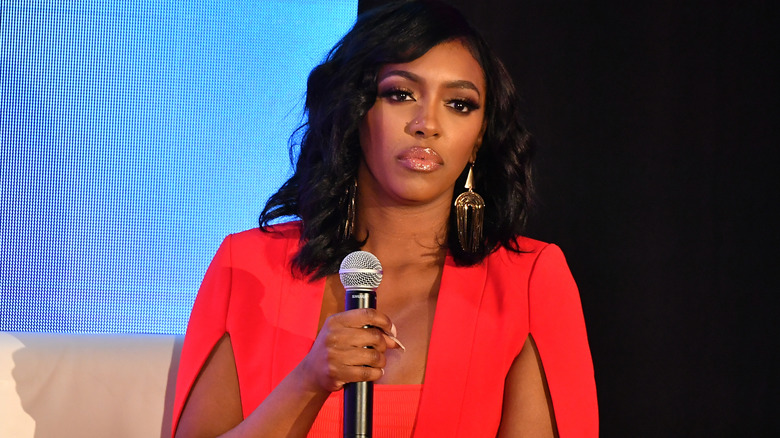 Paras Griffin/Getty Images
On the May 18 episode of "Dish Nation," Porsha Williams finally revealed if she and Simon Guobadia have a baby on the way. When co-host Gary Hayes pulled up a recent picture of her wearing a form-fitting bodysuit, Porsha addressed the elephant in the room before he could even finish his sentence.
"I'm not pregnant," she said. "Is this what you want, Gary? I'm not pregnant. This is not a shotgun wedding." Elsewhere in the episode, Porsha revealed how the engagement went down. "We got engaged the Thursday before Mother's Day," she explained. "It was very, very special."
She also didn't think posting that picture with Simon and Dennis McKinley would blow up the way it did. "Dennis and myself and Simon, my fiancé, were sitting there, and it was such a magical moment of just being grown adults and being mature and wanting to do the best thing," she said. "I was like, 'Let's seal this moment with a picture,' and we posted it. And then I woke up and I was like, 'What's happening? Why is everybody going crazy?'"
Are babies in Porsha and Simon's plans? She wouldn't say, but she admitted she is the happiest she has ever been. "I've been waiting for a love like this and God answered my prayers ... and I wasn't going to deny it when it was smacking me dead in my face."