Who Is Matt LeBlanc's Girlfriend, Aurora Mulligan?
Shutterstock
We first came to know and love Matt LeBlanc for his portrayal of Joey Tribbiani on "Friends." The successful actor's character was a smooth talker with ladies, and the same seems to be true about LeBlanc in real life. 
LeBlanc's first and only marriage was to British model Melissa McKnight, who was featured in the likes of "Cosmopolitan," "Elle," and "Vogue." Prior to tying the knot with LeBlanc, she was married to filmmaker Anthony Esposito, with whom she shares two children, per Hollywood Mask. Their marriage ended in divorce, and soon after, she found romance with the "Friends" star. The couple met through a mutual friend in 1997 and wed in 2003. The couple went on to have one daughter, Marina LeBlanc, before divorcing in 2006.
When discussing his stepchildren, LeBlanc told Entertainment Weekly in 2002 that "they're great kids." "It's been a fantastic experience. I'm very grateful for them in my life. Because before them, I was out at the bars, I was chasing chicks all over the place, I had kind of a reputation." Years later, LeBlanc still remains close to his stepchildren, in addition to Marina.
And luckily, LeBlanc has found love again with Aurora Mulligan. Keep scrolling for more deets on their relationship.
Inside Matt LeBlanc's relationship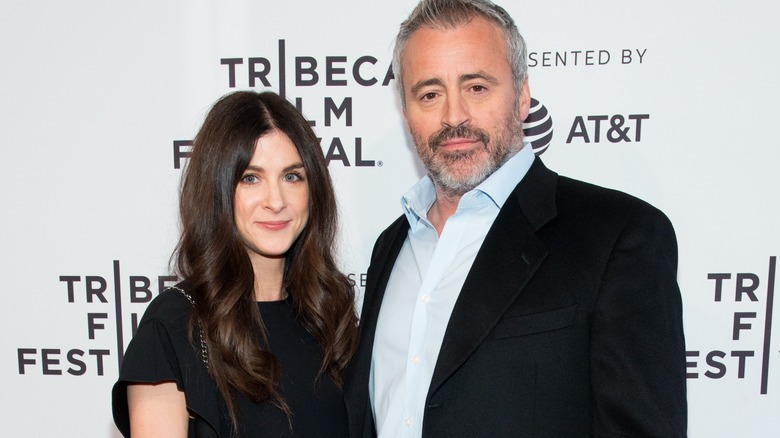 Noam Galai/Getty Images
Matt LeBlanc is currently dating producer Aurora Mulligan. According to The Sun, Mulligan is about 17 years younger than the "Friends" star. She was born in Northern Ireland, and received an excellent education at Liverpool University. The student-turned-actor studied "politics, political science, and government" at the university before making the jump to television, landing a job at BBC in 2015. Mulligan's IMDb profile also lists six producing credits to her name, including one for "Top Gear," where she and LeBlanc reportedly met in 2016 when she made a cameo. They were spotted at the Hickstead Derby that year, where an insider told The Sun that "they were very tactile, and Matt seemed to be very taken by Aurora as he laughed chatted intimately with her. Aurora just kept laughing at all his jokes and is clearly besotted with the American superstar."
According to Hello!, the pair first stepped out publicly in 2017 at the Tribeca Film Festival. Subsequently, they have been seen plenty of times together since, and LeBlanc even revealed that they are living together. "It's half and half. I have a flat here with my girlfriend, but my home is in L.A," he said on "The Graham Norton Show," per the outlet. Unfortunately for us, LeBlanc doesn't share too many photos from his personal life on social media, and Aurora set her Instagram profile to private. But hey, we always have the red carpet!