The Real Meaning Behind Olivia Rodrigo's 'Happier'
Shutterstock
At 18 years old, Olivia Rodrigo has already taken the music world by storm. She released her No. 1 hit, "Drivers License" in January, and it stayed on top of the charts for three weeks straight, according to Billboard. The song's success catapulted her into the mainstream and cemented her status as one of music's brightest young talents. Rodrigo then released her debut album, "Sour," on May 21, to much anticipation and fanfare because of her ability to convey experiences of heartbreak into songs.
Rodrigo loved the experience of making her album. "I learned that I liked making songs a lot more than I like putting out songs, and that love of songwriting stayed the same for me throughout," she told Apple Music. "I learned how to nurture it, instead of the, like, 'Oh, I want to get a Top 40 hit!'-type thing."
Despite having low expectations during her songwriting sessions, Rodrigo has become the unofficial heartbreak queen. Themes of love and heartbreak are intertwined throughout her songs, including the melodramatic ballad, "Happier." Let's take a look at what the song is about below.
Olivia Rodrigo wishes her ex a 'happy' time with his new girlfriend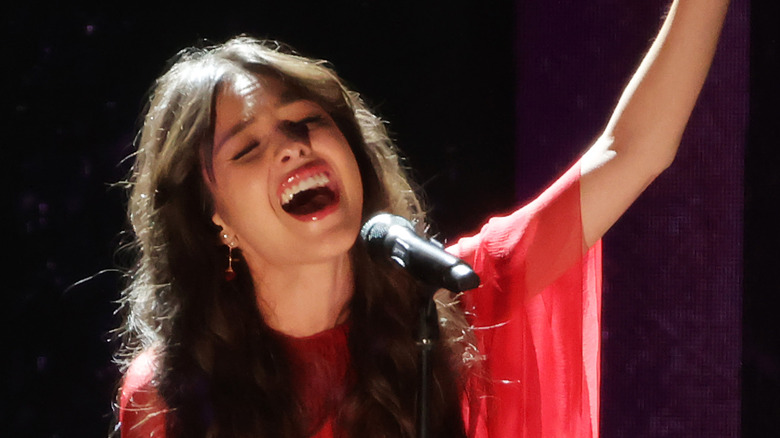 David M. Benett/Getty Images
If Olivia Rodrigo's "Drivers License" is about her watching her ex move onto another relationship, then "Happier" is about her trying to come to terms with it. Rodrigo sings, "We broke up a month ago / Your friends are mine, you know, I know / You've moved on, found someone new," adding that the girl is one who "who brings out the better in you."
Needless to say, fans are wondering if this track is about her ex, Joshua Bassett, and his subsequent relationship with Sabrina Carpenter — though Rodrigo hasn't confirmed or denied that.
"Oh, I hope you're happy," Rodrigo on the chorus. "But not like how you were with me / I'm selfish, I know, I can't let you go." She hopes her ex finds "someone great," but no one that's "better" than she is. "I hope you're happy, but don't be happier," Rodrigo sings gently.
In the second verse, Rodrigo wonders if her ex used the same pick-up lines as he did with her. "And do you tell her she's the most beautiful girl you've ever seen? / An eternal love bulls*** you know you'll never mean," she questions.
Rodrigo then realizes picking the new girlfriend apart doesn't do her any good, and wishes her ex "all the best" in his relationship, but hopes that he won't forget the "happier" times he had with her — proving that she has yet to let go of her heartbreak.