What Caitlyn Jenner's Relationship With Kourtney Kardashian Is Like Today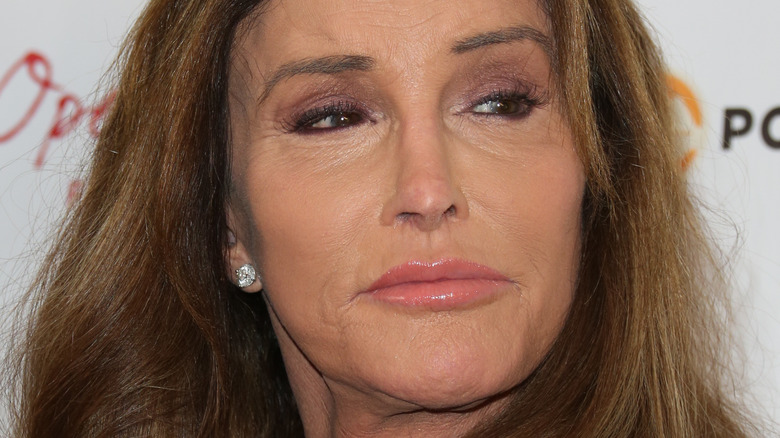 Paul Archuleta/Getty Images
We may receive a commission on purchases made from links.
It's no secret that the relationship between the Kardashians and Caitlyn Jenner has been a tumultuous one. The drama began following Kris Jenner and Caitlyn's highly publicized divorce – which was finalized in 2014 — and the family has seemingly been a bit divided.
Tensions arose after Caitlyn published her 2017 tell-all memoir "The Secrets of My Life," which didn't receive a positive response from the Kardashian family. While talking to students at Cambridge University, Caitlyn revealed that things had been a "bit tough over the last couple of years on the Kardashian side." She continued (via Cambridgeshire Live), "They don't want me in their lives, they bashed me pretty badly. It's devastating when your kids do that. It really hurt." At the time, she added, "I don't know what the future holds. We will see."
It has been said that time heals all wounds, but does this hold true for Kourtney Kardashian and Caitlyn's strained relationship? Keep reading to find out where they stand today.
Caitlyn Jenner and Kourtney Kardashian have buried the hatchet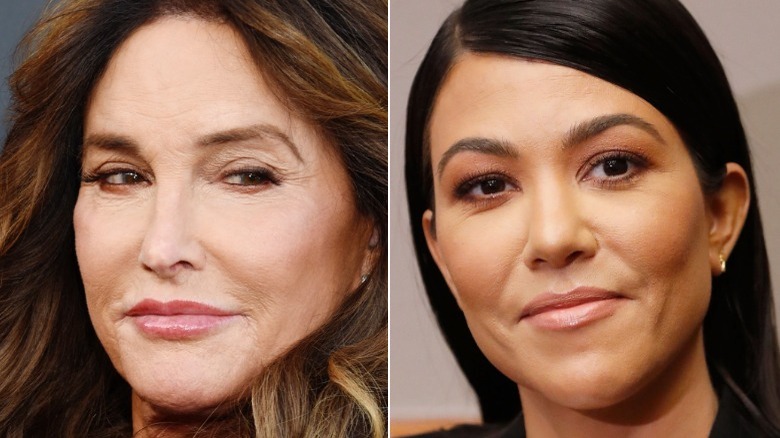 Gregg Deguire, Paul Morigi/Getty Images
Kourtney Kardashian has seemingly decided to leave the past in the past. According to OK! magazine, the eldest Kardashian sister has been communicating with Caitlyn Jenner, with the two leaning on one another for emotional support. "They talk all the time and have each other's backs," a source told the outlet. "Kourt will lean on Cait when she's stressed with issues involving Scott [Disick] or her sisters, and Cait uses her as a sounding board to process her feelings about Sophia [Hutchins]."
This seems like a step in the right direction, especially since in a 2017 interview, Caitlyn explained to Piers Morgan the extent of the strained relationship with the famous family, stating (via the Daily Mail), "[I haven't talked to] Kris [in] probably a year, Kim probably nine months, Khloe two years ... and Kourtney I haven't talked to her either." 
Additionally, Caitlyn Jenner was in attendance at the annual Kardashian Christmas Eve party in 2019, which was hosted at Kourtney's house, per People. Furthermore, in October 2020, Caitlyn surprised fans by posting an Instagram photo celebrating her 71st birthday with Kim Kardashian, Kourtney, Khloé Kardashian, Kendall Jenner, Kylie Jenner, and Hutchins. Caitlyn captioned the photo, "Feeling very very blessed on my 71st birthday! Love you all so much!"
Where do the Kardashians and Caitlyn Jenner stand now?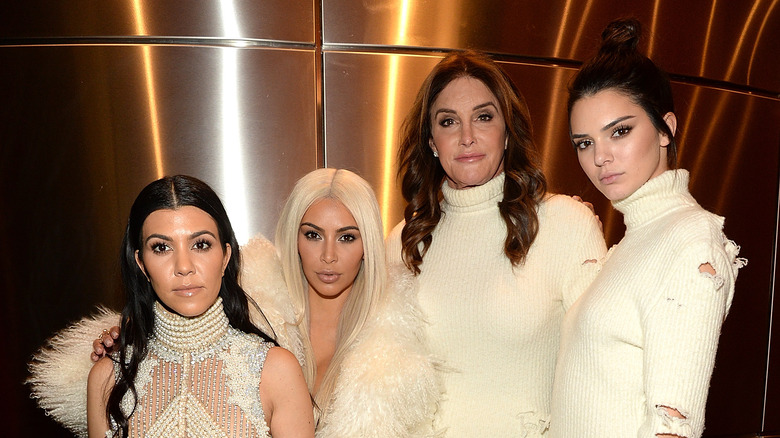 Kevin Mazur/Getty Images
Kourtney Kardashian and Caitlyn Jenner's relationship is seemingly on the mend. However, what about the other members of the famous family? Caitlyn's relationship with her biological daughters, Kendall and Kylie Jenner, has seemingly remained unaffected despite the Kardashian family drama. Caitlyn's transition has reportedly been beneficial to Caitlyn and Kendall's relationship with the supermodel telling People, "When my dad came out as transgender, our relationship grew."
When it comes to Kylie, Caitlyn has expressed that the two have always been pretty close. "Kylie and I just seem to be closer most of the time," Caitlyn said on on "The Skinny Confidential Him & Her" podcast (via People).
As for Caitlyn's relationship with Kim and Khloé Kardashian? Although Khloé and Caitlyn apparently only chat "every blue moon" (via Cosmopolitan), there is reportedly"zero bad blood." Meanwhile, on an April 2021 episode of "Keeping Up with the Kardashians," Kim shared, "I talk to Caitlyn every once in a while. Definitely super supportive and checks in and stuff like that, but I'm just so busy."
Overall, it seems like Caitlyn and the Kardashian family are once again keeping up with one other.