Hailey Bieber Hits Back At Criticism Of Her Faith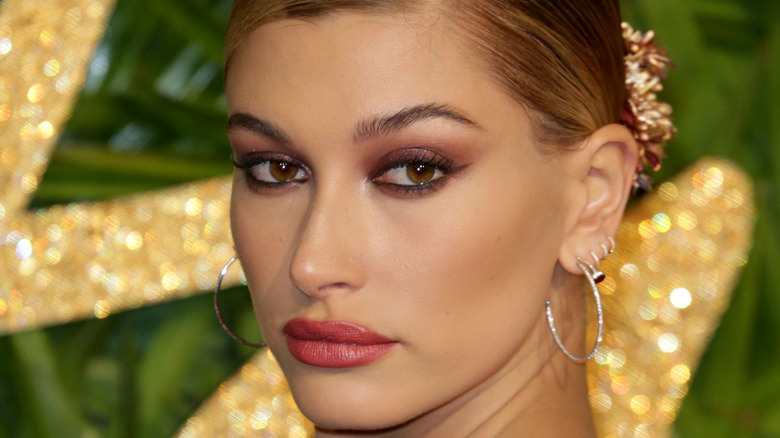 Shutterstock
Hailey Bieber knows that being in the spotlight is not easy. She even deleted her Twitter account because of the constant cyberbullying she received over her marriage to Justin Bieber and the never-ending comparisons to his ex-girlfriend, Selena Gomez.
However, it seems that cyberbullying isn't the only form of hatred Bieber receives in her day-to-day life, and she opened up about it in her June 2 YouTube video (via OBB Pictures). The video is a discussion about faith and intimacy with "Insecure" actor Yvonne Orji, and Bieber revealed that she has felt a bit put off by members of the Christian community, of which she is a member.
"I've met Christian people that are just super judgmental and made me feel like I'm a bad person because I don't Iive my life the way they think I should live my life," she explained. "I felt weird about like posting certain photos of myself or feeling like people in the church are gonna see this. Am I doing something wrong? Am I setting like a bad example? And the reality is like, no," she declared. "That's something that I'm like really in the process of learning right now. Everybody's always going to have something to say," she added.
Bieber also opened up about navigating life as a model while being a devoted Christian. Keep scrolling to learn what she had to say.
Hailey Bieber is comfortable in her relationship with God
In her June 2 OBB Pictures YouTube video, Hailey Bieber admits that she knows her faith is often questioned due to the nature of her job. "You're an actress. You're on this show where you're doing sex scenes and cursing and doing things that a lot of people who are Christian would probably see that and be like, 'Oh well you're not a real Christian because you're doing sex scenes and you're doing this,'" she said to guest Yvonne Orji. She continued, "In a similar way, sometimes I'll you know, for my job, I have to show skin or like I'll get photographed in like underwear or lingerie or like something and people are like, 'Well that's not a good representation because you're not modest.'" While she clearly disagrees with these opinions, she added that she wouldn't feel comfortable posing completely nude, but gives credit to women who want to do that.
Despite receiving so much criticism, Bieber seems to have a positive mindset in sympathizing with Christians who might have differing views from her own. "Your relationship with God is not going to be the same as mine and not the same as yours or any other person in this room or in the world. Like we all have different relationships and ways that we relate to The Bible and relate to Jesus," she said. "To me, my relationship with Jesus is I believe that he was about love and acceptance."