Inside Casey Anthony's Relationship With Patrick McKenna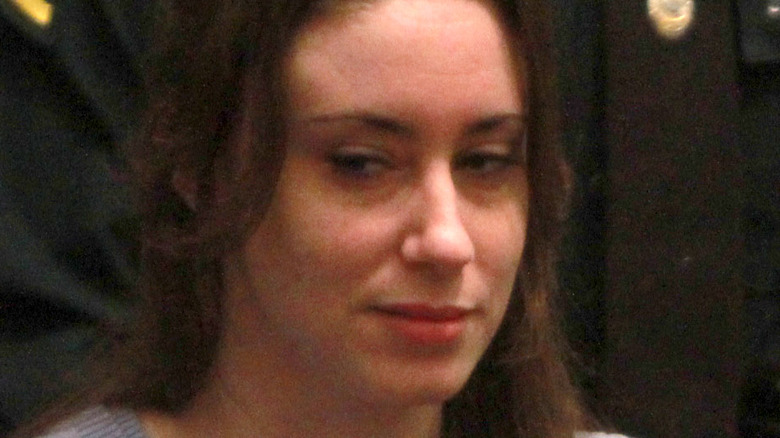 Pool/Getty Images
In January 2021, Casey Anthony made headlines once again after People magazine reported that Anthony, who was tried and acquitted for the murder of her 2-year-old daughter Caylee in 2013, had filed paperwork in Florida in an effort to launch a legal consulting service for those in trouble with the law. Though it has yet to be seen as to whether Anthony's business ventures will eventually come to fruition, the papers also contained information that suggested Anthony wouldn't be going into it alone. 
According to People, the documents listed the residential address of Patrick McKenna, who served as the lead investigator for Anthony's defense team throughout the course of her trial, as the intended business address for the proposed firm. That move on a surface level isn't necessarily surprising. In December 2020, People noted that Anthony had identified herself as a registered agent herself — a claim that would be inherently false, due to the fact that Anthony was convicted in 2011 of purposely lying to a member of law enforcement, which automatically bars her from attaining a license to be an investigator. Considering McKenna has the necessary certification, it could be a no-brainer workaround — that is, if you don't take into account that Anthony and McKenna lived together for years, and possibly still do. So what's the deal with the relationship between Anthony and McKenna? Read on to find out.
Patrick McKenna was one of Casey Anthony's biggest defenders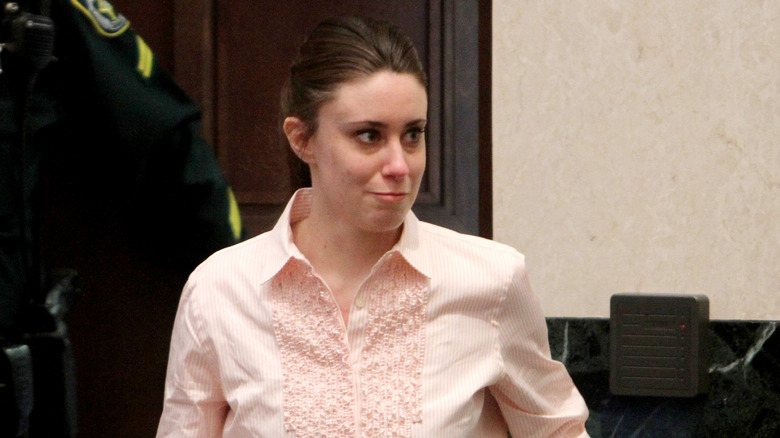 Pool/Getty Images
While Patrick McKenna has been most closely associated with Casey Anthony for upwards of a decade, the private investigator is a veteran of his field, so to speak. As InTouch Weekly noted in their own recent summary of McKenna's life and career, the veteran PI first became a household name in the early '90s — years before Anthony's lengthy trial — as a key figure in the O.J. Simpson trial. Per the magazine, McKenna was the one who discovered an audio recording of Mark Fuhrman — a former Los Angeles detective who reportedly found a bloody glove alleged to be worn by Simpson during the murders of Simpson's ex-wife, Nicole Brown Simpson, and her friend Ron Goldman — in which Fuhrman spewed racist language and frequently used racist epithets. The recording was instrumental in Simpson's subsequent acquittal of all charges. 
McKenna again surfaced as a subject of media scrutiny during and after Anthony's trial, when she was acquitted of murdering her 2-year-old daughter, Caylee, but was found guilty in 2011 of giving false information to police authorities in 2008. Despite the fact that, per Florida law, Anthony was sentenced to a year-long incarceration and a $1,000 fine, she was given credit for time served and was released shortly following her sentencing hearing. After leaving prison, however, Anthony reportedly went to live with McKenna — sparking rumors as to what, exactly, their relationship entailed.
The relationship between Casey Anthony and Patrick McKenna remains murky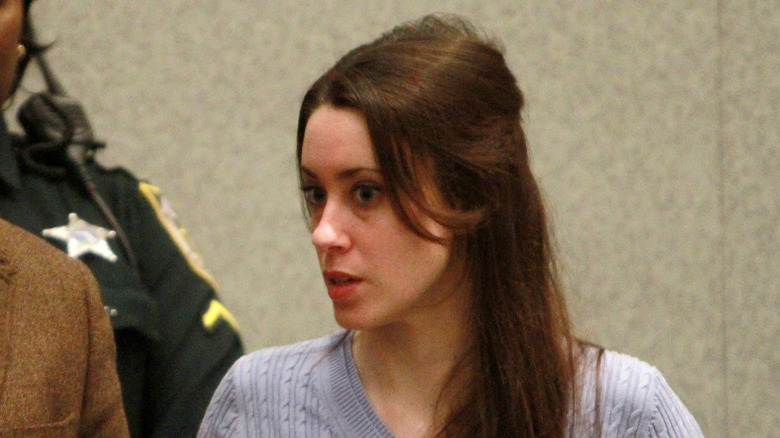 Pool/Getty Images
While there have been rumors of a romantic relationship between Casey Anthony and Patrick McKenna — rumors possibly spurred by the fact that, per People, Anthony and McKenna have both lived together in the same residence since 2011 — it is unclear as to what the parameters of their relationship actually are. It also seems that Anthony's dating life, if they did indeed date at one point, is not exclusive to McKenna, either. (In 2020, it was also reported that the house both McKenna and Anthony lived in had been put on the market, but it remains to be sold; it is also not clear as to whether McKenna or Anthony still live there, either together or apart.)
As People reported in June 2021, Anthony most recently made headlines in late May, when she engaged in an altercation with a former friend over the subject of an unnamed ex-boyfriend both parties had purportedly been involved with in the past. The incident took place at a bar in West Palm Beach, and members of local law enforcement were called to the scene after a woman named Thelma Moya allegedly poured a drink on Anthony's head. Police were called to the scene by Moya, who claimed Anthony had responded by throwing a drink in her face. Anthony declined to officially press charges, per People, but requested that the contretemps in full be documented by authorities for public record.