This BTS Member Has A Secret Handshake With Halsey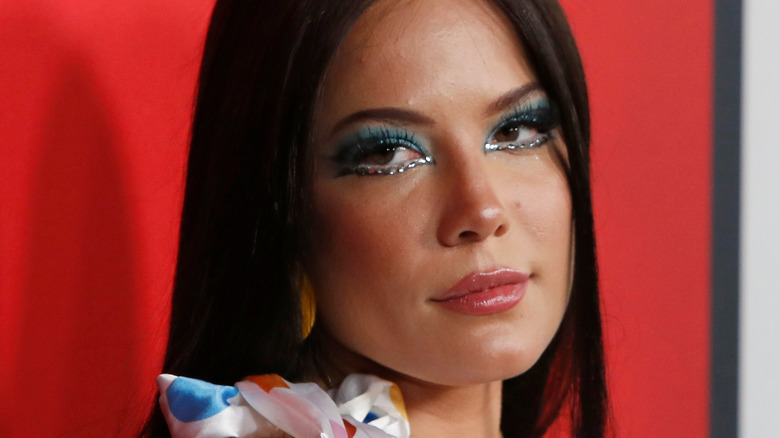 Shutterstock
Singer Halsey has had a close friendship with the boy band BTS since they were introduced at an award show in 2017. At the time, Halsey appeared to have a fangirl moment and even tweeted, "i just met @BTS_twt and they are the coolest! WOW." Their introduction apparently went well because Billboard reported that Halsey eventually visited the group when she was performing in their native South Korea. During that visit, Halsey gushed, "We have been friends for almost 2 years! I am so lucky to know them and they inspire me so much."
It was apparently that visit that led Halsey and BTS to collaborate on music. BTS member RM explained on Beats 1 (via Billboard), "So we met backstage and she came to Korea last year, and we met again. We talked about, like, 'We should collaborate. We should work on something.'" He continued, "We got this track for this album and thought that Halsey would be the best voice for this track."
Halsey seemed to agree, telling Teen Vogue, "I hung out with them on a bunch of different occasions, just wanting to get to know them and understand them on a personal level." She added, "We came together to do 'Boy With Luv' and it was really incredible." Halsey not only appeared in its music video but also performed it with them at the 2019 Billboard Music Awards. 
While Halsey has a friendship with each member of BTS, it appears she may have a favorite!
Halsey is 'really good friends' with RM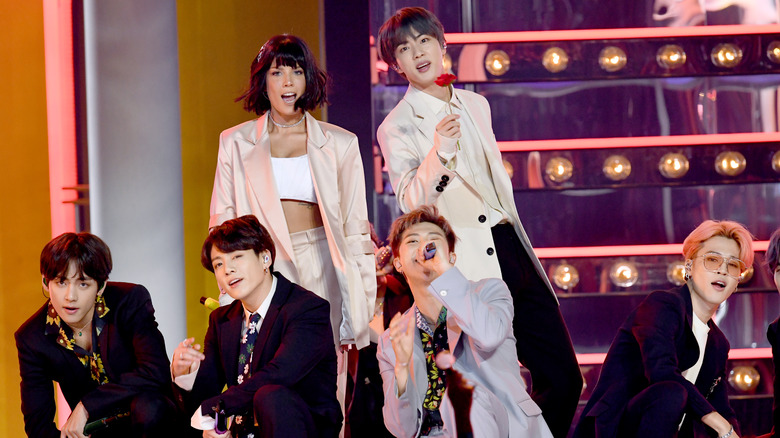 Kevin Winter/Getty Images
While Halsey has described every member of BTS as "intelligent," adding, "they're funny, they're tasteful, they're charitable," (via Billboard), the "Without Me" singer appears to consider one of the guys to be extra special. When asked in an interview with MYX Philippines who her favorite member of BTS is, she initially replied, "Oh, that's hard! I can't pick one," before whispering "RM."
Halsey continued to share her love for RM when she tweeted a link to the trailer for "Map of the Soul: Persona," which shows RM rapping. She added the caption "joon.king." But perhaps the most endearing display of their close relationship is their "secret handshake." Halsey and RM first showed off part of their handshake in the "Boy With Luv" music video, but Halsey took to Twitter to show fans the epic longer version of it. She tweeted a video of her and RM doing the handshake in front of other members of BTS with the caption "gang gang."
Yet, while the "Bad at Love" singer made it clear (via Teen Vogue) that her and RM are "really good friends," she decided to ask BTS member Suga to appear on her album "Manic." She explained, "Suga probably was the last member of BTS that anyone would have expected me to collaborate with and the one whose lyrical approach I felt the most connected to." But don't worry about RM, since he's the only BTS member with whom Halsey shares a handshake!