Inside Drew Peterson's Life Today
Fans of true crime docs and podcasts will already be familiar with the Drew Peterson case, but if you haven't come across that particular episode yet, allow us to fill you in.
The former Illinois cop found himself in the middle of a murder investigation after the disappearance of his fourth wife, Stacy, in 2007 (in which he was immediately a suspect). The case grew more complicated, though, when police and media outlets began to connect the dots between Stacy's disappearance and the untimely drowning of his third wife, Kathleen Savio, years earlier.
To make a long story short, Stacy's body has never been found — and Peterson has never been charged with anything relating to her case — but he was tried for murder after the investigator exhumed Savio's body and found that her death was not the result of an accidental drowning. In fact, he was convicted of first-degree murder of Savio in 2012 and sentenced to 38 years in jail, according to NBC News. He later received an additional 40 years after allegedly hatching a murder-for-hire scheme against one of the prosecuting attorneys in his murder trial, per the Chicago Tribune.
Let's go inside his life now.
Drew Peterson is a safety concern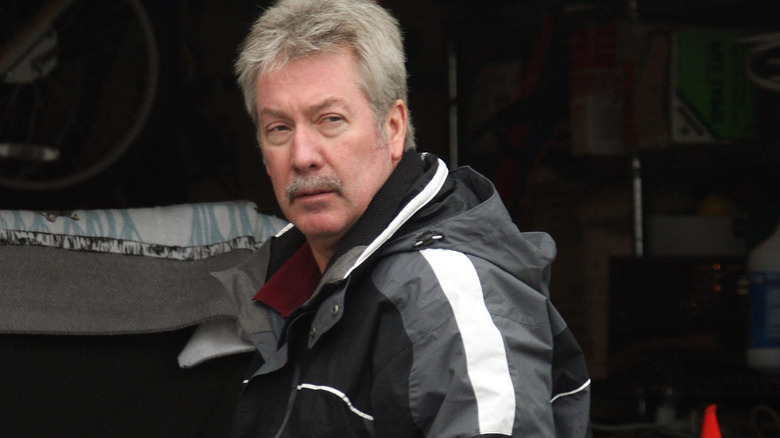 Scott Olson/Getty Images
Despite his notoriety and the media storm that surrounded his trial, Drew Peterson has remained surprisingly quiet since his 2012 conviction. What we do know is that Peterson has maintained his claim of innocence despite his 78-year prison sentence. He appealed his murder-for-hire conviction (to no avail) in 2020, via Patch.
Part of the reason Peterson's life behind bars is so mysterious is because of the high-profile nature of his case. His notoriety has made his safety and that of other inmates a concern for correctional officers. So much so in fact, that his information was removed from the Illinois state website in 2019, per WGN9. He could even be incarcerated in a different state.
As for the day-to-day of his life behind bars, we have to rely on Peterson's past interviews. "I've only been attacked in here once," Peterson told a local news outlet in April 2019. "I didn't even fight back... the guy hit like a girl." Peterson was likely referring to a 2017 altercation at Terre Haute Correctional Facility.
As for his children, their opinions of their father seem to be at odds. While his oldest son Stephen, with first wife Carol Brown, believes he killed both Stacy and Kathleen Savio — Tom, one of his kids with Savio, didn't believe his dad killed his mother, at least the time of the trial (per ABC News).