Here's How Much Novak Djokovic Is Really Worth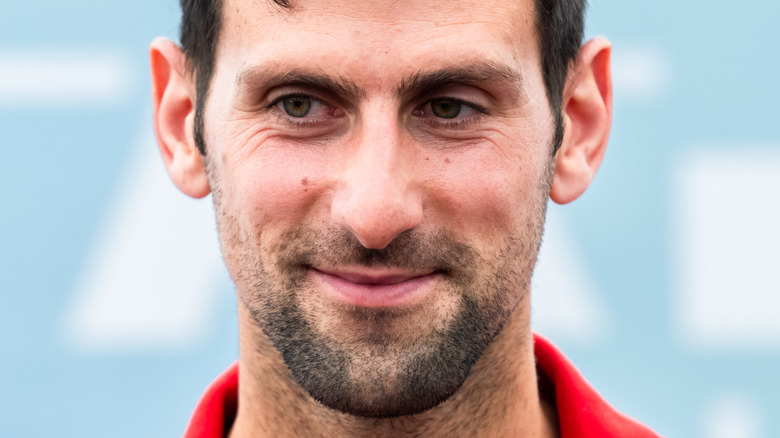 Shutterstock
Novak Djokovic is one of the best tennis players in the world, stacking up to the likes of Roger Federer and Rafael Nadal. He's achieved success that most athletes could only dream of! Tennis-X shares that the superstar is the proud winner of at least 19 Grand Slam titles, and he's appeared in 29 of them... not too shabby if you ask us. Djokovic is just an all-around exciting player to watch, and his cat-like reflexes and agility are second to none.
While the Serbian star has been incredibly successful in his tennis career, life wasn't always easy for him. His own tough upbringing caused him to open up his own charity foundation, and he told the BBC he wanted to help young children who have also struggled with poverty as a result. "Growing up in a war-torn country is not easy on anyone, most of all the children," he told the outlet, noting that he personally felt the same effects and made a vow to help.
And that's not the only time he's spoken about his childhood. "[I learned] to be aware that I'm not the only person in the world, so that everything isn't done just for me or in my personal self-interest," he told the press (via Sportskeeda). "When you see poverty, and you yourself are part of it, that sort of experience simply makes you want to look at everything in life from different angles."
Keep scrolling to see Djokovic's net worth.
Novak Djokovic's bank account is all aces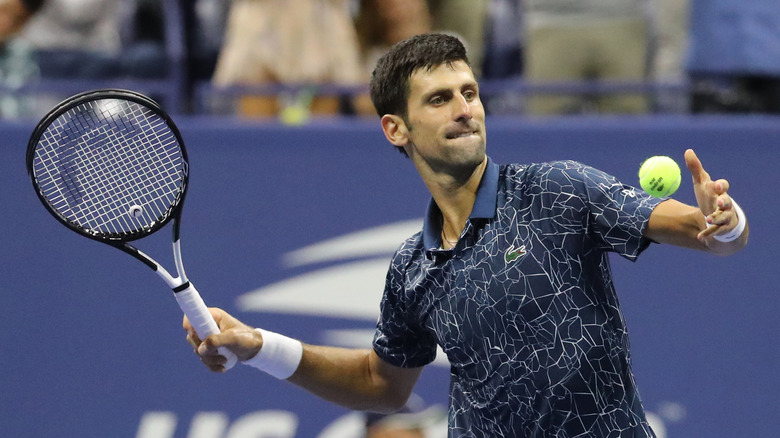 Shutterstock
Novak Djokovic has made a killing playing tennis. Celebrity Net Worth lists his estimated fortune at $220 million, making him one of the highest-paid tennis players in the world. The incredible athlete has plenty of different streams of income, including from victories. According to ATP Tour, Djokovic has earned nearly $150 million in collective prize money. As of June, the athlete earned more than $4 million just this year. In addition, he has several endorsements that also attribute to his fortune. Players Bio shares that the tennis star earned over $12 million from sponsorship deals in 2020, and he even has a clothing line with Lacoste.
Like many of his counterparts, Djokovic spends a lot of his fortune on real estate. The Olive Press shares that the Serbian tennis star shelled out €10 million — equaling nearly $12 million — on an incredible mansion in Marbella, Spain. The pad comes complete with a tennis court and some pretty sweet ocean views. In 2021, the Los Angeles Times reported that Djokovic sold his Miami penthouse for $6 million after purchasing it for $5.77 million in 2019. The beautiful condo boasts 2,400 square feet of living space and a 1,715-square-foot terrace that wraps around the condo. It includes a spa, a private library, and a pretty nice pool with cabanas. In 2017, Architectural Digest reported that Djokovic dropped $10 million on two properties in the Big Apple. Must be nice!