Do Britney Spears' Sons Get Along With Their Grandfather, Jamie?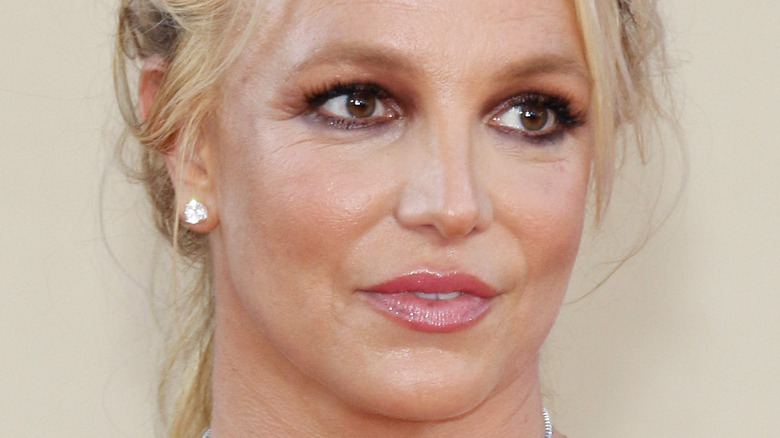 Shutterstock
The following article includes allegations of child abuse.
It seems pretty obvious that Britney Spears has a tumultuous relationship with her father, Jamie Spears. Over the years, there has been speculation over possible tension between the two due to the fact that the conservatorship she is under means he's largely in control of many aspects of her life. Things then became even more clear when Britney spoke out on her own behalf during a virtual court appearance in June.
Revealing details about her conservatorship that were not previously known by the public, Britney also told the judge (via Variety), "My dad and anyone involved in this conservatorship, including my management ... they should be in jail." She continued, "But my precious body, who has worked for my dad for the past f**king 13 years, trying to be so good and pretty. So perfect. When he works me so hard. When I do everything I'm told and the state of California allowed my father — ignorant father — to take his own daughter, who only has a role with me if I work with him, they've set back the whole course and allowed him to do that to me."
Although Britney may want to expose what her father has done and limit his involvement in her life, what about the rest of her family? For instance, do her sons get along with her father, who is their grandfather? Read on to find out!
Jamie Spears became 'violent' with one of Britney Spears' sons
Britney Spears is the mother of two boys, Sean Preston and Jayden, whom she shares with her ex Kevin Federline. Although Britney's relationship with her boys seems to be good, their relationship with her father has turned sour — and even scary — over the years.
According to The Blast, in September 2019, "Jamie Spears was involved in an argument" with Sean, who was just 13 at the time, "when the 67-year-old man flew off the handle." When Sean "became scared of his grandfather's reaction," he tried to get away into a different room. However, a source claimed that "Jamie broke down the bedroom door, and once he got his hands on the boy, allegedly 'violently shook' the teenager." While Britney immediately got her sons out of there, Federline filed a police report and requested a restraining order, per Us Weekly, which was granted, meaning that Jamie had to stay away from the boys. Britney and Federline's custody arrangement was also altered from 50/50 to 30/70, which kept the teens away from Jamie, but also partly resulted in the singer not seeing her sons as much anymore.
As for Jayden, he witnessed what had happened and later took to Instagram Live (via Refinery29) to reveal what he thinks about his grandfather, saying, "He's a big d**k." So, there you go.
If you or someone you know may be the victim of child abuse, please contact the Childhelp National Child Abuse Hotline at 1-800-4-A-Child (1-800-422-4453) or contact their live chat services.