What The Public Is Being Warned About Before Princess Diana's Statue Unveiling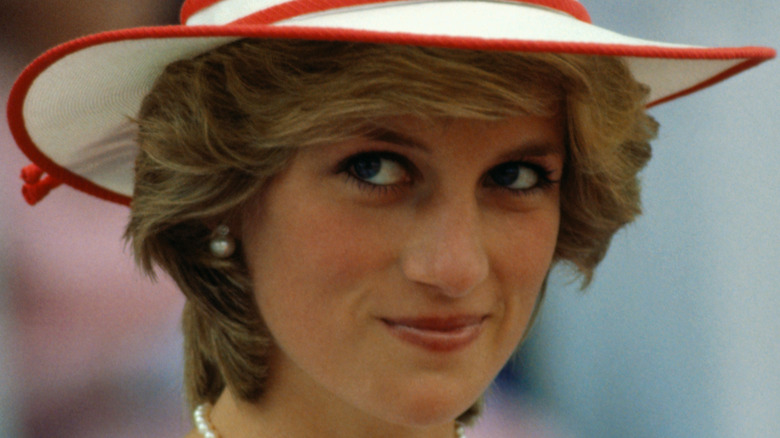 Bettmann/Getty Images
A statue honoring the late Princess Diana will be unveiled on what would have been her 60th birthday, July 1. Both of her sons, Prince William and Prince Harry, are expected to attend the unveiling and deliver speeches. The brothers initiated this project in 2017 as they honored the 20th anniversary of their mother's death. In the days leading up to what is expected to be an enormously popular event in England, reports detail that those behind the scenes are urging the public to follow some basic requests and guidelines.
As The Telegraph detailed, Prince Harry recently returned to England in anticipation of the statue unveiling, and the outlet noted he may take an opportunity to privately see the Princess Diana statue before the public unveiling. Many royal followers are hopeful that this solemn event may provide an opportunity for William and Harry to mend the reported rift that had developed between them.
At the time of announcing the project, William and Harry explained via a press release from Kensington Palace, "It has been 20 years since our mother's death and the time is right to recognize her positive impact in the U.K. and around the world with a permanent statue." They added, "Our mother touched so many lives. We hope the statue will help all those who visit Kensington Palace to reflect on her life and her legacy."
Read on to find out the public guidelines about the statue of Princess Diana, and why they are being enforced.
A plea for the public in honoring Princess Diana
Anwar Hussein/Getty Images
The public can visit Kensington Palace to see the Princess Diana statue after the private unveiling ceremony, noted The Telegraph. However, visitors are asked not to place anything around the statue itself. "Any flowers or tributes left there will be removed and placed at the golden gates, where they have always been permitted," a source detailed. This is being done because "There is a strong desire that this does not become a shrine," the source added.
The statue Prince William and Prince Harry commissioned to honor their mother will be placed in the sunken garden at Kensington Palace. That spot was one of Diana's favorite places, and Historic Royal Palaces detailed in 2017 that it was updated to honor Diana. Her dresses along with photographs taken by Mario Testino inspired the redesign, which filled the sunken garden with white flowers.
Fans will almost certainly flock to the sunken garden at Kensington Palace to honor Diana's memory. A security team protects Kensington Palace at all hours, and the new Diana statue will be strictly monitored both during and after the hours the area is open to the public. Historic Royal Palaces reveals the gardens, along with other areas of Kensington Palace, are already available to tour during certain days and hours. It seems quite likely the Diana statue will become a big draw for additional visitors for years to come.