What Is Bill Cosby's Net Worth At The Time Of His Prison Release?
Gilbert Carrasquillo/Getty Images
Bill Cosby is a free man. The disgraced star served two years of his three-to-ten-year sentence before the ruling was overturned, per Associated Press. In 2018, the court convicted Cosby of three counts of aggravated indecent assault after Andrea Constand alleged that the television star drugged and sexually assaulted her at his mansion in Philadelphia. CNN reported that 50 accusers came forward to accuse Cosby of inappropriate behavior, and five testified at the hearing.
In late June, The Pennsylvania State Supreme Court overturned the ruling against Cosby after his lawyers fought for the court to review the ruling for a few reasons, one of them being that it "involved the judge's decision to let prosecutors call five other accusers," per Fox 43. While many fans are upset, a few people are elated, including his former co-star Phylicia Rashad. "FINALLY!!!! A terrible wrong is being righted- a miscarriage of justice is corrected!" she tweeted alongside a photo of Cosby. Seeming to know that she would face backlash, the actor disabled comments.
Cosby's time behind bars was something that he's not accustomed to. His spokesman told the press (via CNN) that the actor had his own cell "due to his blindness." However, he was still subject to seven cell checks a day. Express reported that his cell was 7 feet by 13 feet and his mattress was only 3 inches thick. Well, he'll be (literally) sleeping easier now.
Keep scrolling to find out what kind of fortune he'll be going home to.
Bill Cosby is returning to a massive net worth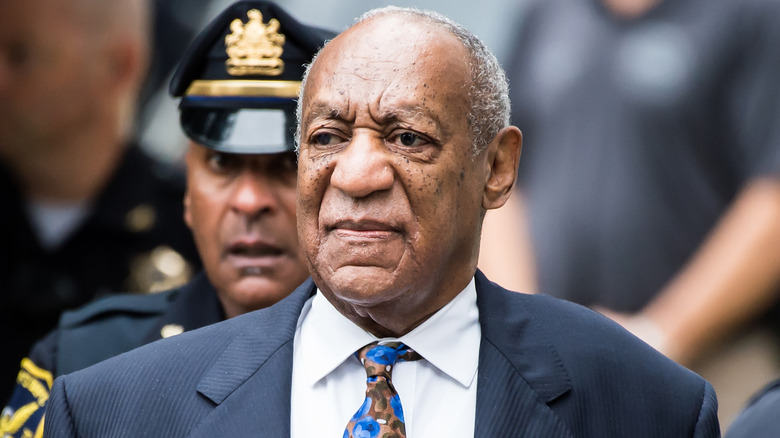 Gilbert Carrasquillo/Getty Images
We all know that Bill Cosby is worth a lot of money, but it's safe to say that many don't realize just how much money. At the time of his release from prison, Celebrity Net Worth estimates Cosby's fortune at $400 million. In 1985, People reported that Cosby was earning $1.1 million per year for his work on "The Cosby Show." In addition, a two-year contract with Caesar's Palace in Las Vegas earned him $2.52 million. He also hit it big in commercials, earning somewhere around $1 million for Jell-O and Coca-Cola ads. Forbes also revealed that Cosby makes a lot of money in syndication for his hit show, which has generated $1.5 billion in revenue before re-runs were pulled. Since Cosby owns 20 percent of the show's equity, that means that he cashed in big time.
In addition, the actor owns a pretty nice mansion in Pennsylvania. Virtual Globe Trotting reports that the actor has an 8,940 square-foot home on three acres of land. In addition, the property houses a few auxiliary buildings. In 2018, The Hollywood Reporter shared that Cosby listed two properties in Santa Monica, Calif. for a combined $26 million. One of the properties was an 8,668 square-foot building for retail and office space, and another is a piece of property with a parking garage. 
It definitely seems like Cosby was, and still will be, living large following his brief stint in prison.