The Truth About Bill Cosby And Phylicia Rashad's Relationship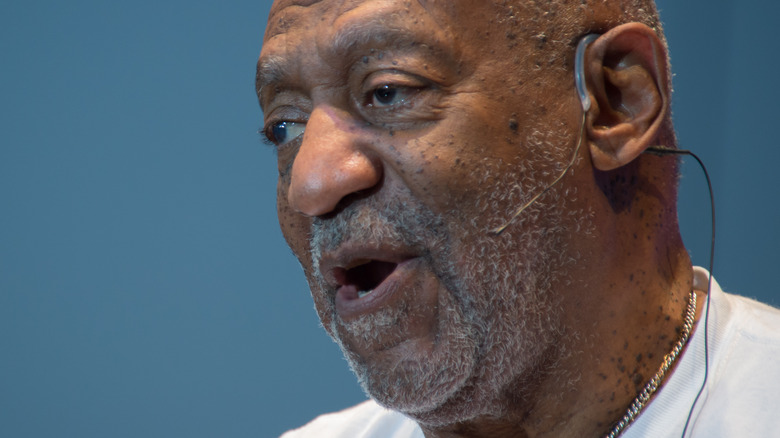 Shutterstock
Shortly after the news broke that Bill Cosby, the once-revered comedian who was convicted of aggravated indecent assault in 2018 after 60 women came forward with stories of sexual assault against him, had his conviction overturned in late June, swarms of people came out of the woodwork to express their dismay. Most importantly, that included a number of women who had testified against Cosby as survivors of being unwillingly drugged and forced into nonconsensual sex through decades of Cosby's career. Despite the heavy backlash against Cosby's vacated sentence — which had been considered a pivotal moment during the first wave of the #MeToo movement, per NBC News – one person who had worked with the actor for years on the titular "Cosby Show" responded in a very different manner — and is subsequently facing a fallout all her own.
As The Washington Post reported on July 1, Phylicia Rashad, who played Cosby's wife for all eight seasons of the NBC sitcom's run and worked with him intermittently thereafter, took to social media to share the news of what was Cosby's then-impending release, along with her reaction to it. So what did Rashad have to say about her former co-star? And what has she had to say about him before? Read on below to find out more.
Phylicia Rashad celebrated Bill Cosby's release -- then backtracked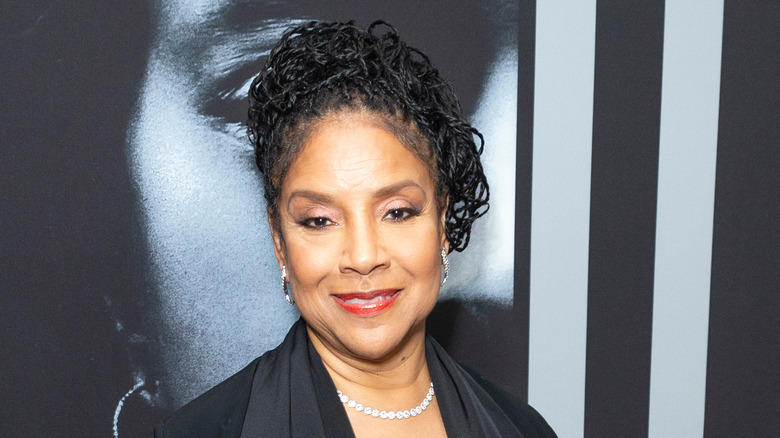 Shutterstock
On June 30, Phylicia Rashad tweeted that a "terrible wrong is being righted" in response to Bill Cosby's vacated sentence and overturned conviction, before calling it "a miscarriage of justice" that had, in her words, been "corrected." Rashad, a celebrated veteran actor who was announced as the newly-appointed dean of Howard University's College of Fine Arts in May, was quickly met with criticism for her celebratory post. Most prominent of her detractors was her new employer, Howard University, who released a statement in which they emphasized that Rashad's post "lacked sensitivity towards survivors of sexual assault," and that Rashad's opinion "[did] not reflect Howard University's policies."
Notably, Rashad later seemed to backtrack on her initial commentary soon after her tweet went viral, later tweeting that she "fully [supports] survivors of sexual assault coming forward," and that the "post was in no way intended to be insensitive to their truth." Despite Rashad's follow-up, the initial tweet about Cosby's release is, at the time of this writing, still posted on her Twitter account. While this particular defense of Cosby made headlines, it was hardly the first time Rashad had spoken up for her former co-star.
This isn't the first time Phylicia Rashad has spoken in defense of Bill Cosby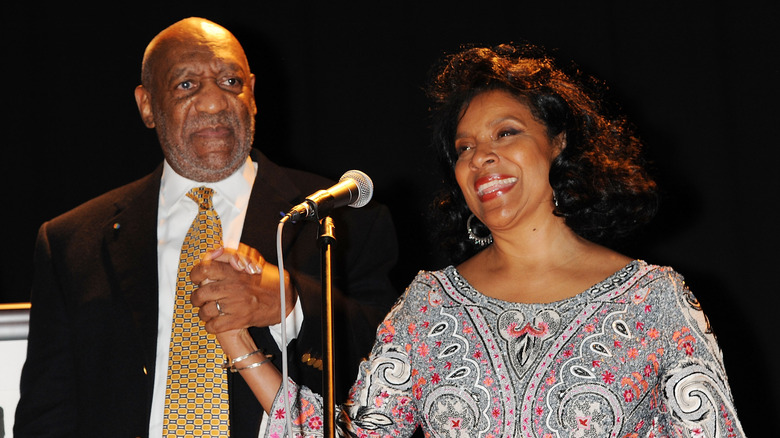 Simon Russell/Getty Images
In their own coverage of Phylicia Rashad's commentary immediately following Bill Cosby's vacated sentence and overturned conviction, the Los Angeles Times noted that this is hardly the first occurrence in which Rashad vocalized her support for her former "Cosby Show" co-star. In 2015, per the LA Times, Rashad seemed to suggest during an interview that Cosby's accusers were a part of a conspiracy to tarnish Cosby's legacy, as well as that of "The Cosby Show," which at the time of its 1984 debut and throughout the rest of its run, which ended in 1992, was hailed as a landmark of media representation for the Black community. "Forget these women," Rashad purportedly told her interviewer at the time. "What you're seeing is the destruction of a legacy. And I think it's orchestrated."
After news of Rashad's remarks broke, however, the woman known as Clair Huxtable seemed to use a similar play to the one she would later do in 2021 — reverse course in favor of damage control. According to the LA Times, Rashad later said in an interview with ABC News that the quotes were taken out of context. "I am a woman," Rashad said. "That is not what I said. What I said is this is not about the women — this is about something else. This is about the obliteration of a legacy."
If you or anyone you know has been a victim of sexual assault, help is available. Visit the Rape, Abuse & Incest National Network website or contact RAINN's National Helpline at 1-800-656-HOPE (4673).