Inside Kurt And Kyle Busch's Rocky Sibling Relationship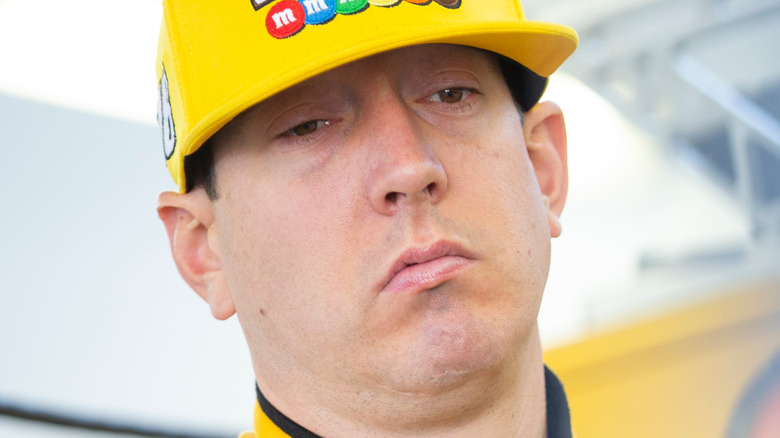 Shutterstock
NASCAR drivers Kurt Busch and his brother Kyle Busch are known for their competitive drive and their rocky relationship over the years. Bleacher Report once put the Busch brothers on their list of the "most dysfunctional relationships in NASCAR." Kurt and Kyle Busch have a combined 88 Cup Series wins and three shared Cup titles, per Amomama. According to the outlet, Kurt and Kyle were trained by their father, NASCAR racer Tom Busch. The Busch brothers are seven years apart; Kurt has been a NASCAR driver for 21 years, and Kyle has been a NASCAR driver for 17 years, per FOX News.
The Busch brothers are competitive on and off the racetrack. Kyle said to NASCAR in May 2021, "My dad always told me that you're competing against the rest of the drivers, they aren't your friends. Eventually, something is going to happen on the track, and they won't be your friends any longer, so there's no point befriending them." Kurt hasn't made many friends with other drivers, either. In 2006, Kurt was named the "third most hated athlete behind Barry Bonds and Tyrell Owen," per Celebrity Net Worth.
According to NASCAR Nation, a collision between Kyle and Kurt in the 2007 All-Star race created a rift between the brothers. The brothers didn't speak for months after they crashed into each other. ESPN reported the Busch brothers' feud ended only after their grandmother asked them to make up. Keep scrolling to get the inside scoop on Kurt and Kyle's relationship.
Kurt and Kyle Busch are close now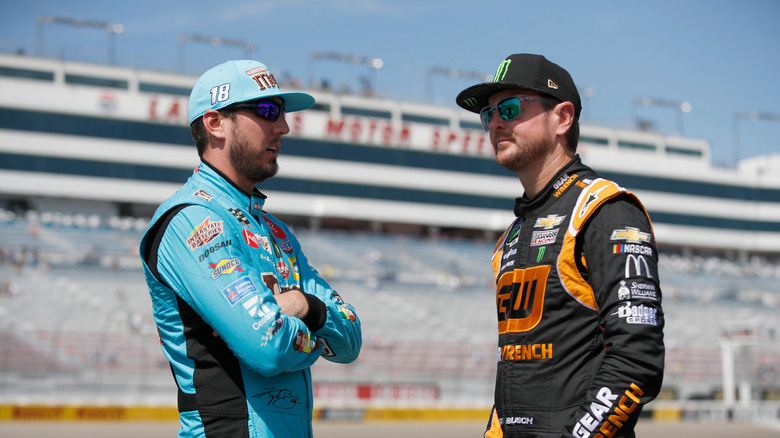 Shutterstock
Brothers Kurt Busch and Kyle Busch have attained success in the highest level of NASCAR. But their rocky sibling relationship often made headlines, along with their wins. Still, it appears Kurt and Kyle have become closer in the last two years, and the brothers' relationship grew during the pandemic. In May 2021, Essentially Sports reported that older brother Kurt encouraged Kyle during the 2020 season, which was tough on the younger Busch. Kyle told Essentially Sports, "I think our relationship, through this COVID process, has gotten even closer because we're flying together and spending more time together... I'm very thankful that everything is working the way it is now."
It appears Kurt and Kyle are learning to be more like brothers and less like competitors. On May 2, Kurt hired a mariachi band to greet Kyle at the airport after winning the Kansas Cup race on his birthday. Such a brother thing to do! As the brothers have matured, and their competition with each other appears to be mellowing. According to Celebrity Net Worth, Kurt is worth $60 million, and Kyle is worth $80 million, so the Busch brothers are both very successful.
Another reason the Busch brothers are bonding more? Kyle and Kurt both appear on CMT's reality television series "Racing Wives." Kurt's wife, Ashley Busch, stars on the show, along with Kyle's wife, Samantha Busch. Although their wives are the stars of "Racing Wives," Kurt and Kyle are featured in some episodes.