Jill Duggar's Statement On Counting On's Cancellation Reveals A Telling Detail
D Dipasupil/Getty Images
Jill Duggar Dillard and her husband Derick Dillard released a statement about the cancellation of "Counting On." The couple took to their blog to share their thoughts about TLC cancelling the show that catapulted the Duggars to fame. Since stepping away from the program, it seemed as if there was tension between Jill and her parents. She opened up to People in 2020 about what went down.
Jill and Derick were uncomfortable with the amount of control others had over their lives. As Jill put it, "Our control to choose what jobs we were allowed to accept and even where we were allowed to live was taken away from us." Derick elaborated, "The first few years of our marriage, we spent time and money working towards opportunities only to hit a dead end when we'd be told, 'Well, you're not allowed to do that.'" Their decision to step away was apparently not well-received by her family or the network. In a YouTube video uploaded by Jill and Derick, Jill admits (via Hello!) that she had not visited her parents home in a "couple of years." The statement underscored the rumors that a rift had formed between them. 
Since leaving "Counting On" and her family, Jill and Derick have seemingly embraced new values that go against how she was raised. They use birth control, Jill wears more revealing clothes, and they occasionally enjoy a glass of wine. Their latest statement also reveals how deep the rift goes.
Jill Duggar Dillard's ties with the family seems strained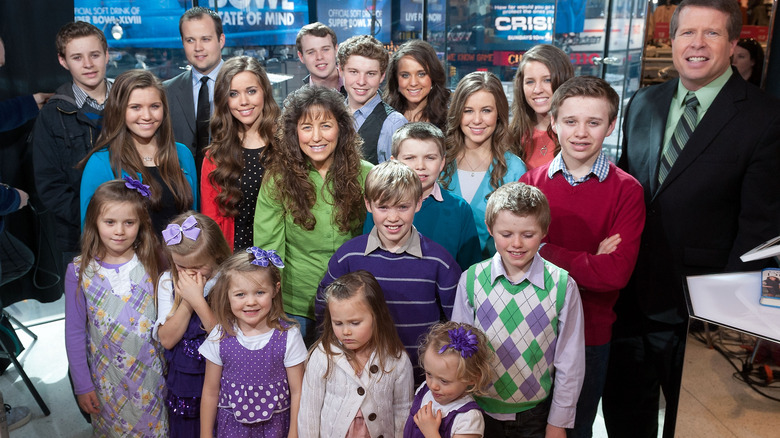 D Dipasupil/Getty Images
The Sun broke the news on June 29 that "Counting On" had been cancelled after six years. Apparently, TLC could no longer ignore the mounting outrage after Josh Duggar was arrested for child pornography possession. A source revealed, "The case has put the show in such a bad light, and although it's a shame for those who worked hard on it, and the money spent, there really is no way forward."
On July 5, Jill Duggar Dillard and Derick Dillard released a lengthy statement that clearly sets out their feelings and why they initially stepped away. The first two lines read, "Our statement about the cancellation of 'Counting On' is a little late because we just learned the news with the rest of the world last Tuesday + this season of life is quite busy for us. We first heard of the cancellation when both a friend & a cousin each texted us after seeing TLC's statement online." Not only were Jill and Derick not told about the cancellation, but they were also given second-hand accounts from a cousin and a friend. Neither Jim Bob Duggar nor Michelle Duggar had reached out to their second eldest daughter to share the news. Talk about a family feud!
Jill and Derick hope to start a new chapter in their "pursuit of freedom and authenticity." They wrote, "We will move forward on our own terms, and we look forward to whatever opportunities the future holds."