How Much Is Wendy Osefo Worth?
Dr. Wendy Osefo may be shown living a luxurious life on "The Real Housewives of Potomac," but it appears the reality star worked hard to get where she is today. According to her Bravo bio, Wendy has some impressive credentials outside of just being on the popular franchise — she currently works as a professor at Johns Hopkins University School of Education. The mom of three specializes in urban education and politics, but before that, she served as the Director of Family and Community Engagement for President Obama's anti-poverty initiative.
Wendy even had previous TV experience before her turn as a "Real Housewife" as a political analyst. According to her website, she has provided commentary for news outlets like CNN, MSNBC, and ABC. The Maryland native is even a philanthropist, providing "tools, mentorship, and resources to underrepresented minorities to help them thrive in higher education" as the CEO and founder of the 1954 Equity Project, per AAE Speakers.
So why would a woman with so much on her plate want to take on reality TV? She explained to Madame Noire, "They approached me and I said, 'I live my life authentically.' Whether it be as a commentator or a professor, one of the things I pride myself on is being completely honest." She added, "I said to myself, 'I'm not hiding anything, so this will just show the world what I really am." 
It's clear that Wendy is one impressive woman, but does her bank account reflect as much? 
One source thinks Wendy Osefo is in debt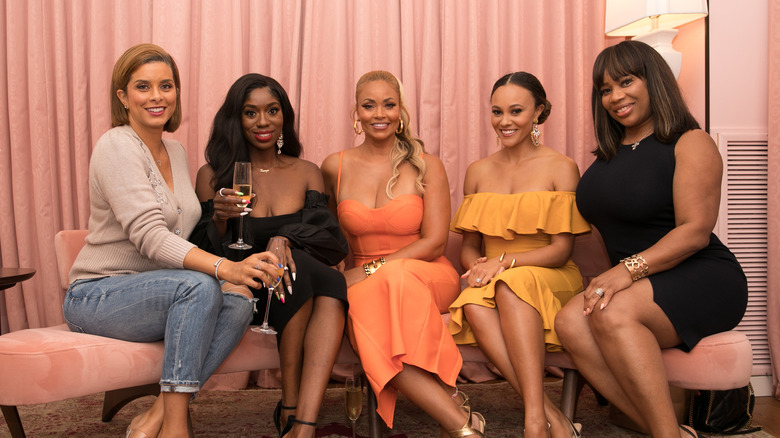 Brian Stukes/Getty Images
It's obvious that Dr. Wendy Osefo is wealthy enough to be one of "The Real Housewives of Potomac" but there seems to be some debate about her finances. According to The Things, Wendy reportedly has a net worth of $1.5 million, but All About The Tea claims that the reality star is actually that much in debt thanks to student loans.
A source alleges that Wendy really needed her paycheck from the show, adding that she's "one of the lowest paid part-time professors at John Hopkins." The insider claimed that while Wendy did buy a house in 2019, she had to finance nearly all of the $695K property "between two loans," and that it's actually "nowhere near Potomac." The source continued, "Wendy is lying about how successful and accomplished she really is. Her husband is in the same boat ... bachelor, master, law and doctorate degrees...but hasn't taken a case to trial in years." Oy. 
Whether Wendy is in debt or not, she's still highly successful because, for her, failure was apparently never an option. She explained to Washington Post, "I was taught that you have to work hard, that there's nothing greater than success. So, everything that I've achieved in my life is a testament to my Nigerian heritage and my parents, who really instilled in me that if we came to this country with nothing, then you have no excuse but to be great and to be successful."