How Many Kids Do Chip And Joanna Gaines Have?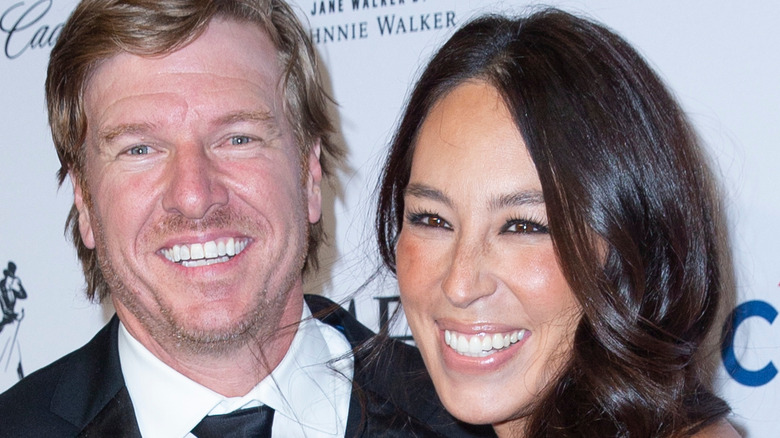 Shutterstock
Chip and Joanna Gaines have been a powerhouse pair for years now, both privately and professionally. As PopSugar detailed, Chip knew of Joanna for a while before he met her, and he was immediately smitten. "Her dad made the mistake of putting a pic of the family behind the counter at his shop. I knew I'd marry her one day just by the picture on the wall," he detailed. He finally met her in person by taking his car to her father's automotive shop, and he eventually managed to win her over. "I knew he was the one because I knew I could trust him," she said.
The pair started renovating their first home together right after their honeymoon. As their Magnolia website notes, they also opened their first market about that time, in 2003. A couple of years later they shifted focus to building up their construction business, Magnolia Homes. They landed a show on HGTV, "Fixer Upper," and that aired for five seasons. After they decided to end the series, they shifted their focus back to her vision for the Magnolia Market. A plan grew from there, and what has become Magnolia Silos became a popular must-see attraction in Waco, Texas, where the family lives. In addition to building an impressive business empire, Chip and Joanna have grown a family with five children as well.
Baby boy Crew makes five for Joanna and Chip
With parenting, Joanna Gaines told People, "It's funny, I'm a little more laid back than I thought I'd be." Her husband, Chip Gaines, remarked, "I think I'm, like, a quarter Amish" when it comes to avoiding technology for his kids. Chip and Joanna welcomed son Drake in 2004, detailed Parade, naming him after the hotel in New York City where they'd stayed during their honeymoon. Then, daughter Ella Rose arrived in October 2006. As Wide Open Country shared, Joanna frequently raves about Ella's cooking skills and flair for interior designing.
Chip and Joanna's third child Duke came in May 2008, and Closer Weekly shared he was named after John Wayne, whose nickname was "Duke." Next came Emmie Kay in February 2010. Country Living noted Emmie's middle name came from Joanna's sister Mary Kay. Baby Crew arrived in June 2018, and Joanna's Instagram announcement revealed, "He made an unexpected (and speedy) entrance into the world two and a half weeks early – which is fitting given he was a sweet surprise from day one." In talking to People, Joanna joked, "If you ever want to feel young again, have a baby at 40," and she detailed, "I'm a lot more laid-back. People joke that I'm the 'Fun Jo' now." Could there be a sixth Gaines baby? It seems Chip and Joanna are open to it, as she admitted, "Heck if I know. I thought I was done, and then we had Crew."