A Look Inside Mila Kunis And Ashton Kutcher's Stunning Farmhouse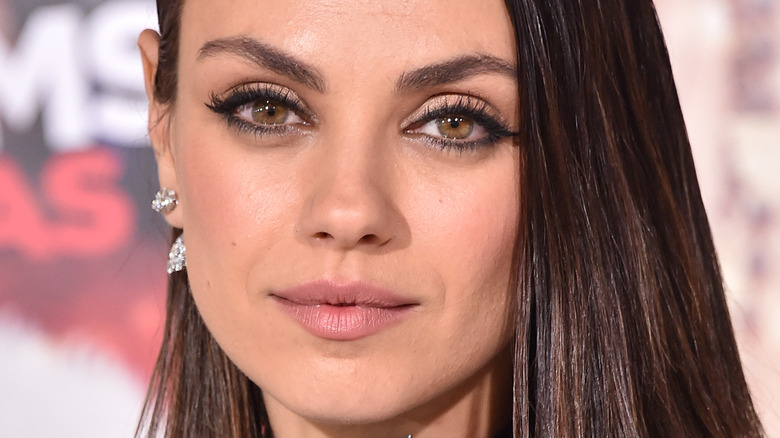 Shutterstock
Actors Mila Kunis and Ashton Kutcher managed to get through quarantine during the COVID-19 pandemic with one surprising activity thanks to their elaborate farmhouse.
The couple, who wed in 2015 and share two kids, Wyatt and Dimitri, built their Los Angeles home while Kunis was pregnant with their first child back in 2014, and the celebrity couple had their family in mind. With Kutcher having been born in Iowa and Kunis born in the Ukraine, it only made sense for the pair to build a farmhouse in which to raise their kids. "To feel tranquility in a space, everything needs to be in order," said Kutcher of his home to Architectural Digest. "If the world around you isn't in order, it's hard to get your brain in order. When we're in our home, the world just makes sense."
Given plenty of opportunity to be in their home during the pandemic, the Hollywood couple decided to harvest a corn field ... in the middle of Los Angeles. "We have this patch of dirt. And we looked at it and we were like, 'We have time to plant some corn.' And he was like, 'Let's just do it,'" said Kunis on "Jimmy Kimmel Live!" The couple and their two children found their niche activity, producing "hundreds and hundreds of ears of corn." Aside from a COVID-induced corn field, however, Kunis and Kutcher's massive farmhouse was an idea that came out of Pinterest and includes some surprisingly lavish details.
Mila Kunis and Ashton Kutcher designed their home using Pinterest
When Mila Kunis and Ashton Kutcher began to build their farmhouse in Los Angeles, the celebrity couple did what most teenage girls dreaming of their future wedding do and made mood boards on Pinterest. "Building a house from the ground up is no small thing. This was either going to make us or break us," said Kunis to Architectural Digest. "When we looked at each other's boards, 90 percent of the images we selected were the same, and most of the houses we pinned were designed by Howard [Backen]."
Kunis and Kutcher's farmhouse also turned out to be "no small thing," as the couple built a six-acre, sustainable solar-powered home with a barn. "We wanted a home, not an estate," said Kunis, while Kutcher added, "We wanted the house to look like an old barn, something that had been here for decades, that was then converted into a house. But it also had to feel modern and relevant." As seen above, the home has a refreshed look thanks to the natural light and large windows. 
To make the farmhouse modern, the "That's 70s Show" stars added some extravagant details, including two custom silver throne chairs to the bathroom, and a 10-foot-long chandelier in their pavilion. "We thought it would be funny to have this incredibly opulent thing hanging in a barn. It kind of takes the piss out of the property," admitted Kunis. But when you have a net worth like this duo, why not add the touch of Hollywood glamour?