Angelina Jolie And The Weeknd Are Spending More Time Together. Here's What We Know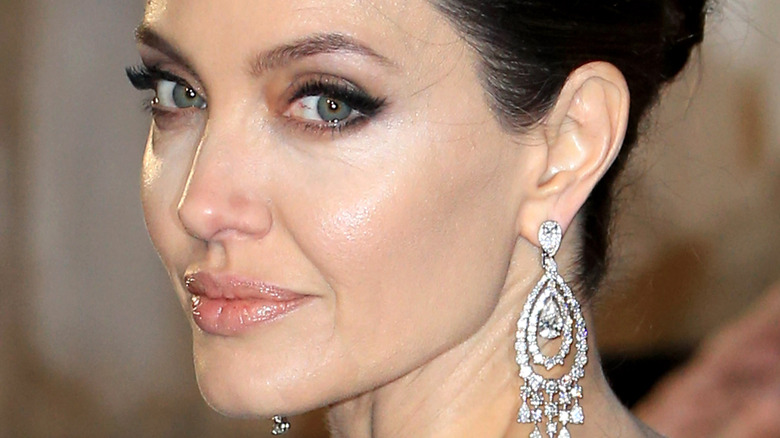 Shutterstock
If nothing else, Angelina Jolie and The Weeknd have set social media ablaze as people speculate about them. The "Maleficent" star and the "Blinding Lights" singer have been spotted out and about in Los Angeles, and the idea of something blossoming between them has left many shooketh. They are both single, and with all the mingling they are doing, it seems as if they are out to encourage those wagging tongues. 
Yet, until recently, it seemed as if Jolie was not all that interested in a new relationship. In May, Jolie told Daily Pop's co-host Justin Sylvester that she was very choosy about potential dates. "I probably have a very long list [of 'nos']. I've been alone for a long time now," she admitted, via E! News. Jolie and Brad Pitt split in 2016 and were declared legally single in 2019. Their bitter divorce and custody battle is still ongoing, and Pitt was recently awarded joint custody of their five minor children. As for The Weeknd, he has been merrily single since 2019. The 31-year-old and model Bella Hadid split in 2019 after an on-again, off-again 4-year relationship. However, the "Shameless" crooner still belts out the love songs as if he's "Drunk In Love." 
So, what's up between Jolie and The Weeknd? Everything and nothing, or so it seems. Here's the 411 on the mother-of-six and the music producer, and why everyone's talking about them.
Angelina Jolie and The Weeknd may have a legit reason for hanging out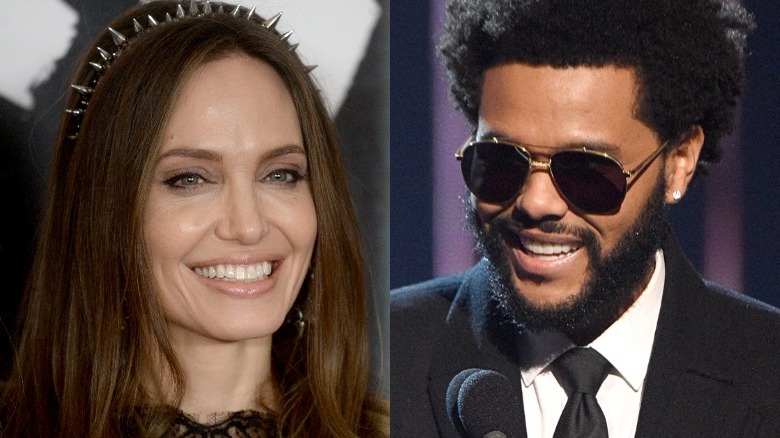 Kevin Mazur & Dave J Hogan/Getty
Angelina Jolie and The Weeknd were spotted together not once, but twice. According to Page Six, the movie star and the music mogul were snapped together on June 30 at Giorgio Baldi, a favorite celebrity haunt and restaurant. They left separately, seemingly to avoid being photographed together. 
Us Weekly then shot down the rumors by claiming that the meeting between the two had been platonic. A source told the outlet, "Angelina and The Weeknd had a business meeting." They continued, "It had to do with their HBO shows. They got along great, but there is nothing romantic happening between the two of them." The Weeknd, per Variety, is developing a new series called "The Idol" for HBO. The explanation seemed legit until the "Original Sin" actor and the "Earned It" singer were mysteriously at the same event again.
This time, they both hung out at Mustafa's private concert, per the Daily Mail. Jolie attended the bash with her two daughters, Zahara and Shiloh, while The Weeknd was seen socializing with a group of friend. Coincidence? Perhaps. According to The Sun, an insider told them, "They are just friends, but who knows it could be more in the future, he's made no secret of the fact he has a huge crush on her." Ping! And that's the reason everybody's keeping an eye on Jolie and The Weeknd.