Robyn Dixon And Gizelle Bryant Have Something To Say About Candiace Dillard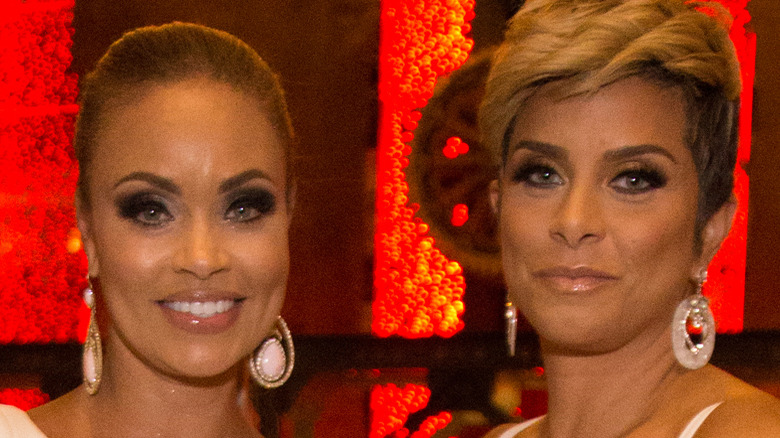 Brian Stukes/Getty Images
Bravo's "The Real Housewives of Potomac" is back for season six, and of course we're all ready for the drama that's expected to come. With two new faces joining the esteemed ladies of Potomac, Maryland, it's without a doubt that we'll see a few interesting showdowns between the old and new. Aside from introducing new cast members, there's still unresolved beef between some of the returning cast members — more specifically, between Ashley Darby and Candiace Dillard.
Candiace on-boarded the cast as a friend of Ashley Darby in season three, but a lot has changed between these two pageant queens. From shady miscarriage comments to a knife-throwing dinner party from hell, Candiace and Ashley's friendship suffered as the seasons progressed. However, it was Ashley's admission of writing a statement for Monique Samuels that truly severed the former's friendship with Candiace.
The feud between Candiace and Ashley continued even after the cameras stopped rolling. In June, Candiace commented under a June 2021 Instagram post claiming that Ashley doesn't get poor treatment from fans because she has lighter skin. To that point, Candiace said, "Because she's light skinned. There. It was said. I said it. Now, let's see how fast it gets around." While there were mixed reactions to Candiace's statement, Robyn Dixon and Gizelle Bryant have something to say about the colorism claims.
Robyn Dixon and Gizelle Bryant aren't happy about Candiace Dillard's colorism comments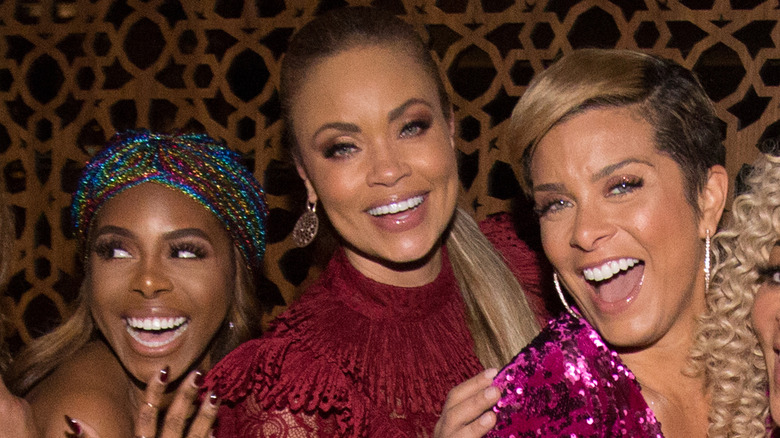 Brian Stukes/Getty Images
Candiace Dillard is known for her brazen commentary and outspokenness, but clearly her claims of Ashley Darby's light skinned privilege is rubbing two of her co-stars the wrong way. Robyn Dixon and Gizelle Bryant have recently come to Ashley's defense about Candiace's colorism comments during an interview with The Jasmine Brand.  "It was stupid," Gizelle replied when asked if they thought Candiace's comments were reasonable or shady. "I'll tell you why. Who gets the most shade? Who gets the most backlash? Who gets the most hateration? This girl or this girl?" She pointed to herself and Robyn, given that they both have lighter complexions.
Robyn added, "Ashley spent three seasons being dragged by the fans and the only reason why she recently fell into better favor of the fans is [because] we got to see a different side of her as a mother. So I think people have short memories. Candiace's memory is a little short but Ashley has definitely paid her dues." 
All drama aside, Potomac's "green-eyed bandits" host their own podcast together, "Reasonably Shady." According to a press release, the podcast "will feature conversations about being fearless women as they recount stories from their everyday lives." Candiace has yet to respond to Gizelle and Robyn's interview, as of this writing.