Inside Shaunae Miller-Uibo's Marriage To Maicel Uibo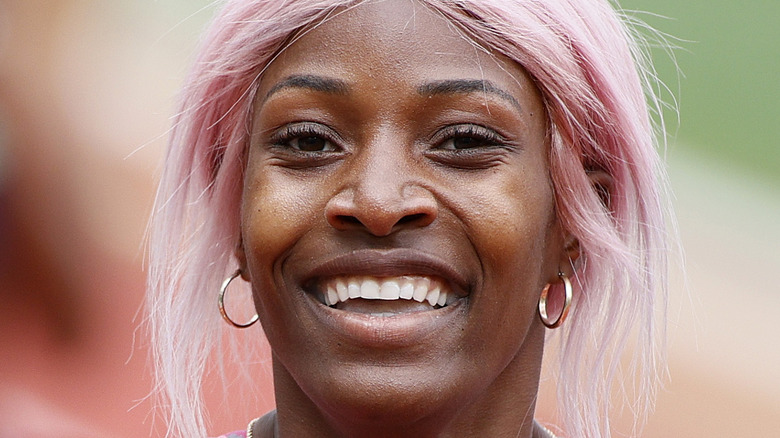 Steph Chambers/Getty Images
As the 2021 Tokyo Olympic Games draw near on July 23, Olympian Shaunae Miller-Uibo is one of the favorites to win gold for the Bahamas. The athletic sprinter already claimed gold in the 400 meter race in Rio De Janeiro in 2016, per the Olympics' official website, winning over USA's Allyson Felix after famously flinging herself across the finish line. However, at this year's Olympics, Miller-Uibo will not be defending her 400m title because of scheduling reasons and is setting her sights on the 200m race.
"I would have to choose one event, and we're leaning more toward the 200m seeing that we already have the 400m title," Miller-Uibo revealed to the Nassau Guardian in 2020 (via NBC Sports). Miller-Uibo cited the tight turnaround schedule as the reason for her decision.
With Miller-Uibo prepping for the biggest run of her life yet, she'll have the support of her husband, Maicel Uibo, who is a decathlete. Find out more about their relationship and how they met below.
Shaunae Miller-Uibo met her husband in college
According to a feature from the Olympics' official website, Olympian Shaunae Miller-Uibo met her now-husband, Maicel Uibo, when they were freshmen at the University of Georgia. The pair were waiting in line for medical tests when Uibo broke the ice. "I think my first words to her were, "Oh, so you're the girl who has the [better] PB than me... meaning the four hundred metres..." he told the outlet. Miller-Uibo didn't understand what he meant and was "confused," before realizing that he was a decathlete and not a runner. They hit it off and got married in 2017.
Two years after their marriage, Miller-Uibo and Uibo, who is Estonian, made history at the 2019 World Athletics Championships in Doha, when they both competed in the same session and were awarded medals one after another. Miller-Uibo and her husband won silver in both of their events, per ABC News, and they celebrated with each other on the field.
Although the couple compete in different events, they train together and are constantly each other's biggest cheerleaders. "We just follow each other's meets all the time," Uibo told World Athletics. "...I drop everything and make sure I catch her race and support her."
With those sweet words, Miller-Uibo will be extra motivated to get that gold medal in Tokyo.