How Much Is A'ja Wilson Actually Worth?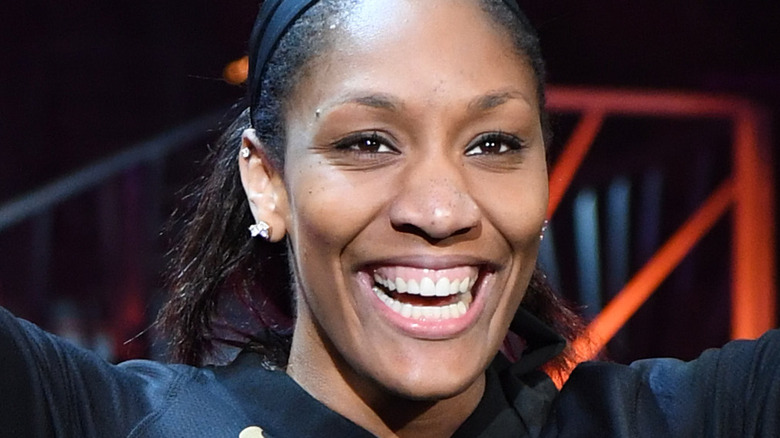 Ethan Miller/Getty Images
A'ja Wilson will be on the women's basketball team during the Summer Olympics in Tokyo, Japan. She already has plenty of career accomplishments, and as a result, an impressive net worth too. USA Basketball noted the South Carolina native started playing at the age of 11, coached by her father who'd played professionally in Europe (per Sports Illustrated). She was inspired by the women's basketball team during the 2008 Olympics, deciding, "That's how I want to be," per SI. However, the skills didn't come easily and her dad didn't let up. "There were days I would come home and tell my mom, it's either me or him, pick one. I did not know how to separate coach from dad," Wilson explained.
University of South Carolina coach Dawn Staley admitted, "I saw A'ja very early on in her basketball career when she came to camps at South Carolina, and she could not play." She added, "To see what she accomplished from seventh grade to being the top high school player coming into South Carolina, you get a pretty good feel of the dedication to her craft." 
Wilson became a star player, but she faced other challenges, including a dyslexia diagnosis, shared CBS News. During high school, her parents "just thought I was a lazy teenager," but she "knew I put too much work in for me not to get the results that I deserved." Coach Staley helped Wilson with her dyslexia and Wilson thought of her as a second mother.
A'ja Wilson made history with her first endorsement deal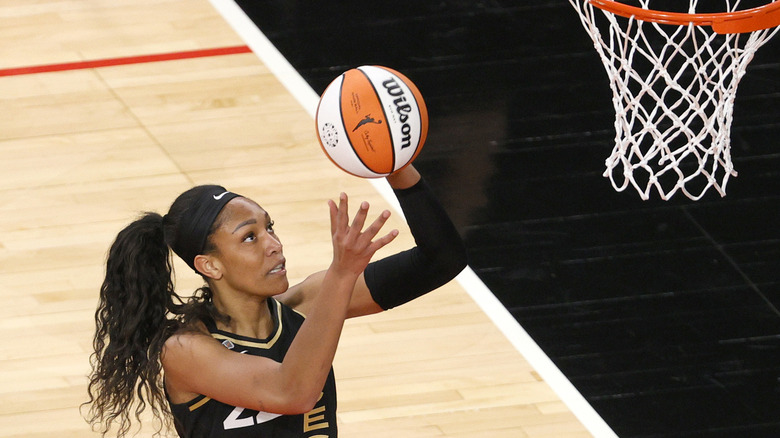 Ethan Miller/Getty Images
A'ja Wilson excelled at the University of South Carolina and her WNBA profile noted she was the first overall pick in the 2018 draft. She joined the Las Vegas Aces and became the WNBA Rookie of the Year in 2018. She's racked up numerous accolades, including being the fifth-youngest woman to be named WNBA MVP. A statue of her was erected at USC, detailed The State, and the significance of that was not lost on her. "My grandmother couldn't even walk on this campus," Wilson recalled, adding she hoped the statue would inspire young Black girls.
Soon after Wilson was drafted, she signed an endorsement deal with Mountain Dew. As ESPN shared, this was a historic deal. "Me being the first WNBA player with Dew is also special. I'm trying to use my voice to bring people together. And to help us all get an understanding that we're all out here doing things we love, but at the same time, we are part of something bigger than basketball," Wilson explained, per the outlet. 
Sport Trac detailed Wilson's initial contract with Las Vegas was a four-year deal worth $232,178, and Forbes included her on their 2020 "30 Under 30" list. According to Idol Net Worth, Wilson's already worth about $2 million. A successful Olympic Games would likely bring more endorsement deals and other opportunities to increase her already impressive net worth!