The Truth About DaBaby And 50 Cent's Relationship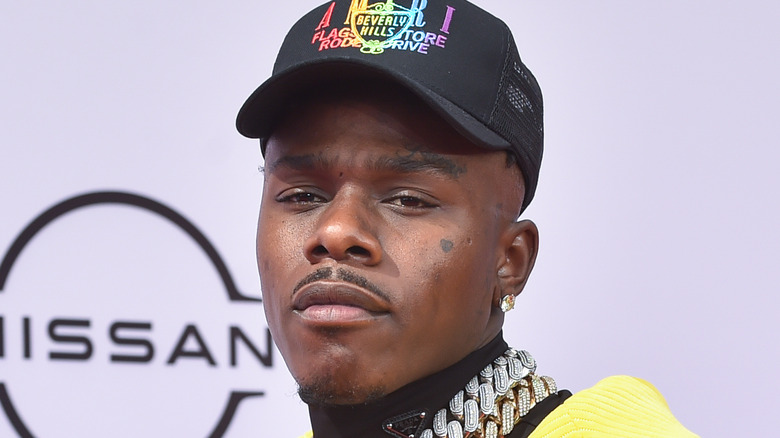 Aaron J. Thornton/Getty Images
Despite his controversial moments, DaBaby is adamant about becoming a megastar in the music industry. The rapper is looking to some of hip-hop's biggest names to learn how they did just that. DaBaby has spent time with Diddy, sharing his experience learning from the Bad Boy mogul in a now-deleted Instagram video (via Revolt).
"He put me in a chokehold, which I probably deserved," the "Masterpiece" rapper said in January. "We go out back. He sit me the f**k down and have a real deal conversation with me. Throughout the conversation, so much knowledge was passed down. It was just a real, real organic conversation from a person who has had organic conversations with me before so nothing about it is fabricated. Nothing about it is new besides a lot of the events have taken place since the last time me and him have spoken."
DaBaby's network continues to grow, as the rapper is now being mentored by fellow entrepreneur 50 Cent. The rapper shared a photo beside the "Power" exec, praising the latter for giving him advice. "Somebody I been studying for a MINUTE lended me a few hours of his time today," DaBaby captioned the July 13 Instagram post. "N***s so scared to let me in the room they f***ed around & let me end up in the room w/ @50cent [face palm emoji] BIG MISTAKE! Beyond grateful for the game [stacked books emoji] Couldn't have come from a better source. [one hundred emoji] Now watch me put this s**t to use." If you're wondering just how close these two are, read on!
50 Cent is committed to mentoring DaBaby for this reason
When 50 Cent isn't trolling his rivals on the internet, the rapper-turned-actor toggles a number of positions — including being a mentor to artists that mirror certain aspects of himself. Following up DaBaby's Instagram post, the rap mogul commented on the photo sharing the reason why he was dedicated to being a part of the North Carolina native's development. "I lost Pop [Smoke] before he could get it, This one already got it and he listen," 50 Cent wrote. "I'm a teach him all the mistakes I made, so he can be better than me. THIS IS HIP HOP!"
After being unanimously compared to 50 Cent, Pop Smoke gained the interest of the former. Although the two New Yorkers eventually built a close mentorship up until Pop's tragic death, the "Part Of The Game" crooner says that meeting the 20-year-old didn't go smoothly. "The experience was a little weird. Because when I first started talking to him in the office, I was watching and he would look down at his telephone," 50 previously told the New York Times. "He was typing at the same time. And there was a point where I'm like, 'Is he listening?' I got up so I can kind of see what he was doing, and when I got to the other side of the table, he wasn't not paying attention to me, he was just writing what I said down. Dead serious."
In the wake of Pop's death, 50 Cent contributed to the Brooklyn native's record-breaking posthumous album. It's still unclear whether the "Power" star will be part of Pop's forthcoming project, "Faith," but it's clear that he is looking to contribute to another artist's legacy.