The Anecdote About Jason Sudeikis That Has People Emotional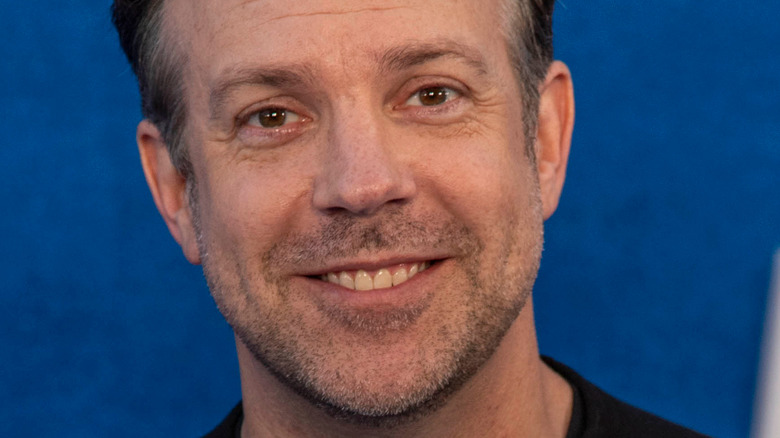 Shutterstock
Jason Sudeikis has been in the headlines lately because "Ted Lasso" Season 2 begins on July 23. In addition, Sudeikis talked to GQ about his split from Olivia Wilde while also discussing the upcoming season of the Apple TV+ hit, creating plenty of buzz. The GQ cover story revealed that Sudeikis' friends and castmates believe that he and his on-screen character are the same people.
According to GQ, when "Ted Lasso" became a hit, reporters asked Sudeikis how he and his character were alike. The actor tried to wave off comparisons. But "every time he tried to wave off Ted, fellow castmates or old friends of his would correct him to say: 'No.' They'd say: 'No, that is you. That is you. That's not the best version of you. It's not you on mushrooms; it's not you hanging off a boat; it's just ... you,'" he recalled.
The Apple TV+ series premiered in 2020 and immediately became a bright spot in a dark year. The New York Times called "Ted Lasso" and Sudeikis "America's Nicest Export." The freshman show received 20 Emmy nominations. Sudeikis' friend Marcus Mumford told GQ, "He is quite like Ted in lots of ways. He has a sort of burning optimism, but also a vulnerability, about him that I really admire." And a recently shared anecdote about the actor only further proved this. Keep reading to find out more.
Writer Mike Ryan shared how Jason Sudeikis showed him kindness
On July 15, entertainment writer Mike Ryan shared an anecdote about Jason Sudeikis on Twitter. Ryan tweeted, "A few years ago after my dad died I was in a pretty bad place. Out of nowhere Jason Sudeikis sent me an email I REALLY needed . I've never shared it before (he said it was okay to do) but I just want people to know he did this. He really is Ted Lasso."
Ryan wrote his experience with the "Ted Lasso" star for Uproxx. In 2017, the writer interviewed Sudeikis during a press junket for the film "Kodachrome." The indie film was about Sudeikis making amends with his dying father, who leaves his son four rolls of Kodachrome when he dies.
During the interview, Ryan shared with the actor about his father's death. After the interview, Sudeikis sent him an email that was very kind and genuine. In an Uproxx story, titled "Yeah, Jason Sudeikis Is Actually Kind Of Like Ted Lasso In Real Life," Ryan shared the email from the actor. Keep scrolling to read the email Sudeikis sent to the entertainment writer. And grab a Kleenex because you'll need it.
This anecdote shows Jason Sudeikis is Ted Lasso IRL
Jason Sudeikis wrote Mike Ryan a kind email after their aforementioned 2017 interview and the writer shared it on Uproxx. Sudeikis began by telling Ryan, "Just wanted to shoot ya a quick note and let ya know that I'm so sorry for your loss. And I thank you for feeling comfortable enough with me to share. Please feel ZERO regret in doing so. It's important and f**king necessary for us human beings to do that. To connect. To share. And to not concern ourselves too much with the outcome of such bravery. Especially the men of the world."
He expanded on that idea, adding, "Our generation is the first to 'understand' that notion, but darn it, I'd love to try and be the first generation of fellas to "live" the notion as well. So let's both continue to attempt to be on that 'side of history,' shall we?"
Sudeikis then wished Ryan "all the luck" in finding the "four rolls of Kodachrome" from his own father, i.e. a reference to Sudeikis' film. However, he clarified, "The one thing I want you to consider, though, is that it might not be physically 'out there' because it might actually be living inside of you. And through you." He told the writer, "You see deeply into things for a living. Allow yourself the experience of doing that to yourself, for yourself." See? Sudeikis really is Ted Lasso in real life.