The Truth About LeVar Burton's Marriage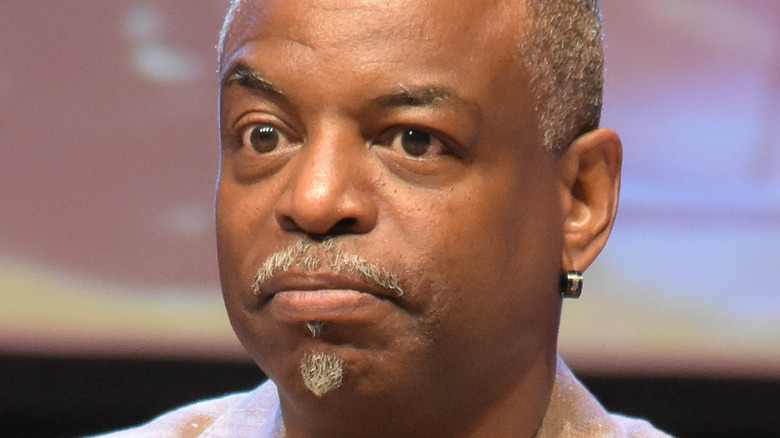 Shutterstock
LeVar Burton, the iconic American actor known as the longtime host of the children's show "Reading Rainbow," as well as for his starring roles on the television miniseries "Roots" and the reboot "Star Trek: The Next Generation," might be the one actual true example of a person who has managed to achieve universal popularity. Described by The New York Times in a recent profile as a "secular pop-culture saint" by journalist David Marchese, Burton was also compared to other beloved (and recently deceased) figures like Fred Rogers and Alex Trebek. The latter of the two has, for the past few months, been an especially pertinent comparison, considering the ongoing campaign first started by Burton's fans — and then taken on by Burton himself — to become the next host of "Jeopardy!" following Trebek's death in November 2020.
Considering how loved Burton is — possibly by more people we can even comprehend — it's no surprise that the multiple Emmy winner who pulled off Geordi La Forge's epic "Star Trek" silver-and-gold visor happens to have been in a long and seemingly happy marriage to his wife, Stephanie Cozart Burton. Not only that, but she's managed to carve out a pretty impressive career all her own. So what's the story behind Stephanie? Keep on scrolling to find out more.
LeVar Burton's wife Stephanie Cozart Burton is a Hollywood makeup powerhouse
According to an April rundown on Stephanie Cozart Burton by Distractify, she and LeVar Burton first met in 1988 on the set of the made-for-television film "Roots: The Gift," the third entry into the "Roots" television canon, based on the seminal book of the same name by Alex Haley. At the time, LeVar was reprising his role as Kunta Kinte, which he had originated in 1977 and skyrocketed him to fame at the age of 19. Stephanie herself was part of the production team as an already sought-after makeup artist, and would later snag a bevy of award nominations for her work on shows like "The Talk" and "In Living Cover" (via IMDb). The two went on to marry in 1992, and have remained together for nearly three decades, and share two children together, Eian and Michaela.
Like LeVar, it seems Stephanie is a fan of ambition and hard work. As Distractify noted, her current gig is for the latest iteration of the improv comedy show "Whose Line is it Anyway?," where she has served as the series' makeup artist since the revival debuted on The CW in 2013. As she told Pop Source on a red carpet in 2016, "I do love what I do. Every day."