The Truth About Simone Biles And Hoda Kotb's Relationship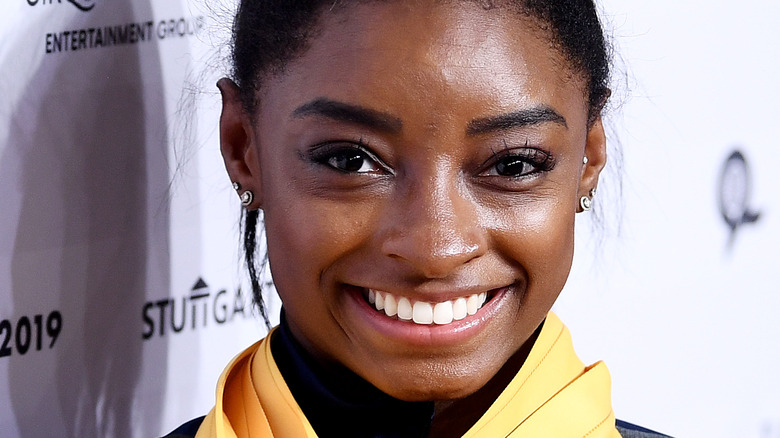 Laurence Griffiths/Getty Images
Simone Biles made headlines when she dropped out of the 2020 Tokyo Olympics team final due to a medical issue, but her relationship with "TODAY" anchor Hoda Kotb is also making waves.
It seems that whenever Biles chats about the Olympics, she doesn't hesitate to dish to Kotb. When asked in April about her reason to return to the games this summer, her answer was simple: "I knew I had more to give to the sport, for myself. And I felt like I had a purpose. And now, I feel like I do, and it's to be a voice for the younger generation. And I feel like I've done that, so I feel like just God called me."
Perhaps more important than adding to her medal collection, in her eyes, is using her voice for change in light of the sexual abuse scandal against former USA Gymnastics team doctor Larry Nassar. "I just feel like everything that happened, I had to come back to the sport to be a voice, to have change happen," she told Kotb. "Because I feel like if there weren't a remaining survivor in the sport, they would've just brushed it to the side." On a lighter note, Biles and Kotb also love chatting about Biles' relationship with NFL player Jonathan Owens. "He's a real man. I just, I love him," the Olympian gushed.
The Tokyo Olympics took their bond to the next level. Keep reading for more details on how.
Hoda Kotb is rooting for Simone Biles in every way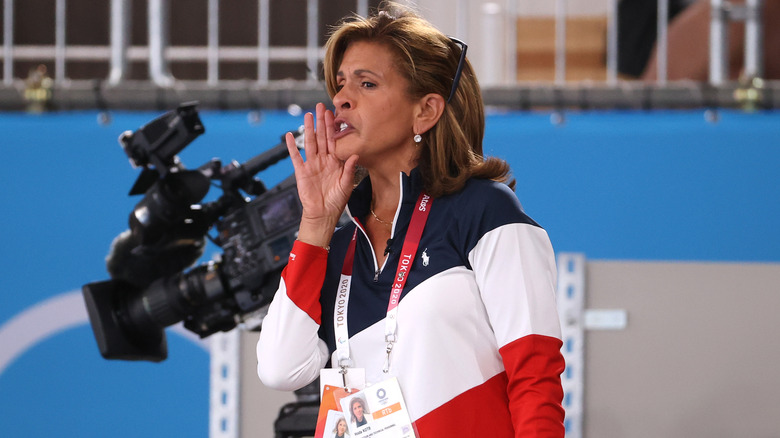 Abbie Parr/Getty Images
It pays to have Hoda Kotb in your corner! The "TODAY" anchor had nothing but good things to say about Simone Biles after she withdrew from the competition on July 27.
Kotb was in the stands as she yelled, "Turn it out for Simone!" (As can be seen above.) She also blew kisses, adding, "Love you Suni and Jordan and Grace, too. Go get 'em!" Once news of Biles' withdrawal began to circulate, Kotb said "[the team knew] that everybody is backing them up and behind them." "Team USA is really rallying together," she said. "It's quite a moment to be in this room. I thought it was going to feel like everybody was on their knees after such devastating news of Simone Biles being out of the competition, but something happened. This team is rallying."
Biles appreciated the support and checked in with Kotb, hinting that the pressure of the Olympics is real. "Physically, I feel good, I'm in shape," she said. "Emotionally, that kind of varies on the time and moment. Coming here to the Olympics and being the head star isn't an easy feat, so we're just trying to take it one day at a time and we'll see." She noted that she was unsure if she would compete in the all-arounds on July 29, but is "proud" that her teammates "stepped up." "We hope America still loves us," she added. Clearly, one anchor does.
If you or anyone you know has been a victim of sexual assault, help is available. Visit the Rape, Abuse & Incest National Network website or contact RAINN's National Helpline at 1-800-656-HOPE (4673).