What We Know About Sha'Carri Richardson's Relationship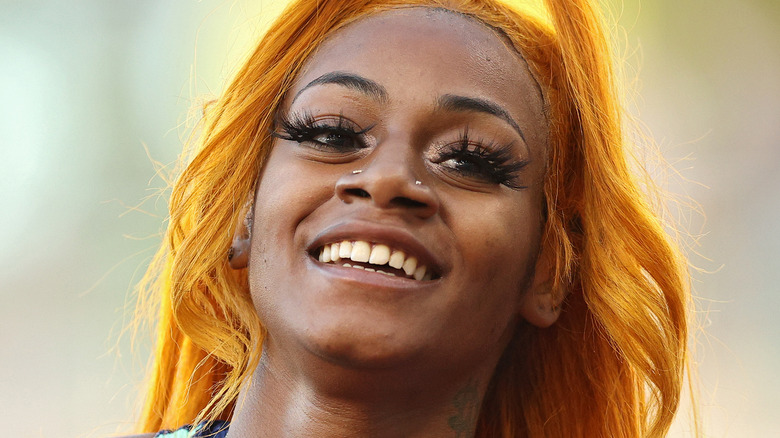 Patrick Smith/Getty Images
Sha'Carri Richardson seemed poised to win medals and break records at the Tokyo Olympics, but she was sidelined after testing positive for THC. She received a 30-day suspension and the U.S. Olympic team chose not to add her to the women's 4x100-meter relay, although her suspension would have ended by that point. The suspension came shortly after she ran a stunning 100-meter dash in 10.86 seconds at the U.S. Olympic track and field trials (per New York Magazine). Meanwhile, the runner has a big and bold personality, but she tends to be fairly reserved regarding her love life.
Richardson was raised by her aunt and her grandmother Betty Harp. USA Today noted she's called her grandmother "my heart" and "my superwoman," and cameras caught her sprinting into the stands after her incredible 100m run to tightly hug her grandmother. "Honestly, that probably felt better than winning the race itself," Richardson said of that experience.
The sprinter is hard to miss on the track, not just because of her speed, but because of her long nails, brightly-colored hair, and big personality as well. Fellow training partner and 2004 Olympic champion runner Justin Gatlin told the OC Register, "She's very hard on the outside but a big ol' soft teddy bear on the inside." She's got her grandmother and extended family by her side for emotional support, but she doesn't just lean on her family. As she references occasionally, Richardson's romantic partner has a significant impact on her incredible performances too.
Sha'Carri Richardson keeps her love life fairly private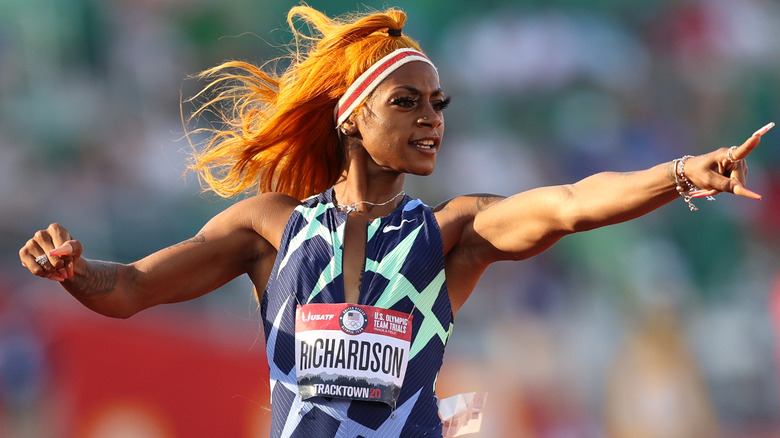 Patrick Smith/Getty Images
When Sha'Carri Richardson dominated the 100m race at the June U.S. Olympic trials, she did so with bright orange hair. She chose orange because "It means to stand out so I am visible and able to be seen," she told the OC Register. Richardson credited her partner for the bold pick. "My girlfriend picked this color because it's loud, and, honestly, dangerous," Richardson detailed. "She said you need to look the best and be the best," she added. Richardson told USA Today of her girlfriend's pick, "She said it like spoke to her, the fact that it was just so loud and vibrant, and that's who I am."
Richardson's girlfriend reference surprised some. That same day, she tweeted a rainbow emoji. There wasn't a caption providing context, but it seemed to signal she was part of the LGBTQ+ community. That wasn't the first time she'd signaled that though. She referred to her soul mate being a "her" in a tweet, and mentioned it being a "very PRIDEFUL month" on Instagram. Her sole TikTok post to date teased, "When my gf think she about to have a fun night without me." Richardson tweeted about her girlfriend and sexuality a few other times, including an August 2015 Twitter post detailing, "My family know im bi."
Who is Richardson's girlfriend? So far, Richardson has kept that tidbit of information private. But clearly, she has clearly been incredibly supportive.